Posted on
Thu, Aug 30, 2012 : 5:59 a.m.
Should Ann Arbor take steps to stop people from paying parking meters after hours?
By Ryan J. Stanton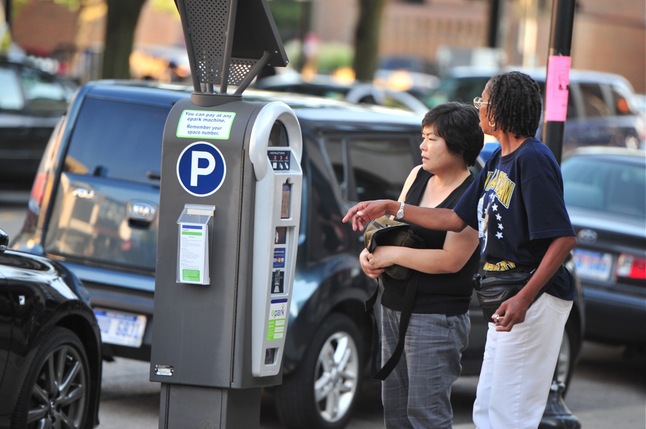 Ryan J. Stanton | AnnArbor.com
On a recent trip back to his home state, Michigan native Avish Bhama met up with friends for dinner in downtown Ann Arbor and made the mistake of paying for parking after 6 p.m.
Parking on the street downtown is free in the evenings, but the entrepreneur who moved to the San Francisco Bay Area a few years ago didn't realize that.
He found out later that he fed the meter for no reason.
"Basically in San Francisco, the way the meter system works," Bhama said, "if you put money into it after the hours of operation, the meter system will basically spit your money out and say, 'No, you don't need to pay — it's compliments of the city,' because at this time it's free parking."
Bhama said he thinks Ann Arbor's new and advanced electronic pay stations, which are solar-powered, should be reprogrammed to offer the same conveniences.
He acknowledged he overlooked a sticker on the pay station indicating the hours of operation are 8 a.m. to 6 p.m. Monday through Saturday. But he said he and many others are walking proof that it's possible to miss, and he thinks a better solution can be found in reprogramming the machines.
Ryan J. Stanton | AnnArbor.com
"One of the things the residents of Ann Arbor might not know is there is software out there that exists for these parking meters to save the commuters money," he said. "But it struck me that the city doesn't have any incentive to do that because, in exchange for doing that, they would be turning down a lot of revenue."
Digital Payment Technologies, the Canadian company that makes the e-pay stations used in Ann Arbor, says its machines are able to be programmed to display a customized welcome screen message stating just about anything, including the hours of operation.
The company said the hours when payments will be accepted also can be programmed in such a way that the machines won't accept money at all during certain hours.
The Downtown Development Authority manages about 1,700 on-street metered parking spaces on behalf of the city of Ann Arbor.
Hypothetically, if each of those spaces averaged just one extra quarter per day that people paid when they shouldn't have, that's nearly $155,000 a year in unnecessary payments. The actual number could be higher or lower than that — DDA officials didn't have figures available.
DDA board member Joan Lowenstein said it's possible the extra nickels, dimes and quarters add up to six figures.
"Even with the actual parking meters that clearly state on there that it's only until six o'clock and not on Sunday, you see people putting coins in there after six, and you see people putting coins in there on Sunday," she said.
But it's not an issue the DDA has discussed much.
"We haven't considered it a problem, and no one has talked to us about it being a problem, so it really isn't anything that has come up," Lowenstein said.
Mayor John Hieftje said he likes Bhama's idea and thinks the impact on the budgets of the city and the DDA would be minimal if the pay stations were reprogrammed.
"I can't imagine that adds up to very much," he said.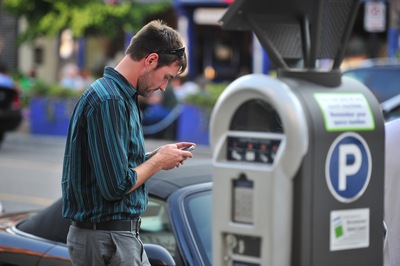 Ryan J. Stanton | AnnArbor.com
The Digital Payment Technologies website boasts that its e-pay machines offer a "full audit trail and rich reporting and analysis." AnnArbor.com filed a Freedom of Information Act request with the DDA this week, asking for copies of reports for July with the intention of finding out the amount of parking revenue the DDA collected outside the hours of operation.
In response to Bhama's story, DDA Chairwoman Leah Gunn said she was planning to have the DDA's Operations Committee discuss the issue when it meets at 11 a.m. Thursday.
Ironically, Gunn said, she told a downtown visitor this past Saturday at about 6:30 p.m. that they didn't have to pay to park on the street. Hieftje, who appoints the DDA board and serves as a voting member, said he's done the same.
"When I see people putting money into a meter," he said, "I go up to them and say, 'Hey, you don't need to feed the meter after six.' They say, 'Hey, thanks.' I've done that several times."
AnnArbor.com observed four electronic pay stations on the one-block stretch of Main Street between Liberty and William from 6 p.m. to 8 p.m. Wednesday night.
Eleven spots opened up during the two-hour stretch. None of the drivers who came and filled those spots made the mistake of paying — most of them were locals who knew the rules.
But two out-of-town visitors tried to pay before they were stopped by locals and told parking on the street is free after 6 p.m.
"I'm from San Francisco — I have no idea," said Sue Hilk, who was in town helping her daughter Kelly move into the University of Michigan.
Soon Bae, who was visiting from New York on Wednesday, also was about to pay shortly after 6:30 p.m. until a woman standing nearby intervened.
"I was just looking and I couldn't find any sign on here, so I tried to pay the machine, and she told me you don't have to pay at this time," she said.
The woman who told her the meters are free after 6 p.m. was Pittsfield Township resident Miriam Lindsey, who sells the Groundcover News six days a week on Main Street. Lindsey said she has seen many people make the mistake of paying to park in the evening hours.
"That's why I actually started stopping them, because I stand there where my papers are and I've seen so many of them pay," she said. "That's what made me start saying something because it's not right to know something and let them do it. Karma comes back on you."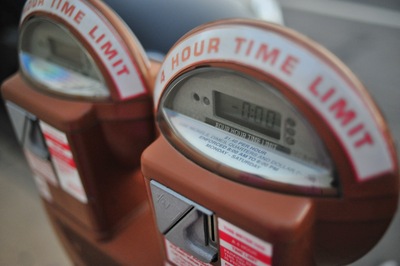 Ryan J. Stanton | AnnArbor.com
Andy Mignery
, who was on his way to the new Lena restaurant Wednesday night, said it's ingrained in him after years of living in Ann Arbor that on-street parking is free after 6 p.m.
He pulled his car up to a spot on Main Street shortly after 6 p.m. and quickly walked off without even thinking about paying.
Ann Arbor resident Nolan McCann, who went to the Mani restaurant Wednesday night, parked on Main Street just before enforcement hours ended and put just enough change in to last him until 6 p.m. He said he had to look closely to notice the sticker showing the hours of operation.
"I don't know if it's particularly clear," he said.
Lowenstein said she doesn't think it would be a big revenue hit to the DDA if it cut itself off from the accidental payments. She said it's a drop in the bucket in the DDA's overall budget.
"I don't think it would make any difference to us," she said. "I mean, we don't count on that as extra revenue and that's why we just haven't even discussed it."
The DDA's budget shows it's expecting $18 million in revenue from parking fees this year — a $2 million jump from last year due to rate increases and growing demand.
Starting Saturday, the on-street parking meter rate in Ann Arbor is going up from $1.40 to $1.50 an hour. Parking structure hourly rates are increasing from $1.10 an hour to $1.20 an hour.
Attended parking lot hourly rates will increase from $1.30 to $1.40 an hour for the first three hours and $1.60 an hour thereafter.
DDA officials said the rate increases are needed to keep up with maintenance costs and an increasing financial obligation to the city. Under a negotiated parking agreement, the DDA is required to transfer 17 percent of parking revenues to help augment the city's general fund.
Revenues from the rate increases also are being used to help finance a $50 million underground parking garage the city and DDA recently built on Fifth Avenue downtown.
"It's just a regular rate increase that's been planned for a long time," Hieftje said. "And if you look back to when the DDA was discussing it, there was an open public hearing for several weeks about it. The merchants that we heard from seemed to be OK with it, for the most part."
Ryan J. Stanton covers government and politics for AnnArbor.com. Reach him at ryanstanton@annarbor.com or 734-623-2529. You also can follow him on Twitter or subscribe to AnnArbor.com's email newsletters.