Posted on
Fri, Nov 18, 2011 : 5:56 a.m.
Ex-president of U-M student body starts anti-bullying scholarship
By Paula Gardner
Chris Armstrong, the former president of the Michigan Student Assembly and its first openly gay leader, is announcing that he's starting a scholarship fund for students who have been victimized by bullying.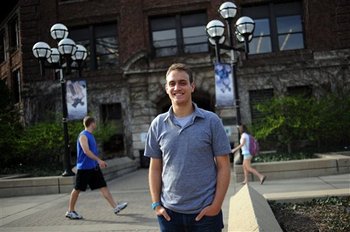 The announcement was made Wednesday via a YouTube video.
Armstrong was president of the MSA at the University of Michigan in Ann Arbor when former assistant attorney general Andrew Shirvell started to blog about him in 2010.
The blog - which attacked Armstrong for having a "radical homosexual agenda" gained national attention. Armstrong said at the time that the posts and subsequent uproar put a big strain on him and his friends and family.
"It's hard not to say something," Armstrong said in an interview with CNN's Anderson Cooper. "It's important to understand that things get better, that you can reach out to your community, your friends."
He later sought a restraining order against Shirvell, who was fired from his job and later sued an attorney who represented Armstrong.
Armstrong's scholarship will be celebrated on Friday at the 40th anniversary of U-M's Spectrum Center, the first support program in U.S. higher education for gay, lesbian, bisexual and transgendered students.