Posted on
Fri, Mar 1, 2013 : 2:12 p.m.
Federal sequester: What budget cuts could mean for Washtenaw County
By Amy Biolchini
President Barack Obama and the U.S. Congress failed to reach a deal Friday to avoid $85 billion in across-the-board budget cuts that could soon affect federally funded programs across the country from now to the end of September.
Though every state and county receives money from the federal government to finance certain programs and operations, the extent of the effects of the budget cuts -- known as sequestration -- will vary by community.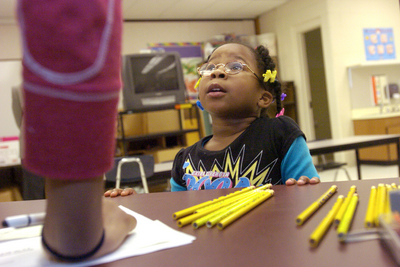 AnnArbor.com file photo
Exactly how much the cuts will affect Michigan's budget and the federal employees in Washtenaw County is unclear at this point.
Here's a look at the services, research efforts and staff that make use of federal money that could be at risk for cuts under sequestration:
Medicare reimbursements:
The amount of money that the Medicare program provides to reimburse health care providers from private doctor's offices to major hospitals is also subject to the whim of the federal budget.
Medicaid and health care for veterans of military service are not subject to sequestration.
Staffing at airport control towers:
The Federal Aviation Administration staff that work at the control tower at Ann Arbor Municipal Airport could be eliminated, and the hours for the control tower staff at Willow Run Airport in Ypsilanti Township could be reduced.
Financial aid for students:
Federally supported work-study programs may be affected for students seeking out help in the fall of 2013 and the winter of 2014. Pell Grants will be protected for one year, according to the University of Michigan.
Loan fees will likely increase for federal student and parent loans.
Meals on Wheels:
The U-M Health System has received federal money to run the Ann Arbor Meals on Wheels agency for the past 40 years, and a substantial amount of the funding may now be subject to cuts. The program has volunteers deliver hot meals made at University Hospital to people unable to leave their homes in Washtenaw County -- like the elderly or people with disabilities.
Food stamp programs and Social Security funding will not be touched by sequestration.
Head Start programs:
About $20,944,350 that could be cut from the Head Start program in Michigan that provides early childhood education for low-income families. The cut would mean about 701 jobs would be eliminated from the program's staff and 3,364 fewer children would be served in Michigan, according to a report from the U.S. Senate Appropriations Committee.
Locally, Washtenaw County is overseeing the federally funded Head Start program until the end of the 2012-13 school year, which serves more than 500 children. In the 2013-14 school year, the program will be under the authority of a new non-profit organization that's selected by the federal government.
Research funding:
Federal grant dollars used for major research projects at institutions like the University of Michigan could be up for elimination.
About 62 percent of U-M's $795 million research budget comes from the federal government. U-M is anticipating a cut as high as $40 million in research funding as a result of sequestration.
Programs to help low-income individuals heat their homes:
The Low Income Home Energy Assistance Program, which helps low-income people and families heat and cool their homes, could see a cut of $14.7 million from its $172.4 million budget in Michigan.
Emergency preparedness grants for public safety departments:
About $1.5 million could be cut from Public Health Emergency Preparedness Grants in Michigan, which are used by departments like local fire and police to purchase equipment that helps them respond to emergency situations.
Amy Biolchini covers Washtenaw County, health and environmental issues for AnnArbor.com. Reach her at (734) 623-2552, amybiolchini@annarbor.com or on Twitter.