Posted on
Sun, Dec 16, 2012 : 3:13 p.m.
Former University of Michigan medical professor Sidney Gilman lived 'parallel life' with Wall Street
By Sven Gustafson
Sidney Gilman, the former University of Michigan neurology professor and Alzheimer's researcher implicated in an insider-trading scheme, received lavish compensation and other perks in exchange for sharing his medical expertise with Wall Street traders, The New York Times reports.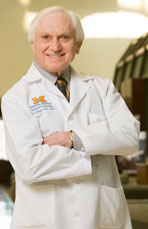 Courtesy U-M
Gilman's relationships with Wall Street traders netted him $100,000 a year or more on top of his $258,000 pay from U-M, the Times reported. He also received travels with limousines, luxury hotels and private jets.
Gilman is accused of sharing nonpublic information about a clinical trial of an Alzheimer's drug to a hedge fund portfolio manager, leading to massive multimillion-dollar trades. Gilman, who served as chairman of the safety committee overseeing the trial, entered into a non-prosecution agreement with the Securities and Exchange Commission in exchange for cooperating with the investigation.
His conversion to a Wall Street consultant came abruptly in his late 60s, the Times reported, and was a well-kept secret from his colleagues.
Gilman consulted with more than 40 clients on drug development and drug trials. He participated in up to 100 meetings a year that each paid around $1,000.
Gilman, 80, retired last month from U-M, which said it is conducting an internal review of his involvement in the case. The university is now reviewing its policy governing consulting by employees.
For more, read the New York Times story.