Posted on
Sat, Dec 3, 2011 : 11 a.m.
Fundraiser held for Jenny's market hayride accident victim as family celebrates her release from hospital
By Lisa Carolin
Mary Armbruster and her family celebrated a milestone in her recovery Thursday, but there's still a long road ahead for the young woman who was severely injured in a hayride accident this fall at Jenny's Dexter Market.
Armbruster was released from the hospital Thursday, and has made tremendous progress since the accident, but her life will never be the same, and she and her family face daunting medical expenses.
Saturday, friends and community members got a chance to help the family meet those expenses at a fundraiser held from 2 to 4 p.m. at Colonial Lanes on South Industrial Highway in Ann Arbor.
Armbruster, 23, of Ann Arbor, was driving a horse-drawn hay wagon Sept. 24 at the market just west of Dexter, when one of the horses tripped and she was pulled off. The wagon then ran over her, breaking her spine between two vertebrae.
Armbruster's mother, Julie Armbruster said her daughter now uses a wheelchair to get around and is undergoing significant physical and occupational therapy. Julie Armbruster said significant modifications have been made to the family's home to make it wheelchair accessible.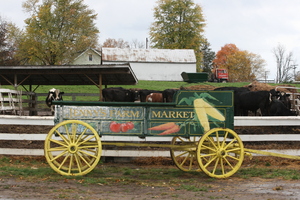 Lisa Allmendinger | AnnArbor.com
Mary Armbruster has undergone several surgeries and hopes to begin rehabilitation therapy at the University of Michigan Medical Center soon, according to information posted on the HelpHOPELive.org nonprofit website, where
donations can be made
for her care.
"Her survival and recovery are the result of her incredible tenacity, hard work, resolve, the dedicated doctors and nurses, the prayers and support of family and friend," Julie Armbruster said in a letter posted on the site.
Mary Armbruster released her own statement Nov. 1, in which she said faulty equipment and a dangerously steep downhill course were responsible for the accident.
Webster Township has since sought to shut down the business, citing Jenny's market for zoning violations.
Burton Hoey, operator of Jenny's Market, has said there were no problems with the equipment and the same course has been used for years without problems. He said that he turned claims over to his insurers and that his worker's compensation insurance and liability insurance should cover Armbruster's medical bills.
Estimates put the cost of Armbruster's care for the first year at close to $300,000, said Michelle Dettore, a registered nurse at the U-M. Julie Armbruster said that although her daughter has insurance coverage, many expenses are not covered, such as retrofitting the family home, rehabilitation equipment, physical and occupational therapy sessions, home health care and more.
Preregistration for Saturday's fundraiser began at 1:30 p.m., and though the bowling portion ended at 4, the fundraising continued until 6 p.m. The cost to participate in the bowling was $20 per person and included three games of bowling, shoe rental, two slices of pizza and pop, as well as a raffle.