Posted on
Fri, May 4, 2012 : 9:37 a.m.
Garlic mustard weed out day is May 5; Forsythe team takes first place in state, 6th nationally in knowledge competition
By AnnArbor.com Staff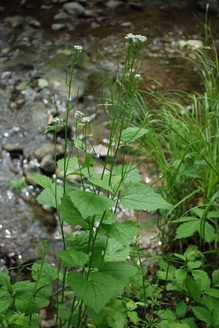 Rick Meader | Contributor
From a local garlic mustard weed pull to a middle school team's state victory in the Knowledge Master Open, here's a roundup of some of the stories posted on AnnArbor.com's Community Wall this week:
By: Natural Area Preservation: Natural Area Preservation's 14th Annual Garlic Mustard Weed Out Day
The 6 nature areas and parks that NAP will be removing garlic mustard from are: Berkshire, Bird Hills, Cedar Bend, Dolph, Hannah, and Redbud.
By: Dan Ezekiel: Forsythe Team Places First in Michigan, 6th Nationally in Knowledge Contest
The Knowledge Master Open is a contest that tests teams' ability to answer questions in all the subject areas quickly and accurately. The Viking team of 39 6th, 7th, and 8th graders scored 1729 out of a perfect score of 2000. They finished far above the national average of 1391.
By: Mike Wynn: Register For The Next Salesforce.com User Group Meeting
By: Let Freedom Ring: Fairytales in Augusta Township
By: Justin Fisette: Silver Maples of Chelsea hires Steven Rolston as new President and CEO
By: Deb Kern: Low Cost Pet Vaccination Clinic - May 12th
By: Russ Schwartz: Auditions: The Penny Seats seek performers for SHE LOVES ME
By: Janet Hawkins: WCC Culinary Students Medal in State Competition
By: Kimberly: Camp Skills Rock!
By: Cathy M.: Transition Town Chelsea May Potluck
By: Michigan Eye-Bank: Midwest Eye-Banks forms new partnership with Cleveland Eye Bank
By: Geoff Larcom: EMU aviation fraternity to hold pancake breakfast at Willow Run Airport on May 5
By: Guerin Wikinson: Freeze damage showing up in the landscape
By: Ann Arbor Jaycees Foundation: Grant Available For Non-Profit Organization, Courtesy Of Ann Arbor Jaycees Foundation
By: Ypsilanti Jaycees: Mom 2 Mom Sale
By: T.P.: Spring into IT with Online Tech
Arbor.com's Community Wall is a spot for local people to post local stories, news and announcements. To post a story, sign in to AnnArbor.com, then go to www.annarbor.com/community and use the Got News? Tell Us function at the top to submit your news. If you have a photo to add, e-mail it to us at community@annarbor.com, and we'll insert it into your story.