Posted on
Tue, Jun 12, 2012 : 11:55 a.m.
Getting serious about climate change: Ann Arbor eyes 90% reduction in emissions by 2050
By Ryan J. Stanton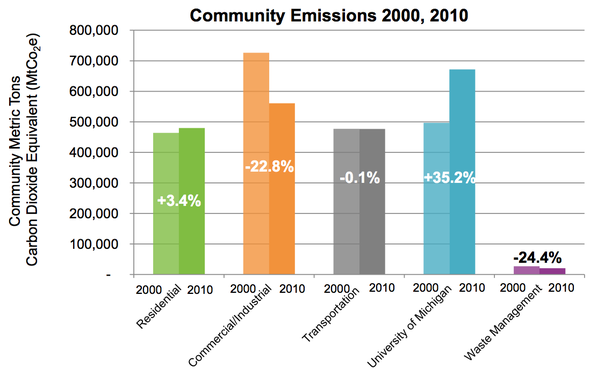 Courtesy of City of Ann Arbor
Ann Arbor
officials are bracing for a warmer future where it rains more, snows less and reliance on new methods becomes abundantly more important.
"One of the important things we're looking at is stormwater — the amount of extreme storms is likely to increase," said Matt Naud, the city's environmental coordinator.
Working with the Great Lakes Integrated Sciences and Assessments (GLISA) center at the University of Michigan, city officials are expecting a rise in the intensity and frequency of storms, which could mean more erosion and sewage overflows.
They also say Ann Arbor can expect anywhere from a 1.8- to 5.4-degree increase in temperature by 2050, leading to significantly increased energy demands.
With an eye toward that future, a special task force appointed by the city's Energy Commission continues its work on drafting an updated
Climate Action Plan
for Ann Arbor.
Naud, joined by two of his colleagues, presented some of the initial results of the task force's work to the Ann Arbor City Council during a special work session Monday night.
"We do think that climate change is a really important issue we should be focusing on," Naud told council members. "We think we've got a number of really important and doable steps that we can take. And each of those steps will be brought to you as individual projects."
The city's Climate Action Plan initiative is being funded by a $50,000 Michigan Department of Environmental Quality pollution prevention grant. Part of that money has paid to contract with the nonprofit Clean Energy Coalition.
Jenny Oorbeck of the Clean Energy Coalition joined Naud at Monday's meeting, highlighting the likely targets coming out of the final Climate Action Plan later this fall.
That includes a new goal of having the community's greenhouse gas emissions fall 25 percent below 2000 levels by 2025, and then 90 percent below 2000 levels by 2050.
"We set that target to align with U-M's climate goals," Oorbeck said of the 2025 goal. "Beyond that, we are trying to align with the latest consensus on climate science."
Oorbeck said more than 80 actions — some small, some large — have been identified as necessary to reach those goals. She didn't go into detail on them Monday night.
Nate Geisler, the city's energy programs associate, presented figures showing the 2.2 million metric tons of carbon dioxide emissions that came from different segments of the community in 2010 and how that's changed in the past decade.
He said less than 2 percent came from the city's municipal operations. The commercial/industrial sector contributed 25 percent or 560,944 metric tons, while residential properties contributed 22 percent or 479,728 metric tons.
Transportation contributed 22 percent or 746,772 metric tons, while the University of Michigan contributed 30 percent or 671,605 metric tons.
A chart presented by Geisler showed a drastic drop in emissions by commercial and industrial properties over the last decade while U-M's carbon footprint grew significantly.
He said part of that is because the former Pfizer campus in Ann Arbor was switched into the university's hands, but beyond that U-M just went through a growth period.
Fortunately, Geisler said, the university is taking steps through its office of sustainability to address emissions. Two U-M representatives serve on the climate task force.
Naud said quite a bit of analysis has gone into the project thanks to the help of a diverse task force that includes members from various community groups that are actively working on climate change and understanding what it means for Ann Arbor.
"And how we can work to both mitigate the effects of climate change and adapt to the changes we know are coming," Naud added.
Naud said he was presenting the initial results of the task force's work to council Monday night to get feedback before a more formal plan is presented in the fall.
The city already met a previous goal from 2006 of having 20 percent of energy use for municipal operations coming from renewable sources by 2010.
The council last year also set a goal of having community greenhouse gas emissions 8 percent below 2000 levels by 2015, with municipal emissions 50 percent below 2000 levels by then.
Naud said the task force in the Climate Action Plan effort is going beyond municipal operations and looking at what Ann Arbor can do as a broader community.
"We've been working with the University of Michigan," he said. "There's a lot of good climate science out there."
Courtesy of City of Ann Arbor
Oorbeck said Ann Arbor needs to get more serious about renewable energy, asking questions like: What would it look like if we were 100 percent renewable for electrical generation and potentially 100 percent renewable for heating sources for buildings?
"We also need to have that similar type of focus on transportation emissions," she said. "How do we eliminate these fossil fuels? If we're really going to get to that 90 percent reduction, we can't do it without doing these drastic things."
She pointed out DTE Energy still generates 75 percent of its electricity from coal and 20 percent from nuclear. The utility company, which serves Ann Arbor, is working to meet Michigan's Renewable Portfolio Standard of generating 10 percent of its energy from renewable resources by 2015, and as of September reported it was at more than 5 percent.
Mayor John Hieftje said the city has looked at creating its own electric utility, which is something other Michigan cities have done, but found it would be a long, arduous and expensive process, but he said it's "surely it's a great solution that would help."
"Absolutely," Naud agreed.
"And I think some of the models in California where the utilities and cities partner in community energy planning, that's something that would be much more doable," he added.
Council Member Stephen Kunselman, D-3rd Ward, wondered what Ann Arbor would look like in 2050 after implementing everything the climate task force is talking about.
He wondered: Would there be solar panels on every roof and windmills throughout town? Would everyone be driving electric cars?
Naud said that's something that requires deeper thought, but he pointed out the top two users of energy in Ann Arbor are the city's water and wastewater treatment plants, followed by street lights. He said the two plants could be powered year round by three 1.6-megawatt wind turbines like the ones DTE Energy is installing in Michigan's Thumb region.
Ryan J. Stanton covers government and politics for AnnArbor.com. Reach him at ryanstanton@annarbor.com or 734-623-2529. You also can follow him on Twitter or subscribe to AnnArbor.com's email newsletters.