Posted on
Fri, Sep 23, 2011 : 11:15 a.m.
Former chairwoman explains process for approving public art projects in Ann Arbor
By Ryan J. Stanton
Margaret Parker, former chairwoman of the Ann Arbor Public Art Commission, responded this week to complaints that it's taking too long for city-funded public art projects to roll out.
Parker, appearing before the Ann Arbor City Council, described to council members what it takes to start up a project. She said planning begins with a capital improvement plan, and each year different projects in the plan are evaluated by the commission.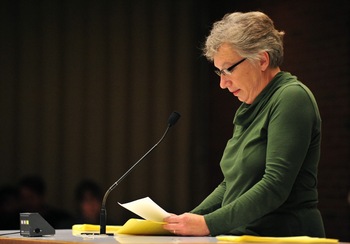 Ryan J. Stanton | AnnArbor.com
The commission analyzes site priorities and places emphasis on choosing a mix of projects, some large, some small, Parker said.
"Last, we look at which projects are going into the construction phase for this year," she said. "Then AAPAC strings together a shovel-ready project."
Parker said there also must be a public art commissioner who will champion the project to completion, and that project goes into the annual public art plan.
After that happens, she said, the commission partners with city departments, sets up a task force for community input and heads into the artist selection process.
Following that process, she said, it still could be months before an artist signs a contract, and it could be months more after that before a finished piece is installed.
"There are many ways that the process could be speeded up, yes," Parker told council members, but she said it'd be a mistake to cut funding for public art.
Parker stepped down as chairwoman this past year but continues to serve on the Public Art Commission, which oversees the city's Percent For Art Program.
Under an ordinance approved by the City Council in 2007, 1 percent of the budget for all city capital projects — up to $250,000 per project — is set aside for public art.
Nearly four years since the launch of the program, more than $2.2 million in city funds have been channeled toward public art.
As of Sept. 1, only a portion of that money had been spent. Nearly $1.7 million remained set aside and waiting to be put toward projects, according to records obtained by AnnArbor.com.
Some council members have complained recently that four years into the program the commission has delivered on just two art installations: a $750,000 sculpture being installed in front of city hall (somewhere north of $400,000 has been spent so far), and a $15,000 installation in West Park that included two orange-colored tree sculptures.
However, many other projects are being planned, including an installation inside the lobby of the Justice Center building and at the site of the proposed Fuller Road Station.
Ryan J. Stanton covers government and politics for AnnArbor.com. Reach him at ryanstanton@annarbor.com or 734-623-2529. You also can follow him on Twitter or subscribe to AnnArbor.com's e-mail newsletters.