Posted on
Fri, Mar 18, 2011 : 4:56 p.m.
Governor to unveil plans for local government reform, revenue sharing on Monday
By Ryan J. Stanton
Michigan Gov. Rick Snyder's much-anticipated message on community development and local government reform is expected to take place Monday morning, his office confirmed today.
Snyder plans to unveil details of his plans, which include restructuring state revenue sharing for local communities, during a 9:30 a.m. press conference inside Grand Rapids City Hall.
Local leaders are waiting anxiously to find out what Snyder will propose. Snyder already delivered a harsh blow to local officials across Michigan last month when he unveiled a state budget proposal calling for deep cuts in funding for municipalities.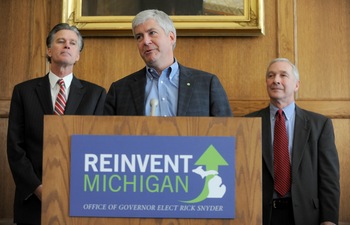 Angela J. Cesere | AnnArbor.com
Snyder proposes a complete elimination of nearly $300 million in statutory revenue sharing payments for cities, villages and townships in the fiscal year that starts Oct. 1.
Taking the place of those payments, under Snyder's plan, would be a new incentive-based revenue sharing program that would make a lesser, $200-million pot of money available to cities, villages and townships that meet certain standards and adopt "best practices."
Snyder is expected to offer more details on Monday about how the new program would reward municipalities for working to reduce employee compensation, collaborate and consolidate services, and be more transparent about spending. He said recently that his plan would reward communities that already have made strides in those areas.
State Rep. Jeff Irwin, D-Ann Arbor, said he hasn't heard any more than that. He said he's hoping Snyder will stay true to his word and properly reward communities that already have made progress in the area of intergovernmental cooperation.
"I haven't heard any details about what he's going to propose specifically, but I know many people are on the edge of their chairs to find out what exactly he means by this incentive-based revenue-sharing model," Irwin said. "It could be a good idea and it could be set up in ways that benefit communities like Ann Arbor or Washtenaw County that have worked hard to consolidate services. But I don't know the details. I'm interested to see them."
A spokesperson for Snyder could not be reached for comment.
Essentially, Snyder's state budget proposal equates to a $92.1 million — or nearly a one-third — reduction in statutory revenue-sharing funding. The move will impact hundreds of local units of government across Michigan, including Ann Arbor and Ypsilanti.
Snyder noted there still would be a $25.5 million or 4 percent increase — for a total pot of $659 million — in constitutionally protected revenue sharing payments to local units of government next year. That's based on estimated sales tax collections.
A 60-page copy of Snyder's executive recommendation for revenue sharing reductions shows Ann Arbor would lose $1.7 million — or 18.3 percent of its total payments — when balancing the elimination of statutory payments with a slight increase in constitutional payments. Ypsilanti would lose nearly $1.2 million, or about 44.3 percent of its total payments.
The city of Saline would lose $124,447, Milan would lose $50,490, Chelsea would lose $62,898, and Ypsilanti Township would lose $447,047, the document shows.
How much of that money each individual community could potentially earn back depends on what performance metrics Snyder lays out on Monday.
Ann Arbor officials say if Snyder is going to take away revenue sharing dollars, the state should give local communities back the power to levy local sales taxes to make up for the losses.
The Washtenaw County Board of Commissioners held a special two-hour working session meeting Thursday night on the topic of intergovernmental cooperation. Representatives of the the cities of Ypsilanti and Saline and Ann Arbor and Salem townships participated in the meeting and expressed interest in a renewed emphasis on finding ways to collaborate.
"The meeting was absolutely phenomenal," said County Commissioner Yousef Rabhi, D-Ann Arbor, chairman of the working session. "We had a great discussion about the potential for collaboration, the reason behind collaboration, and some ideas even came out. It was a great discussion, especially given there have been strained relations between the county and different local units of government. This was an opportunity for us to reach out."
Rabhi said he called Snyder's office to let his staff know about the meeting. He noted that a video of the meeting has been posted to the county's website.
Ryan J. Stanton covers government and politics for AnnArbor.com. Reach him at ryanstanton@annarbor.com or 734-623-2529. You also can follow him on Twitter or subscribe to AnnArbor.com's e-mail newsletters.