Posted on
Sun, Feb 13, 2011 : 5:59 a.m.
Should Michigan cities and counties have the option of a local sales tax? Some think so
By Ryan J. Stanton
Ryan J. Stanton | AnnArbor.com
After years of making painful cuts, local governments across
Michigan
still are grappling with some of the most deep-rooted fiscal challenges they've seen in decades.
That leaves some wondering: Why aren't local sales taxes an option for cash-strapped cities and counties in Michigan? A majority of states allow them.
Ann Arbor Mayor John Hieftje and other local officials say they'll be actively lobbying Gov. Rick Snyder and the new Legislature to make some changes to state law soon.
That effort comes as the city of Ann Arbor faces a $2.4 million budget shortfall for next fiscal year, meaning another year of possible cuts to services like police and fire.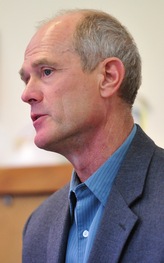 Washtenaw County
officials, meanwhile, are tasked with addressing a
$20.9 million structural deficit
over the next two years, and entire programs are on the chopping block.
If the state continues making cuts to revenue sharing, Hieftje said, it should at least allow municipalities to generate revenue in other ways — such as a local sales tax.
"Back when the state took over revenue sharing, they took away the ability of cities to have local sales taxes," Hieftje said. "And what cities are going to be saying here — since the governor wants to talk to us, he wants to hear from us — is maybe we should have a menu of options.
"If you're going to take away revenue sharing, which we all see happening, give us another option, because you just keep taking it away and taking it away."
As lawmakers in Lansing turn their attention to a deficit of at least $1.8 billion for the next fiscal year, further cuts to revenue sharing might be hard to avoid.
Ann Arbor already has watched its revenue sharing payments from the state fall from more than $14 million a decade ago to just above $9 million last year. That $5 million drop has led to city service reductions and dozens of job eliminations.
According to the Citizens Research Council of Michigan, unrestricted state revenue sharing has dropped 31 percent since 2000 — or by $4 billion. It's estimated those cuts have caused more than 2,400 police officers and 1,800 firefighters to lose their jobs.
"I don't think there's a local government left in the state that doesn't have fewer police officers and firefighters," Hieftje said.
Michigan in the minority
More than half the states in the country allow local sales taxes. But it would take a voter-approved amendment to the state Constitution to give municipalities that option in Michigan.
State Rep. Jeff Irwin, D-Ann Arbor, favors going to voters with the idea. So does the Washtenaw Area Transportation Study, a countywide transportation planning agency.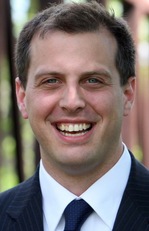 Irwin, a former Washtenaw County commissioner and member of
Washtenaw Partners for Transit
, said he'd be willing to sponsor legislation to make local sales taxes an option. He said he thinks sales taxes are the best way to fund regional services like transit.
"Could the Legislature just put it on the ballot? Yes, absolutely," Irwin said. "Do I think that's going to happen? I'm hopeful that it might given the situation we're facing in Lansing, but I think it's a long shot. It's going to be hard to get the votes for that in Lansing."
Terri Blackmore, WATS executive director, said her agency studied the issue in 2006 and found a 0.5-percent sales tax in Washtenaw County — added on top of the state's 6 percent — could raise $25.9 million a year. That study hasn't been updated, but Blackmore said it showed a local sales tax could be a reliable revenue source.
If Blackmore had her way, that money would go to fund countywide transportation improvements, including expansion of Ann Arbor Transportation Authority services and the Ann Arbor-to-Detroit commuter rail.
But past efforts to give locals that option have died the Legislature.
"It's been introduced probably the last four or five sessions," Blackmore said. "We're really hoping this time around it will go farther. It just makes sense that they would enable the citizens to tax themselves. It seems like a win-win. And the Republicans in the Legislature wouldn't have to raises taxes — they would just allow people to vote for it if they wanted to."
Blackmore noted other communities outside Michigan don't pay for transit improvements with property taxes, but rather have a host of options, including local sales taxes.
"It's just a shame that Michigan has not been investing in our infrastructure. It's a real economic issue," she said.
Hieftje thinks a local sales tax in Ann Arbor would make sense to voters — more so than other revenue options like a city income tax or a Headlee override.
"Ann Arbor, for instance, would finally have a way for city government to do well with a University of Michigan football game — you have seven football games a year, with all of these people coming to town," he said. "The art fair, we would begin to really see an appreciation from things like that. It would capture some of the dollars.
"It may be that a community like Ann Arbor would do well enough with a sales tax that then we could lower taxes in other areas," he added.
Hieftje said it wouldn't be a revenue grab, but would be a way to stave off cuts to basic city services. Theoretically, he said, it could be a 1 percent tax on sales in the city, and 1 percent throughout the rest of the county to fund services like public safety in the townships.
Keeping the rate even throughout the county would help keep consumers from driving to stores outside the city just to save a few dollars, he said.
'A one-size-fits all tax'
Not everyone is as gung-ho as Hieftje. Bill Gillmore, owner of the Dawn Treader Book Shop in downtown Ann Arbor, said he's not sold on the idea of increasing the sales tax.
"I know the city is struggling like crazy to have enough money to provide basic services," he said. "But I don't like sales taxes much, because they're predominantly a tax on poor people. I like to tax people according to their means. I think we have enough trouble with people trying to make ends meet without having a one-size-fits-all tax."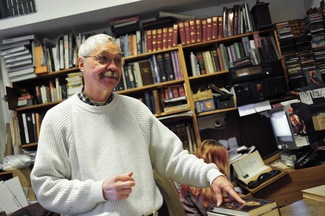 Ryan J. Stanton | AnnArbor.com
Mary Parker
, an employee at Gillmore's book shop, said she used to live in New York state where the sales tax rate differs by jurisdiction due to local sales taxes.
"The sales tax in the Buffalo area was 8.5 percent last I knew, and then people would go to Niagra County because it was 7 percent," she said. "My sister and I came here and we were like, 'What? Six percent? Wow, easy.'"
Parker said raising the sales tax can be a slippery slope.
"It depends on how much it's going to affect the people who already are kind of broke," she said. "How far is their dollar going to go for the same stuff they need?"
University of Michigan student Brian Kingsley said a local sales tax might sound like a good idea when considering Ann Arbor draws a lot of visitors. But an astute tourist might notice and leave frustrated, he said.
"Also, there's an underlying idea here that we should make money off the students, which frustrates me," he added.
County Commissioner Leah Gunn, D-Ann Arbor, said local governments in Michigan have few options for raising new revenue. She noted the county is bringing in about $14 million less in property taxes than it otherwise might because of the Headlee Amendment to the state Constitution and Proposal A — both of which placed limits on property tax growth.
Gunn said it's her understanding the county could lose out on millions more if the Snyder administration is successful in its plans to restructure business taxes in Michigan. Even so, she's against using a local sales tax to replenish the county's coffers.
"A local sales tax would be regressive," she said. "Perhaps an entertainment tax on football tickets, restaurant meals above a certain amount, and possibly performances, might be more acceptable. Whatever is proposed, the voters would have to decide."
Ryan J. Stanton covers government and politics for AnnArbor.com. Reach him at ryanstanton@annarbor.com or 734-623-2529.