Governor's budget cut proposals aimed at poor anger Washtenaw County commissioners
Posted on Thu, Mar 3, 2011 : 5:58 a.m.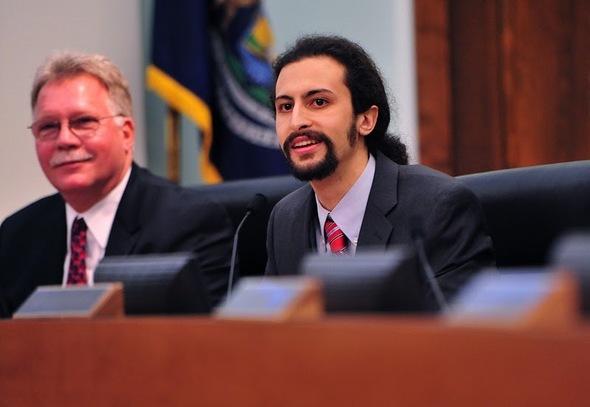 Ryan J. Stanton | AnnArbor.com
No matter how you slice it, Washtenaw County will feel some pain if Gov. Rick Snyder's executive budget proposals are approved by the state Legislature.
That was the message lobbyist Kirk Profit delivered to the Washtenaw County Board of Commissioners Wednesday night during an update on state budget talks in Lansing.
Snyder's plan to cut business taxes, while increasing taxes for senior citizens and making cuts to programs that help low-income people, has angered some commissioners.
"It seems like there's a tendency to think, 'let's not kick the can down the road,'" said Commissioner Yousef Rabhi, D-Ann Arbor. "But I feel like what's being done here is we're picking up the can and we're throwing it at the homeless, and we're throwing it at the poor, and we're throwing it at the elderly, and we're throwing it at our local communities."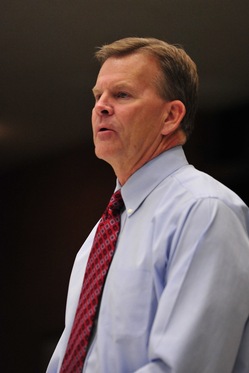 Ryan J. Stanton | AnnArbor.com
Profit was joined by fellow lobbyists Kenneth Cole and Adrian Hemond, two of his colleagues at Government Consultant Services Inc. Cole touched on changes in community health funding, while Hemond addressed cuts to the state's human services budget.
"As you may have heard, the governor has proposed a 48-month lifetime limit on state cash assistance benefits, applied retroactively," Hemond said, noting that translates to about 12,500 individuals who would be immediately cut off from welfare come October.
"Obviously, some of those folks are going to be looking to units of local government for some services as they're cut off from those cash assistance benefits," he said.
According to figures from the state budget office, the move is expected to save the state about $77.4 million next year — $65 million of which would be in the general fund.
"Another major change the governor has proposed is a reduction in the hourly reimbursement rate paid to relatives and aides that provide day care to low-income children," Hemond said. "Currently, the rate's at $1.60 an hour and that would be lowered to $1.35 an hour, for a potential general fund savings of about $13.9 million."
Cole noted that Snyder's budget also recommends a $67 million cut in graduate medical education spending — $17 million or 25 percent of which would be borne by the University of Michigan Hospital. Considering that money goes toward training of residents, it could have an impact on health care in Washtenaw County, though he couldn't say to what degree.
Profit noted Snyder plans to finance about half the $1.8 billion in business tax cuts he's proposed by taxing the pensions of seniors. His plan to eliminate the Michigan Earned Income Tax Credit for low-income wage earners would free up another $350 million, Profit said.
Commissioner Leah Gunn, D-Ann Arbor, said she doesn't mind that her pension might be taxed, and neither does her husband.
"I think this is something that we have to look at very seriously. It's only fair," she said. "Senior citizens are not all poor. They might want to think maybe about putting in a circuit breaker for people of low income. But frankly, we geezers are the ones that have a lot of money."
Commissioner Wesley Prater, D-York Township, disagreed. He cited figures that suggest 35,000 people in Washtenaw County don't have health care.
"I think it's unfortunate that the governor would try to give tax breaks and put it on the backs of some of the poorest people in Washtenaw County," Prater said. "I just simply oppose it. Personally, I can handle it, but there's a lot of people out there that can't handle it."
From a macro perspective, Cole said, Snyder actually proposes spending $2.7 billion in state general fund money on the Michigan Department of Community Health next year — about a 12 percent increase. The department's spending would consume nearly 40 percent of the state's $7 billion general fund budget under Snyder's recommendation.
"Undoubtedly, the primary reason for this spike in community health spending is growth in Medicaid caseloads," Cole said, noting the state is grappling with nearly 1.9 million cases right now, a number expected to grow by 3.2 percent next year. "That's a conspicuous sign that the Great Recession continues to wreak havoc in our state."
Of particular interest to Washtenaw County might be the fact that it had the seventh highest rate of Medicaid caseload growth from 2002 to 2010, Cole said. In June 2002, the county had 19,706 cases, which nearly doubled to 39,142 by June 2010.
A micro look at the governor's budget shows Snyder would cut non-Medicaid community mental health spending by 3 percent or $8.5 million — from $282 million to $273.5 million, Cole said.
For the Washtenaw Community Health Organization, that reduction would translate to a loss of about $200,000 from the $7 million it currently receives, he said.
"Similarly, the governor's spending plan does not recommend pre-paid inpatient mental health plans — more commonly referred to as the Medicaid side of community mental health service programs — for an increase in funding," Cole said. "Granted, it doesn't prescribe a cut, either, but the fact that there isn't a bump in spending on this program could have the same effect as a cut because, again, Medicaid caseloads are increasing."
Additionally, Snyder's budget proposes a 5 percent or $1.7 million cut in spending on local public health departments. In all, about $40 million is spent in that area right now.
"It's unclear at present if that reduction would be made across the board, so I can't tell you with specificity how much it would cost Washtenaw County," Cole said.
Hemond noted Snyder's executive budget proposes closure of a juvenile justice facility in Grayling. If that happens, he said, it would leave the state with only two publicly run juvenile justice facilities, one of which is the Maxey Boys Training School in Whitmore Lake.
"There's also a proposed elimination of the before- and after-school grants program in the human services budget for a savings of $3 million, and the proposed elimination of 300 local office staff through attrition," Hemond said.
While it wasn't included in Snyder's budget, Hemond said the county might expect future administrative actions aimed at lowering the reimbursement rates to counties for juvenile justice placements. Currently, the state splits that cost 50-50 with counties.
"A final thing to keep an eye on, which could have a potential financial impact on Washtenaw County, are increases in private foster care day rates," Hemond said, noting there have been multiple attempts over the years to do so. "And this is another area where Washtenaw County bears 50 percent of this cost for juveniles that are placed in foster homes."
Hemond said the good news is the governor's budget has recommended keeping funding flat for the County Jail Reimbursement Program and community corrections programs.
Profit said the county can expect to see lawmakers in Lansing continue to push for cuts to public employee compensation. He said legislation already has been introduced to repeal Public Act 312, a state law that provides for binding arbitration for police and fire unions.
"Make no mistake, collective bargaining is on the minds of almost every member of the majority at least," he said, adding some legislators might move later this year to remove collective bargaining in the public sector altogether.
"Obviously they are going to attend to state employee compensation, but they're going to watch carefully what local governments are doing as they move forward with their agenda with respect to local government finance," Profit said. "So you want to be very attentive to that issue because it certainly is on the minds of state policymakers."