Heat advisory issued for Ann Arbor area through Saturday; near-record temps expected
Posted on Thu, Jun 28, 2012 : 9:53 a.m.
A heat advisory is in effect through Saturday as the second round of extremely hot weather in two weeks bears down on the Ann Arbor area.
The National Weather Service, in issuing the heat advisory in effect from noon today through 9 p.m. Saturday, warned that four days of 90-plus degree weather could create a dangerous situation for some people. The weather service said Detroit and its close suburbs are particularly vulnerable.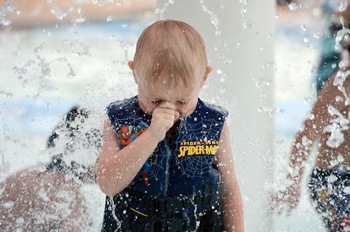 Melanie Maxwell | AnnArbor.com
Forecasters warned that the heat index could reach 100 to 105 degrees for more than three hours.
The weather service said that heat-related illnesses such as heat stroke, heat exhaustion and dehydration would be possible. The cumulative effect of multiple hot days adds to the heat stress.
Meanwhile, the Department of Environmental Quality, also issued an air quality alert for Thursday, warning that pollutants are expected to be in the unhealthy range for sensitive groups.
The forecast in the Ann Arbor area for Thursday calls for sunny and hot conditions, with a high near 99 and heat index values as high as 102. Winds from the west could gust to 25 mph.
The record for June 28 is 103 degrees, set in 1934 said University of Michigan weather observer Dennis Kahlbaum.
Mostly sunny and hot conditions will continue Friday with a high near 95. Saturday, there will be a chance of showers and thunderstorms after 2 p.m. Otherwise, expect mostly sunny skies, with a high near 93. Winds could gust as high as 29 mph. The chance of rain is 40%.
Sunday, the chance of showers and thunderstorms will continue after 8 a.m. It will be partly sunny, with a high near 90.
Monday will be slightly cooler with a high near 88 and mostly sunny conditions.
The heat wave comes in the midst of a prolonged dry spell, and follows a few days of 90-degree weather last week.
The Weather Service advised people to stay out of the sun when possible and check on neighbors and relatives. Children and pets should not be left in unattended vehicles.
The U.S. Centers for Disease Control offers these tips to deal with the heat:
Wear light-colored, loose-fitting, breathable clothing such as cotton.
Avoid non-breathing synthetic clothing.
Schedule heavy work during the coolest parts of day.
Take more breaks in extreme heat and humidity.
Take breaks in the shade or a cool area when possible.
Drink water frequently. Drink enough water that you never become thirsty; approximately 1 cup every 15-20 minutes when you are working or exercising in the heat.