Hide inside or skip town? Those without power consider their options
Posted on Fri, Jul 6, 2012 : 2:58 p.m.
As power remains out for a large number of Ann Arbor area neighborhoods and the temperatures stretch upward of 95 degrees, people are finding ways to stay cool.

In northwest Ann Arbor between Miller Avenue, North Maple Road, Dexter Avenue and M-14, the sound of generators whirring broke through the sultry, humid morning Friday.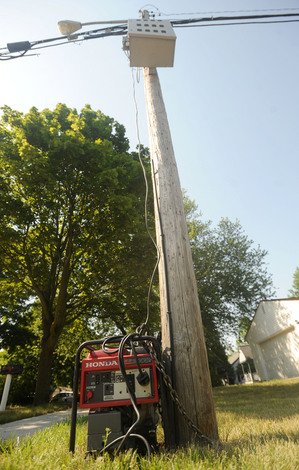 Angela J. Cesere | AnnArbor.com
Though there was no power to the quiet neighborhood, people weren't outside sweating out the blackout or running through sprinklers.
If they're like Charo Ledon, of Ann Arbor, they were holed up inside enjoying the remains of their cool air.
"I have no idea when (the power) is coming back on," Ledon said. "I try not to open my refrigerator too much, or open the door."
Sitting indoors in her bathing suit listening to NPR on a small radio, Ledon said she missed the comforts of electricity, but was doing just fine.
Though Ledon said she typically tries to not run her air conditioner during the summer, the past week of 90-degree temperatures was too hot to live without it. The cool air was still present Friday morning in her home on the corner of Hollywood and Archwood drives because all of her windows were tightly shut.
About 691 DTE Energy customers in Ledon's neighborhood were affected by the storm-related outage. Ledon has been without power since Thursday morning.
Ledon grew up in Cuba, and moved to Ann Arbor in 1974. As a child, she said week-long blackouts were common - and she said grew to understand that electricity was something that she couldn't take for granted.
"I sort of like it," Ledon said. "People go outside and talk with their neighbors."
Ledon said she left her home Thursday to find an Internet hotspot because without power, she has no way to get online.
Across the street from Ledon's home, a generator sat next to the utility pole to power a Comcast cable box.
Patrick Paterno, spokesman for Comcast, said it was standard practice to place generators in neighborhoods during power outages to serve customers that have personal generators at home to run some of their basic appliances.
However, with utility work going on "around-the-clock," Paterno said there may be disruptions in Comcast service to areas that have power.
"Brownouts are possible and are out of our control," Paterno said.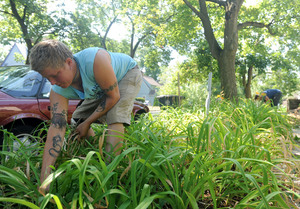 Angela J. Cesere | AnnArbor.com
Eve Fortson
, a
Maple Ridge Street
resident, she said her "warm-weather metabolism" has kept her from overheating.
Fortson said she doesn't run the air conditioning in her home even when she does have power. Born and raised in the south, she said she was used to conditions even hotter and more humid than the recent Ann Arbor weather.
As she's retired and living alone, Fortson said her neighbor made sure to check on her during the outage. In her West Park neighborhood, about 730 DTE customers were affected.
Most of her neighbors had gone to work or left town for the Fourth of July holiday weekend, Fortson said. Fortson was one of the only people outdoors in her neighborhood Friday morning, surveying a crew from Lady MacGyver landscaping company working in the front of her home.
Crystal Conway, company owner, said she she recently had heat sickness while out on the job. Working outdoors in the hot weather has forced Conway to adjust her hours to finish before the worst heat of the day hits after noon.