Posted on
Thu, Jun 10, 2010 : 12:41 p.m.
Hospital quality may be declining with economy, University of Michigan and St. Joseph Mercy researchers say
By Tina Reed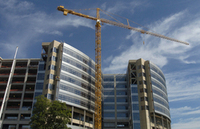 File photo
Turns out, health care isn't immune to the beating the current recession has been giving other sectors of the economy.
University of Michigan and Saint Joseph Mercy Health System research of hospitals across the country shows their finances have taken a hit, and health care quality may be declining as well.
Typically, economic downturns actually lead to growth or stability in the health care system, the analysis said.
The researchers wanted to see whether that rang true for hospitals during the recent economic recession, being called the worst since the Great Depression, said Matthew Davis, senior author of the analysis and U-M associate professor of pediatrics and communicable diseases and internal medicine.
Instead, they found drops in nearly every potential stream of income for hospitals, such as reimbursement rates for inpatients, number of admissions, charitable donations and ability to obtain bonds. More than 50 percent of U.S. hospitals had negative margins at the end of 2008, but have reported improvements since.
"In the last 10 years, there has been more and better work on improving hospital quality than perhaps we've ever seen. This downturn threatens to perhaps undo some of those improvements," Davis said.
Even as health care legislation approved earlier this year promises millions of new patients, the decline has meant cuts in patient care staff like nurses and doctors across the U.S. and has halted new hospital projects.
"Understaffed and under financed hospitals are rarely safe," reads the analysis. "Dissatisfaction and layoffs hurt the interactions between employees and patients. Robust nurse-to-patient ratios have proven vial to patients' hospitals outcomes could be at risk."
RELATED CONTENT
Check out how the University of Michigan and Saint Joseph Mercy Health System measure up on a government website called Hospital Compare at www.hospitalcompare.hhs.gov, which offers quality measures based on Medicare Data.
The analysis - conducted by lead author and U-M Internal Medicine Physician Jeremy Sussman and St. Joseph Mercy Health System Vice President for Quality and System Improvement Lakshmi Halasyamani — was published in the May/June issue of the Journal of Hospital Medicine.
Differences in the size of a hospital or the region it was located in didn't predict financial instability, but the health of its income could, according to the study. The researchers warn the financial instability of hospitals could lead to hospitals halting major construction projects or even lead to hospital closures, which can hurt a community's access to both health care and jobs.
Both U-M hospital and St. Joseph Mercy hospital have announced some layoffs in recent years due to revenue shortfalls. Recently, St. Joseph Mercy Health System announced it would consolidate some of its services into its Superior Township location.
However, both have also gone forward with major construction projects.
U-M is in the midst of constructing its replacement children and women's hospital with the building of the $754 million U-M C.S. Mott Children's and Von Voigtlander Women's Hospitals complex to open the fall of 2011. St. Joseph Mercy Health System built two patient care towers, just recently opened the second new tower on its Superior Township campus, and is continuing a build of its main entrance.
"The University of Michigan and Saint Joseph Mercy Health System have dealt with the recession in a variety of ways," Davis said. "I am confident both organizations have maintained an intense focus on quality. We will have to watch quality measures going forward."
The analysis suggests government incentives to encourage quality of hospital staff could be part of the solution to declining quality in cash-strapped hospitals. "State and federal leaders may need to watch these trends closely to design and to be ready to implement potentail government remedies for hospitals' fiscal woes," the paper said.
Davis pointed to research that shows patients who are being discharged from the hospital are more vulnerable than the average person of being admitted to the hospital soon after.
As hospital staffs get leaner, there are fewer resources to help patients transition out of the hospital. But having extra staff on hand to help those patients could actually save health care dollars while improving quality, Davis said.
Tina Reed covers health and the environment for AnnArbor.com. You can reach her at tinareed@annarbor.com, call her at 734-623-2535 or find her on Twitter @TreedinAA.