Posted on
Wed, Aug 4, 2010 : 5:10 a.m.
How Rick Snyder secured Michigan's Republican nomination for governor
By Nathan Bomey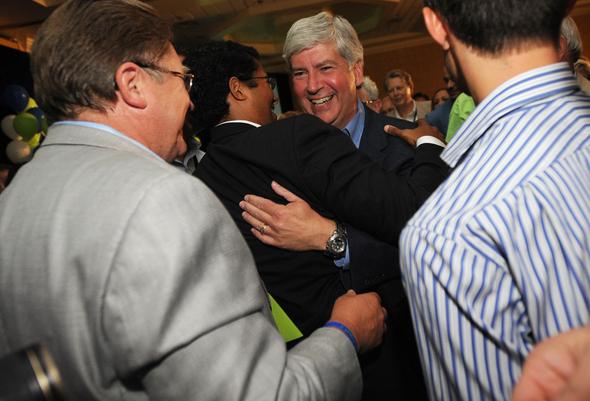 Melanie Maxwell I AnnArbor.com
Political obscurity turned out to be Rick Snyder's greatest asset.
Snyder, taking a page from his day-to-day work as an Ann Arbor venture capitalist, has treated his campaign for Michigan's Republican gubernatorial nomination like it's a startup company.
Snyder, former president of Gateway Inc. and co-founder of economic development group Ann Arbor SPARK, vaulted into the national political spotlight Tuesday night, outpacing four opponents to win the nomination.

Here's how he did it:
1. He was the quintessential outsider.
Snyder started the campaign with virtually no name recognition in Michigan's political circles. When he launched his exploratory committee in March 2009, one of the state's top political experts, Inside Michigan Politics editor Bill Ballenger, said he'd never heard of Snyder.
But early on, Snyder identified political inexperience as his startup campaign's biggest asset. He consistently labeled his opponents as "career politicians" for a full year before the primary - and that resonated with voters who were tired of political insiders.

"It really just felt like people were ready for a difference, not the same old thing," said supporter Bruce Heissenbuettel of Pittsfield Township.
An EPIC-MRA poll released in the final days of the campaign by the Detroit Free Press and WXYZ-TV showed voters liked the fact that Snyder was a business executive and not a politician. In addition, he was a tech executive - much like former eBay CEO Meg Whitman and former Hewlett-Packard CEO Carly Fiorina, California's Republican nominees for governor and U.S. Senate, respectively. Voters seemed to embrace that background.

Snyder's campaign took extreme steps to ensure he wasn't seen as part of the political machine. After participating in a few debates, for example, he decided he would no longer take part in the debate cycle - which raised eyebrows among political experts. (Snyder has said he would debate his Democratic opponent, Lansing Mayor Virg Bernero.)

But the goal was obvious: Snyder wanted to make sure voters knew he didn't play by the traditional political rules.
"I got tired of the debates," Snyder said Monday night at his last political rally before the primary. "We did well in them, I did a bunch of debates, stood up well, made my points, but it was so much soundbites and bickering. We need to talk about substance."
2. He spent millions.
Snyder plunged more than $5.8 million of his own cash into the campaign during the primary, giving him a significant edge in TV advertising.
Michigan's unemployment crisis made it unlikely that voters would fork over large donations to candidates of any kind. Snyder, in a sense, identified a market opportunity for a self-financed candidate. His wealth - albeit nowhere near the pocketbook of 2006 billionaire Republican nominee Dick DeVos - helped him get the name recognition he needed to become a serious contender.
He raised another $1.4 million from more than 3,000 people - including a wide range of business executives from his Washtenaw County network - and rejected money from political action committees. Still, without his own money, winning the nomination would have been nearly impossible.
3. He stuck to a distinctive branding plan.
Snyder, recognizing he had to differentiate himself from the pack of candidates, aired ad after ad branding himself as "one tough nerd."
It was a classic strategy straight out of Business Marketing 101: Find a way to make your product stand out. Snyder's first "nerd" ad - aired during the Super Bowl in most Michigan markets - instantly branded him as the nontraditional candidate. And in 2010, nontraditional is appealing to voters.
"It's an ad that we believe will cut through the clutter of standard political advertising," Snyder campaign chief strategist John Weaver told reporters the day after the Super Bowl. "It's self-deprecating about our candidate in an honest and fair way, and it also deals with the problems facing Michigan and confronts those head on."
The "nerd" label was endearing to some, perplexing to others - but it helped Snyder stand out. It was perhaps the most entrepreneurial move of the campaign.
"Now we know that geeks shall inherit the earth and a nerd will inherit the governor's chair," Rich Sheridan, CEO of Ann Arbor-based software firm Menlo Innovations, said Tuesday night at Snyder's victory party.
4. He benefited from the complexion of the Republican ticket and appealed to moderates.
Snyder actively reached out to moderates and even Democrats, in large part because he didn't have to win a majority of the traditional conservative voters who typically dominate the primary election.
U.S. Rep. Pete Hoekstra and Michigan Attorney General Mike Cox effectively split the traditional conservative vote, allowing Snyder to spring to victory by appealing to voters in the ideological center.

Hoekstra couldn't get any traction on the campaign fundraising front, and Cox couldn't escape allegations that he bungled the investigation into an alleged wild party involving former Detroit Mayor Kwame Kilpatrick in 2002.

5. He maintained a focus on revitalizing Michigan's economy.
In the midst of a devastating economic collapse, voters are focused almost exclusively on the economy, and Snyder recognized that from the beginning. He declared Michigan's "economic disaster" on the day he launched his campaign and repeatedly called himself a "job creator."

He emphasized his experience in boosting Ann Arbor's entrepreneurial economy and said he wants to replicate the SPARK model throughout the state.
For voters whose lives have been impacted by the downturn in the economy, Snyder's message clicked.
"It is time for Michiganders to work and win together," Snyder said Tuesday night after winning the nomination. "And by doing that, we will create more and better jobs, we will create a place for our young people and we will bring that attitude, that spirit of entrepreneurship and innovation, and we will be a great state again."

Contact AnnArbor.com's Nathan Bomey at (734) 623-2587 or nathanbomey@annarbor.com. You can also follow him on Twitter or subscribe to AnnArbor.com's newsletters.