Posted on
Tue, Feb 1, 2011 : 6:02 a.m.
Human services funding on the chopping block as Ann Arbor officials confront budget deficit
By Ryan J. Stanton
Ann Arbor officials are considering a $116,714 reduction in funding for nonprofit human services agencies to address next year's budget shortfall.
And another $48,700 could be cut in the following year, according to budget proposals laid out during a special Ann Arbor City Council work session Monday night.
Combined, that would equal a nearly 13 percent reduction in the $1.276 million the city gives each year to community groups like Food Gatherers, Avalon Housing, Big Brothers Big Sisters of Washtenaw County and the Women's Center of Southeastern Michigan.
Ann Arbor remains a rarity in supporting such causes with its general fund money, but those allocations are being reviewed as city leaders face a $2.4 million budget deficit for next year.
"These are tough issues we are dealing with, and we are all in this," said Sumedh Bahl, the city's community services area administrator, who presented the latest budget proposals.
Ryan J. Stanton | AnnArbor.com
Mayor John Hieftje and other council members reacted with concern to the potential cuts to human services programs.
"I'm sure other council members will join me in asking for some alternative scenarios with the human services funding," Hieftje said.
Council Member Carsten Hohnke, D-5th Ward, offered a similar take.
"It's important to remember that there's a strong link between the investments we make in human services and the investment we're required to make in safety services," he said.
The focus of Monday's discussions was on the community services area, which includes planning, parks and community development. Bahl laid out a series of proposals aimed at trimming $232,399 from those budgets for the fiscal year starting July 1.
Another $234,790 in reductions is proposed for the following year.
The current year budgets for those three units total about $7.8 million, meaning the reductions targeted for next year are just under 3 percent. The city's total general fund budget is about $81.5 million this year.
City Administrator Roger Fraser said each unit in the city has been asked to come up with reduction measures to meet budget targets, but the merits of making specific cuts ultimately will be weighed against other options yet to come before council.
Bahl laid out one notable expense proposal. He said the Ann Arbor Housing Commission is requesting $154,000 in each of the next two years to hire two new full-time employees.
Currently, there isn't an organized approach to maintaining the Housing Commission's buildings and equipment due to lack of a maintenance manager, Bahl said. The commission also desires to add a financial analyst position to track its finances.
Much of the discussion on parks centered on the city-owned Huron Hills Golf Course, which continues to require a subsidy from the city's general fund.
The city recently solicited proposals to privatize management of the course, but city officials turned down an offer from Pittsfield Township-based Miles of Golf.
In a five-page memo given to council members, Bahl said both Huron Hills and the Leslie Park Golf Course have seen remarkable improvements in financial performance. Attendance is up 56 percent in four seasons at Huron Hills and up 48 percent at Leslie Park.
The actual loss for both courses for fiscal year 2010-11 is $371,319 — about $119,636 better than the $490,955 originally projected, according to the memo.
Projections for the next two years show the courses operating at a subsidy of slightly higher than $250,000 — down from more than double that amount two years ago. The subsidy just for Huron Hills is estimated at $162,000 next year and $160,000 the following year.
Bahl laid out five options Monday night for council members to consider as they think about alternative uses for Huron Hills instead of a golf course.
One option involves essentially letting the area go and converting it to walking trails. That could reduce the city's costs on Huron Hills to as low as $68,000 a year.
Another option is to establish it as a natural area space with prairies or grassland, as well as trails. That could take hundreds of thousands of dollars each year for the next six years, followed by annual costs of at least $94,000 in year seven and beyond.
The other three options include turning Huron Hills into a soccer field, disc golf course or space for community gardens. Cost estimates weren't available for those options.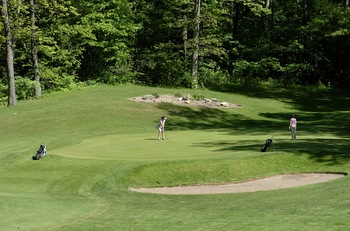 File photo
Bahl said legacy costs related to Huron Hills need to be considered, including $27,945 in annual retiree health care costs that won't go away. Also, it has two full-time city employees — one represented by the Teamsters and another represented by AFSCME.
Per union contracts, those employees can't be laid off while any temporary, seasonal or contract employees are still employed in their areas.
Hieftje said perhaps the "trigger point" then for considering alternatives for Huron Hills is when positions open up within the city that those employees can shuffle into. In the meantime, Huron Hills is improving, and the city should step back from repurposing it, he said.
"Let's give it a chance," he said. "It's on an upward trend, staff's been doing a great job with it and they've cut costs and raised revenues, so hopefully things are going to work out there."
Colin Smith, the city's parks and recreation manager, pointed out a lesser known fact Monday: Both golf courses could be funded with parks millage dollars instead of the general fund.
"We still see losses in both courses," added Tom Crawford, the city's chief financial officer. "The strategy we're going to do with golf has got to be figured out."
Council Member Margie Teall, D-4th Ward, said she wondered why the city continues to single out Huron Hills when many of the city's recreational amenities — including the Senior Center, Buhr Park Ice Arena, Veterans Memorial Pool, Buhr Park Pool, Mack Pool, and Cobblestone Farm — are costing the city hundreds of thousands of dollars every year to run.
Hohnke said he's concerned about the challenges council members will be faced with in the coming months as budget decisions have to be made. He noted some uncertainties exist around the amount of funding the city could see in the next year from the state of Michigan and from the Ann Arbor Downtown Development Authority.
"You're really getting down to some difficult choices, so I remain concerned," he said. "I think the staff have done a good job of presenting some options and we'll all have to get together as a community and kind of see which ways we want to go to deal with that."
Other budget proposals for next year include:
Eliminate software that parks staff uses sparingly ($7,000)
Changes related to rental housing inspection ($170,000)
Energy savings at recreational facilities, including changing lights at Cobblestone Farm and Mack Pool to LEDs, and replacing pool boilers and rink compressors ($65,083)
Decrease advertising, conference, training, travel, postage, materials and supplies in planning ($1,602)
Allocate 10 percent of historic district coordinator's time to construction fund for review of construction permit applications in historic districts ($9,292)
Projected revenue increase in planning fees ($10,000)
Ryan J. Stanton covers government and politics for AnnArbor.com. Reach him at ryanstanton@annarbor.com or 734-623-2529.