Posted on
Sat, Feb 12, 2011 : 5:59 a.m.
Ann Arbor Fire Station 3 will see intermittent closures to address cost overruns
By Juliana Keeping
Editor's note: The number of firefighters laid off last year has been corrected in this story.
A fire station on Ann Arbor's west side will be closed intermittently, starting with a 24-hour closure on Sunday, because the Fire Department has exceeded its overtime budget, Fire Chief Dominick Lanza said Friday.
A memo sent Wednesday to all Ann Arbor Fire Department personnel states that intermittent closures of Fire Station 3, 2130 Jackson Ave., will continue until further notice. Lanza said he expects the station to be closed three or four days per month.
In 2010, the department cut $1 million from its $14.6 million operating budget and eliminated five positions. The budget future doesn't look bright for the next two years, according to the memo from Lanza, which states, "this policy may become permanent."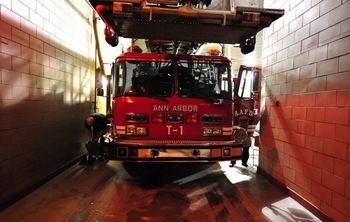 Mid-way through its fiscal year, the department has exceeded its $357,000 overtime budget, Lanza said Friday. A higher-than-average number of firefighters have been taking unexpected long-term leaves for family and medical reasons, he said. Firefighters have also been calling in sick this year at high numbers with illnesses like the flu, he said.
That means there are fewer people to staff to respond to calls, increasing the need for overtime.
Fire Station 3 was chosen for intermittent closures because it receives fewer calls than the other five Ann Arbor stations, Lanza said.
Station 1, 111 N. Fifth Ave., is the busiest station in Ann Arbor. It responded to 7,136 fire incident calls over three-year period starting in 2008, compared to 1,699 calls at Fire Station 3, Lanza said.
The Fire Department has three other stations: Station 4, 2415 Huron Parkway; Station 5, 1946 Beal Ave.; and Station 6, 1881 Briarwood Circle. Station 2 was closed several years ago.
While it had the fewest calls, Fire Station 3 was the closest one to a Jan. 29 blaze in which two people died. Fire Station 3 is staffed with three people at a time and has one fire engine. Twenty on-duty firefighters responded to the Jan. 29th fire and rescued an unconscious man and woman from the basement of a home on the city's west side after a fire broke out on the first floor. The two later died.
If Station 3 had been closed, Lanza said, "The response time would not be as quick and fire would have had more of a chance to advance." "It's not something we want to do, it's something we have to do. All of us, no matter what business we're in, have to operate with our funding."
He said the city has had to make tough choices.
Lanza said the new policy came about after City Administrator Roger Fraser directed him to address the overtime cost overruns. He said new signs are scheduled to arrive Thursday that will let the public know when the station is closed.
The fire department finds itself on the chopping block in 2011 as the city looks to confront a $2.4 million budget deficit for the next fiscal year. At a recent city budget retreat, top city officials discussed the option of adopting a paid on-call approach to fire services in Ann Arbor.
The firefighters union maintains the fire department already is understaffed and does not meet national standards. Staffing levels in the department remained steady at 94 full-time employees for the last several years, until five positions were cut last year, resulting in four layoffs.
Formal budget proposals for the police and fire departments are due next week.
Juliana Keeping is a health and environment reporter for AnnArbor.com. Reach her at julianakeeping@annarbor.com or 734-623-2528. Follow Juliana Keeping on Twitter