Irwin and Partridge face off in 53rd District state House candidate debate
Posted on Tue, Jul 10, 2012 : 5:58 a.m.
Thomas Partridge came out swinging Monday night, suggesting state Rep. Jeff Irwin, D-Ann Arbor, was complicit in back-room deals and questionable activity as a county commissioner.
"I'm pointing out numerous areas of what should be viewed as irresponsible and corrupt public policies while Jeff Irwin was on the Washtenaw County commission," Partridge said at a debate hosted by the League of Women Voters in Ann Arbor.
Partridge, a Democrat challenging Irwin for his state House seat in the Aug. 7 primary, made mostly vague allegations about events from years ago and didn't specify Irwin's involvement.
Irwin brushed off Partridge's attacks and continued to talk about his three top priorities as a state lawmaker: education funding, environmental protection and equal rights.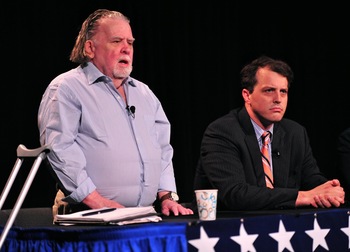 Ryan J. Stanton | AnnArbor.com
"I'm not really sure what he was talking about," Irwin said after the debate. "I don't know if there was any specific instance he was mentioning or if he was just attacking because he felt that's what he's supposed to do. I don't know how else I could respond to it."
Partridge recalled Irwin was a county commissioner when the city of Ann Arbor was in the process of deciding to build a new 15th District Court, which vacated the county courthouse.
"Lies were told to the public during Jeff Irwin's leadership on the Washtenaw County commission," Partridge said, suggesting millions of dollars were wasted because the city and county couldn't cooperate on a better solution at the time.
Irwin called the courthouse issue old news and said it's irrelevant now.
The winner of the Aug. 7 matchup between Irwin and Partridge will go on to face Republican John Spisak in the November general election.
Partridge has earned a reputation for showing up to nearly every meeting of the Washtenaw County Board of Commissioners, Ann Arbor City Council and Ann Arbor Transportation Authority for years. He speaks at nearly every opportunity for public input, often touching on topics such as affordable housing and access to public transit.
"I am here, as I have been at numerous public meetings held over the last decade or more, standing up for the most vulnerable residents of the 53rd District," he said.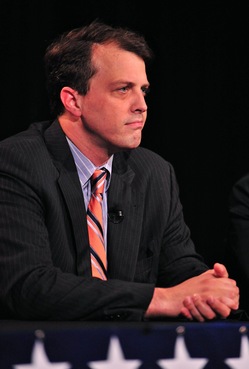 Ryan J. Stanton | AnnArbor.com
Partridge has run for office a number of times in the past. He lost a race for state Senate in 2010, pulling less than 4 percent of the vote in a three-way contest that Rebekah Warren went on to win. Before that, he ran for the county board in 2006 and 2008.
Irwin was elected to the state House in 2010 after narrowly defeating Democratic challenger Ned Staebler in the August primary. He beat Republican Chase Ingersoll by a wide margin in the November general election that year.
Partridge said he came to pose a simple question Monday: Why hasn't more been accomplished since the 2010 election that brought the present incumbents into office?
Irwin offered his take on the GOP-controlled scene in Lansing.
"It has been a couple of difficult years, with big cuts to public education and a major shift in our tax policy, shifting taxes from businesses to individuals," he said.
Irwin said his goal for the next two years is to refocus the state's budget priorities and put education first on the list.
"I'm also interested in opportunities we have to protect the environment," he said. "There are tremendous opportunities that we have to strike bipartisan compromise on clean energy and energy efficiency, ideas that will improve our environment and provide jobs."
Irwin spent more than a decade on the Washtenaw County Board of Commissioners before being elected to the state House in 2010.
"Having that opportunity to watch state government and state funding play out at the local level really gives me a lot of tools up in Lansing to understand when those funding decisions are made in Lansing how it affects the local level," he said.
Partridge said Irwin hasn't done enough to address homelessness and provide affordable housing during his political career.
"That was not achieved under Jeff Irwin's leadership on the Washtenaw County Board of Commissioners or in the Michigan Legislature," he said.
Partridge said he's running to represent senior citizens and disabled people, as well as the homeless Camp Take Notice members who were recently evicted from state property.
Irwin recalled his previous work lobbying the state Legislature on clean air and clean water issues for the League of Conservation Voters.
"One of the reasons why we're struggling here in Michigan to protect water quality is because the Michigan Department of Environmental Quality has been on a 10- or 20-year slide in terms of funding," he said, noting the number of inspectors and enforcement officers has dropped off. "We have very, very poor enforcement of environmental laws in Michigan."
Both candidates described themselves as advocates for countywide and regional public transit and said Michigan needs to consider a progressive income tax to raise new revenues.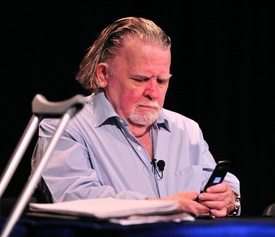 Ryan J. Stanton | AnnArbor.com
"There are billions of dollars in unmet needs over the course of the next decade," Irwin said, adding public transit is especially lacking in Southeast Michigan.
"If Michigan really wants to take the next step and be the kind of state we want and need to be, we need to solve transit in Southeast Michigan," he said.
On the topic of a second bridge between Detroit and Canada, Partridge had choice words for Gov. Rick Snyder's proposal.
"Our current governor, Richard Snyder, has given all of his attention since announcing his Super Bowl bid for the governorship to building a new bridge to Canada and not telling the public how many jobs will go across the bridge if it is built," he said, speculating that jobs from Michigan factories will move to Canada where workers will be paid less.
Irwin said a second span to Canada is needed and he thinks it will be good for the economy.
Irwin also made known he's excited about the countywide expansion of the AATA. He said local officials shouldn't wait around for the state and federal government on transit.
"We don't want to hold our breath," he said. "Let's choose our own destiny."
Both candidates decried cuts in state funding for Michigan's public schools and universities and said Michigan needs a strong public education system.
"We need to turn our public schools into places of education for parents as well as children, certainly for pre-school children, and to extend public school education to cover at least the first two years of a university education," Partridge said.
Irwin said one of the most troubling things he's witnessed during his year and a half in the Legislature is an aggressive move to privatize education.
"It's been heartbreaking," he said. "We've seen the Legislature vastly increase charter schools. They've even approved a major increase in cyber charters, these virtual schools.
"There's a full-court press to privatize education in Michigan and it's not just with charters and cyber schools," he added. "It's also with privatizing within our public schools."