Posted on
Fri, Jul 8, 2011 : 5:59 a.m.
Jim Tressel is gone, Ohio State football is in trouble: Time for smack T-shirt sales in Ann Arbor
By Ben Freed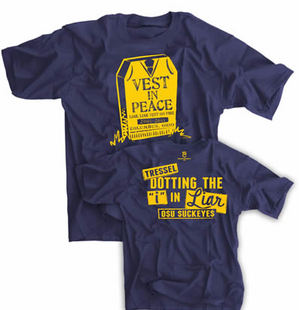 Courtesy SportsCrack.com
Latest news: Ohio State vacates 2010 football season, including 37-7 win over Michigan, according to Columbus Dispatch
It seems no major event occurs today without a rash of new T-shirts hitting the market, and the scandal at "That School Down South" is no exception to the rule.
One man's loss is often another's gain. Jim Tressel lost his job, Terrelle Pryor lost his collegiate eligibility, Ohio State lost some of its integrity, and the rest of us are gaining some pretty hilarious T-shirts to celebrate the occasion.
But who is cashing in on OSU's misfortune? And, here in Ann Arbor, we also have to wonder: Which smack slogan will turn into Wolverine swag?
While some local retailers are stocking anti-Tressel gear, so far it's the major online companies that specialize in "smack talking" apparel that are producing the best-selling shirts.
GetSmack.com started in 1998 with a shirt asserting that Will Rogers, who "never met a man he didn't like," would not like trash-talking University of Florida coach Steve Spurrier.
Now the Florida's company's "Tre$$el Tattoo and Pawn Shop" and "THE Ohio Scandal University" shirts are on sale online, at All About Blue on State Street, and at Elmo's Main Street T-Shirts.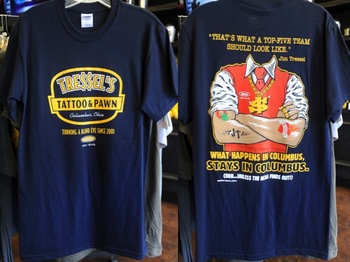 Photo by Angela Cesere for AnnArbor.com
According to Elmo Morales, Elmo's T-Shirts owner, the shirts may not be polite, but they do have widespread appeal.
"They're pretty good satire," Morales said. "Even people from Ohio chuckle when they see them."
According to GetSmack.com owner Wayne Curtis, who left his day job after the shirt business took off, the key to making the rude shirts is avoiding what most apparel companies strive for: licensing rights.
In the world of big-money college athletics, universities go to great lengths to protect their brands and are often stingy in giving out licenses to sell official gear with school logos. That's perfectly fine with Curtis.
"We haven't held any licenses for any of the schools we've printed shirts for," he said. "We're averse to the creative restrictions they place upon creators."
Universities have full rights in determining how their logos are used, and they can take away any granted licenses at will. At U-M, it was a $1.5 million business in 2009.
But schools cannot stop companies from using their colors or non-trademarked icons, and the free market is helping companies like GetSmack succeed.
"The powers that be don't care for us too much," Curtis said. "But the neat thing about America is that if you make a great product people will buy it."
All About Blue owner
Bob Duerksen
is hesitant about buying unlicensed shirts for his campus-area store, but decided to take a chance and ride the anti-Tressel wave.
"It took me a while to be persuaded, but we tried a few and they were gone within days, so we kept ordering more," he said. "We've already sold over 100, and I expect that will go up when football season rolls around."
Curtis and GetSmack usually work through retailers to sell shirts, but Sportscrack.com owner Matt Fairchild sells most of his shirts through the Georgia-based online store. His "Vest in Peace" shirt has been selling well all over the Midwest.
"Usually (summer is) our slow time of the year," Fairchild said. "But we sold 1,200 in about 2 days. It really took off."
Neither websites discriminates with their trash talk. They have made plenty of money selling shirts angering fans from Michigan down to Texas, and everywhere in between. They both said many of their T-shirt ideas originate with fan suggestions.
Both Curtis and Fairchild say business is good, and if there's one thing sports fans like more than bragging about their own team, it's talking (and wearing) smack about their rivals.
Ben Freed is a summer intern at AnnArbor.com. You can reach him by email at benfreed@annarbor.com or by phone at (734)-623-4674. Follow him on Twitter @BFreedInA2.