Posted on
Tue, Apr 17, 2012 : 5:44 p.m.
Judge dismisses Andrew Shirvell lawsuit against former U-M student body president
By Cindy Heflin
Editor's note: This article has been updated with comments from Andrew Shirvell and edited to clarify the reason for Shirvell's lawsuit and information about his activities on campus.
A federal judge this week threw out a lawsuit filed by former assistant attorney general Andrew Shirvell against the first openly gay president of the University of Michigan student body, the Detroit Free Press reported.
Shirvell had alleged in the lawsuit that former student body president Chris Armstrong had defamed him. The judge also ruled that Armstrong's suit against Shirvell could go forward, the newspaper reported.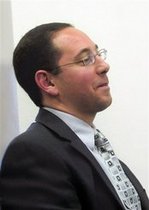 Armstrong's lawyer,
Deborah Gordon
, said Judge Arthur Tarnow's decision means the case against Andrew Shirvell will go to a jury trial, The Associated Press reported.
Shirvell kept a blog accusing Armstrong of pushing a "radical homosexual agenda" and appeared at a Michigan Student Assembly meeting to protest Armstrong and appeared on campus holding signs — including one with a rainbow with a swastika drawn over it. Shirvell was at one time banned by university officials from stepping foot on campus but the order was lifted.
iIn a statement emailed to AnnArbor.com and other media outlets Tuesday, Shirvell said he was disappointed in the ruling.
"I disagree with the ruling and I will appeal it at the appropriate time," he said. He said the judge had ruled that it was for a jury to decide whether the statements on his former blog are protected by the First Amendment. "At trial, I will provide overwhelming evidence that Armstrong was a public official/public figure at the time that the statements at issue were made. Moreover, I will provide overwhelming evidence that the statements at issue were true or substantially true or that they constituted constitutionally-protected opinion speech. "We live in the United States. If I believe that Chris Armstrong is a radical homosexual activist, I have a constitutional right to express that opinion."
Armstrong sought a personal protection order against Shirvell, which he later dropped before asking the state bar association to disbar Shirvell. Washtenaw County prosecutors also denied a request for stalking charges to be brought against Shirvell.
Former Attorney General Mike Cox fired Shirvell in November 2010.
Armstrong filed a lawsuit against Shirvell in April, seeking more than $25,000 in damages.
Shirvell has also sued Gordon, alleging she interfered with the attorney general's internal investigation and that she made false statements against him. The judge threw out the interfering claim but has not ruled on the false statements.