Posted on
Fri, Oct 26, 2012 : 2:44 p.m.
Judge Tim Connors raises more than $100K in quest to keep spot on 22nd Circuit Court bench
By Ryan J. Stanton
Editor's note: This story has been updated with information from Michael Woodyard's campaign finance report, which was filed Friday afternoon.
After filing a reporting waiver indicating he planned to raise and spend no more than $1,000 this election cycle, Judge Tim Connors has changed course.
Connors has raised more than $100,000 in his quest to keep his seat on Washtenaw County's 22nd Circuit Court bench, according to campaign finance reports due Friday.
His pre-election report filed with the state shows he raised more than $95,000 in cash contributions and more than $5,000 in additional in-kind contributions. He spent nearly $85,000, leaving him with a little more than $10,000 in cash on hand, but he still owed a debt of more than $4,000.
He also reported a separate late contribution of $3,400 from attorney Leo Januszewski that isn't included in the main pre-election report.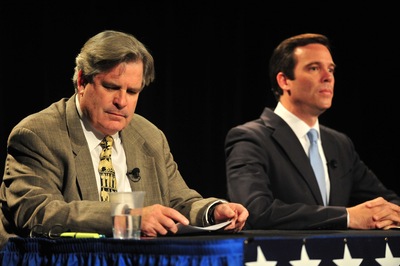 Ryan J. Stanton | AnnArbor.com
His opponent, Wayne County Assistant Prosecutor
Michael Woodyard
, filed a report indicating he had raised $7,266 and spent $6,830, leaving him with a total of $436 cash on hand. He declined to comment on Connors' finance reports.
"I'm very happy with the way this campaign has been run," Woodyard said. "The support I've gotten has been from people who know me and people who are interested in the things I stand for."
He said he doesn't feel outmatched in any way.
"At the end of the day, no one is going to take away my commitment to public service and my commitment to the cause of justice," he said.
Several local attorneys gave Connors the maximum allowed $3,400, including Adrienne Logeman-Cox, Robert Logeman, Don Ferris, Richard Soble, Heidi Salter-Ferris, Stephen Goethel, David Christensen, Deborah Labelle, James Iafrate, Lynn Marie Bredell and Andrew Muth.
Connors also received $3,400 contributions from the Garan Lucow Miller law firm PAC and Republican activist Peter Fletcher, who recently passed away.
Local attorney Jim Fink, a Republican who is running against Democrat Carol Kuhnke for another seat on the 22nd Circuit Court bench, also gave $250 to Connors' campaign. Connors received thousands of dollars in additional donations from a number of other attorneys.
Connors' treasurer is Karen Quinlan Valvo, a partner in Fink's law firm, Fink & Valvo, PLLC. Connors and Valvo originally filed paperwork with the state in January indicating they expected to raise and spend no more than $1,000, but that was before Woodyard emerged as an opponent.
Shortly after Woodyard announced his candidacy in May, Connors raised tens of thousands of dollars from local attorneys.
Despite having raised that money, he and his treasurer signed their names to paperwork filed with the state in late August that again indicated they didn't plan to raise or spend more than $1,000.
Valvo said the purpose of filing the paperwork in August was to indicate to the state that her mailing address had changed. She said not unchecking the "reporting waiver request" box was an oversight and she didn't intend to mislead anyone about Connors' fundraising intentions.
"I just didn't catch it," she said. "It was a clerical error."
County Clerk Larry Kestenbaum said Connors' campaign technically didn't do anything wrong since he didn't have to file campaign finance reports until Friday anyway.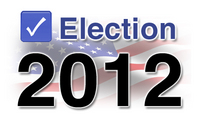 "I believe that he's following the law correctly," he said. "It does seem a little odd, but all that the rules require is that you report when you're required to report."
Questions were raised earlier this week about the fact that Connors recently ruled in favor of a lawyer who serves on his re-election committee. John Bredell was the lawyer representing Jenny's Market in the case. Bredell and his wife collectively gave $3,550 to Connors' campaign, new reports show.
Valvo said she believes the many attorneys supporting Connors are giving their money to make sure a fair and impartial judge remains on the bench.
"I think that it's pretty indicative of the fact that people in this community respect Judge Connors and appreciate the job he's doing to serve the community," she said of the more than $100,000 he's raised. "This outpouring of support was certainly humbling and overwhelming."
Connors spent more than $31,000 on ads with Comcast Spotlight, the advertising sales division of Comcast Cable. He spent thousands more on mailings, signs and print and radio ads.
He reported holding four different fundraisers, including a meet and greet at Downtown Home & Garden in Ann Arbor where he raised more than $20,000 from 132 attendees.
He raised another $7,600 during a 69-person reception at the Paesano restaurant on Washtenaw Avenue and received a $1,000 in-kind contribution from business owner Michael Roddy.
He took in another $3,245 during a meet and greet with 32 people at the Sidetrack Bar and Grill in Ypsilanti and received a $490 in-kind contribution from business owner Linda French.
He also received nearly $2,000 in in-kind contributions from Chad Engelhardt, an attorney with the Moran Raimi Goethel & Karnani law firm in Ann Arbor.
Previous coverage: Connors vs. Woodyard: Judge looks to keep spot on Washtenaw County's 22nd Circuit Court bench
Ryan J. Stanton covers government and politics for AnnArbor.com. Reach him at ryanstanton@annarbor.com or 734-623-2529. You also can follow him on Twitter or subscribe to AnnArbor.com's email newsletters.