Detroit Free Press:

Lawyer seeks mental examination for Andrew Shirvell

Posted on Wed, Sep 19, 2012 : 4 p.m.
Lawyer Deborah Gordon has asked a judge to order a mental examination for former assistant state attorney general Andrew Shirvell, the Detroit Free Press reported.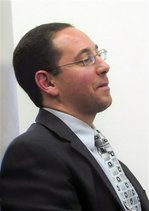 Marissa McClain | The Michigan Daily
In a court filing, Gordon sought the examination to show that Shirvell is "a disturbed young man who needs counseling," the newspaper reported.
Shivell filed a defamation lawsuit in October 2011 against Gordon, who represented former University of Michigan student body President Chris Armstrong. Armstrong recently won a $4.5 million judgment against Shirvell. Armstrong's suit alleged Shirvell stalked him and caused emotional distress in 2010 with posts on an anti-gay blog Shirvell wrote and on Facebook.
Shirvell alleges that Gordan is trying to "harass" and "intimidate" him into dropping the lawsuit, the Free Press reported. He wrote that he believes he will prevail in the lawsuit against Gordon and on appeal of the recent judgment against him, according to the article.
Shirvell was fired in 2010 after criticizing Armstrong on his blog, in Facebook posts and during visits to the Ann Arbor campus. A judge dismissed a lawsuit Shirvell filed against Armstrong alleging the student had defamed him.