Posted on
Wed, May 2, 2012 : 2:58 p.m.
Top 5: Lessons learned from the dog days at Slauson Middle School
By Pete Cunningham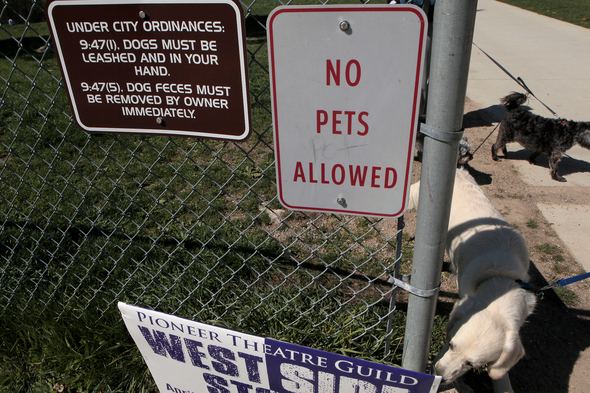 Chris Asadian | AnnArbor.com
Two weeks ago, I visited
Slauson Middle School
on a pleasant Saturday to find out the story behind
a mass gathering of dogs
I've observed since moving to the area. I always found it peculiar - dare I even say, funny - that every Saturday a huge group of unleashed dogs would gather in an area surrounded with "No Pets Allowed" signs.
Next to the "No Pets Allowed" signs are signs explaining the laws dog owners must follow while walking their pets on the premises, an interesting dichotomy in its own right.
The popularity, regularity and visibility of the weekly event led me to believe this was a highly organized, legal activity.
It was neither, and now it is no more.
After receiving a complaint from Slauson principal Christopher Curtis, city police communicated to dog owners this Saturday that the jig is up. The unleashed dog hour can no longer continue: Police will enforce the city ordinance against unleashed dogs in public areas, and could even issue trespassing violations, if dog owners don't heed to the warning.
Many scathing emails and comments have been sent my way in the two weeks since the original story, and it would be a shame to waste them. So let's go through the five best lessons that can be learned from this whole ordeal as best explained by those emails and additional comments:
LESSON 1: Rules is rules.
"Without the spotlight that you shone upon (the dog party), we would have had a nice Dog Party today, next week, and the week after as well…As I said, I would hesitate to ask a journalist not to do his/her job. But please ask yourself, was writing and publishing that throwaway joke piece really worth the price that we dog owners are now having to pay?"
- Disgruntled reader
Thanks for hesitating.
The fact of the matter is, unleashed dogs are not allowed at Slauson, or any other piece of public property in the city besides the designated dog parks. For one hour every Saturday, Slauson has long been the proverbial forest with no one around to hear the trees falling.
But now, the city and school officials are fully attuned to the situation.
It was a no harm, no foul situation and every dog owner I've spoken to seemed to understand that. What prompted the complaints from people at the school is irrelevant. Someone complained and the police acted on the complaint.
No one is claiming the complaint is false, so if dog owners want something to change they should focus efforts on making the activity legal.
Which leads to our next lesson…
LESSON 2: There is a need for off-leash hours in central Ann Arbor.
"There's government corruption, crime and this is what you spend your time doing? Aren't there more important stories that would be a better use of your time?"
- Disgruntled dog owner


This comment wasn't emailed, but was asked of me at Slauson on that fateful Saturday. As a wise man once said, "the world needs ditch diggers, too."
And the world of journalism needs dog stories, too.
Yes, there are more important issues than dogs running off their leashes, but there is a clear need in central Ann Arbor for some unleashed hours in parks, as evidenced by popularity of this weekly event at Slauson, which draws around 50 owners every week. The city's two dog parks are on the far north and south ends of town and the rest of the city's 157 parks have no designated hours for unleashed pets, which seems an underutilization of an embarrassment of riches.
According to Tanya Hilgendorf, executive director of the Humane Society of Huron Valley, dogs really need this off-leash time.
"Exercise, just like for humans, is critical to physical, emotional and behavioral health (for dogs). For some high energy breeds, it is nearly impossible for owners to give the dog enough energy while walking on a leash," she said.
According to parks commissioner John Lawter, a frequenter of Slauson's unleashed hour, there is currently a subcommittee exploring getting unleashed hours in central Ann Arbor's parks.
Time will tell if that comes to fruition.
LESSON 3: Someone's not cleaning up.
"We even have "responsible" dog owners who bring their dogs on the fields during the school day who have to be reminded by one of our teams' favorite in unison cheers - " HEY, PICK UP YOUR POOP!"Those citizens who proclaim the activities are "victimless" should spend a day as a PE teacher helping kids clean up or as a classroom teacher trying to teach in a classroom whose floor and smell has been blessed by what got carried in on some student's shoes or more importantly, a child that has to put up with the physical and social consequences."
- Disgruntled Slauson teacher, Rusty Fuller


This paragraph from Fuller's guest column last week states that his students regularly find dog feces on the fields at Slauson and believes that the Saturday dog party is to blame.
While I can't imagine stepping in a pile of dog droppings causing dire "social consequences" there's no reason to believe Fuller's claims aren't true.
Lawter, in a response to the column, claimed the dog party actually reduces waste in the schoolyard because the owners clean up their own as well as others' messes in an attempt to keep everyone happy.
Who is actually responsible for the poop being left in the field? Are the offenses occurring during the hour a week unleashed dogs roam free or in the 167 hours in which they don't?
I don't know. Feces are not subject to FOIA. But the fact of the matter is, when "it" happens, unlike Forrest Gump, people are going to take steps to avoid it.
Keeping the largest and most visible group that could possibly be responsible is the most logical step, even if it ends up being the wrong one.
LESSON 4: Some people take everything more seriously than I've ever taken anything.
"As you probably gathered by my tone, I'm annoyed with you for running a piece with no substance and only to stir up the some politician that gets the Police to step up patrols (like they don't have something better to do). The real reason (I'm upset the ordinance might be enforced) is (I) own (*dogs' breed concealed to protect their identity*) and train them (unleashed at Slauson) for AKC hunting competitions, some are nationally ranked."
- Disgruntled reader



If you've read through the comments on any of the dog stories, you know that a lot of people take their dogs very seriously and feel very strongly about this issue. If you haven't read through every one, I wouldn't recommend it. A little piece of me died sorting through them all.
In an ideal world, conflicts are resolved civilly between the people involved.
When I was at Slauson two weeks ago, an unleashed dog stole the sandal of Jerry Fulton, who was at the park playing beach volleyball. Rather than getting upset at the owner of the dog or involving the authorities, Fulton retrieved his sandal without incident and laughed it off. The dog owners took extra precautions to ensure their pets stayed out of the volleyball pits so as to not further disturb other people utilizing the schoolyard.
"It's a dog, It's all good," Fulton said after retrieving his sandal. "I think it's funny."
This is how we wish every conflict could be resolved, with both parties working together to come to a peaceful solution.
Unfortunately, that's not always the world we live in so laws are written and people are put in a position to enforce them. Those are the breaks.
LESSON 5: Hatfields vs. McCoys has nothing on Leashed vs. Unleashed.
"I have so many "off leash" dog stories that ended in or almost ended in disaster I can't even begin to tell. I have considered a book on the subject."
- Disgruntled reader


Forgive me, but I think I'll wait for the movie on that one.
Contact Pete Cunningham at petercunningham@annarbor.com or by phone at 734-623-2561. Follow him on Twitter @petcunningham.