Posted on
Tue, Oct 30, 2012 : 5:57 a.m.
Mary Sue Coleman on U-M's safety overhaul, Coursera and how fundraising 'comes naturally'
By Kellie Woodhouse
A recent survey found that University of Michigan President Mary Sue Coleman was among the most beloved college presidents by faculty.
On Monday Coleman met for a quick 30-minute chat with the faculty leaders of the Ann Arbor school.
Here are the highlights from their conversation:
1) New Division of Public Safety and Security intended to solve "long-standing issues"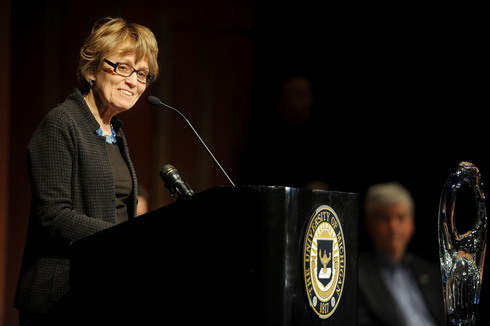 File photo | AnnArbor.com
U-M announced earlier this month that following external investigations of the university's security enterprise and a six-month lapse in multiple hospital, legal and security officials reporting serious criminal behavior to police, it would overhaul its safety practices entirely.
The result of the months-long investigation was a new division that ties all the U-M safety arms together, including university police, hospital security and housing security. One of the investigations found that there were serious trust and communication issues between the three units.
"The ... report did uncover some long-standng issues," Coleman told the faculty senate advisory committee on university affairs. "I understand from colleagues around the country that's not unusual."
Coleman said that the quickly changing healthcare landscape, which brings its own set of security complications, contributed to a misunderstanding of roles among hospital security and university police.
She said she has received mostly positive feedback on the new division. The unit isn't fully functioning yet, as exact guidelines and practices haven't been set.
"We're working on getting some of the policies coordinated," Coleman said.
2) Coursera unknowns
Coleman told faculty that Coursera —an online venue that allows individuals from all over the world to partake in massive open online courses from top schools for free— is rapidly growing in popularity.
Although such growth is a positive sign, Coleman said there are still a lot of unknowns with the fledgling service.
The university offered its first free Coursera course during the spring 2012 semester and so far classes have attracted up to 133,000 students.
Yet that many students can be hard to manage (Coleman said there is "massive cheating" in many of the courses) and the completion rate for the online courses is very low, hovering between 10 and 15 percent.
Coleman herself began a course but never finished it, she told faculty.
"I must admit, I didn't persist through the whole thing," she said.
Universities are still trying to gauge the role massive open online courses should play within their institutions. How should the teaching of such courses translate during tenure reviews? How can colleges profit from the model? Should schools offer credit for completed courses?
"We're just beginning to try to figure these things out," Coleman said, adding that online model wouldn't usurp the traditional classroom experience at U-M.
"When everything is virtual, the physical becomes more precious and the experience of talking to your professor becomes more precious," she continued. "The most effective thing ... is the one-on-one interaction that the student has with the professor."
3) Fundraising technique
During the meeting, a Dearborn faculty member asked Coleman what qualities have contributed to her success in fundraising. Coleman is widely credited with steering a $3.2 billion fundraising campaign that ended in 2008 and is in the planning stages of another multibillion-dollar campaign.
"Is there a uniqueness or degree in why you're so successful in fundraising?" the faculty member asked.
Coleman paused, and said: "I don't know."
Later, she elaborated.
"I care deeply about the people that I ask money from and I think they care deeply about the university," she said. "It's something that comes naturally. ... People know — they can see if you care, if you know your stuff, if you admit when you don't know, if you're deeply interested in their lives."
Kellie Woodhouse covers higher education for AnnArbor.com. Reach her at kelliewoodhouse@annarbor.com or 734-623-4602 and follow her on twitter.