Posted on
Tue, Feb 26, 2013 : 1:49 p.m.
Mary Sue Coleman to state lawmakers: Invest in higher ed because Michigan cannot afford an undereducated workforce
By Kellie Woodhouse
It's that time of year again: The time when lawmakers in Lansing ruminate over how much state funding to award Michigan's 15 public universities.
University of Michigan President Mary Sue Coleman spoke before the House Appropriations Subcommittee on Higher Education Tuesday morning to advocate for her school's share of state appropriations.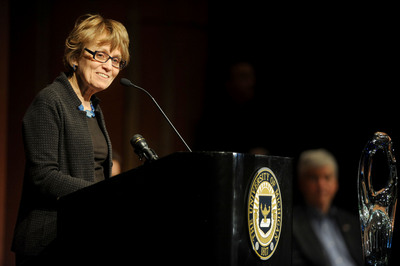 File photo | AnnArbor.com
Gov.
Rick Synder
suggested a
2 percent funding increase
for universities in his fiscal 2013-14 budget proposal and suggested that money be tied to the same formula used last year, which evaluates universities based on graduation rate improvements, critical degrees, the number of
Pell Grant
recipients enrolled and tuition restraint.
Overall, the increase would represent an addition of $30.7 million in base funding to Michigan's $1.4 billion higher education budget. It follows a 3 percent one-time increase in fiscal 2013 and a 15 percent decrease the year before.
During her appearance in Lansing, Coleman noted U-M's success in producing graduates with critical degrees and the school's increasingly efficient tech transfer operation. She emphasized that for the state to grow economically, higher education must be considered a key component of Michigan's budget formula.
Here's three things to consider from Coleman's visit:
1) If the state wants a robust economy, it needs a robust higher education system
"Our state literally cannot afford an undereducated workforce," Coleman told lawmakers, echoing a statistic often cited by Snyder: "Michigan has 50,000 to 80,000 jobs going unfilled because residents don't have the necessary skills."
Coleman highlighted the success of U-M, Wayne State University and Michigan State University's tech transfer operations, which over the course of a decade produced 149 startups. These three schools, which compose the University Research corridor, produced more graduates than any other cluster in the U.S.
Coleman said that to fill the existing employment need will take "a commitment by state leaders such as you... that our state will offer exceptional opportunities for affordable, high-quality education."
In short, Coleman asserted that if lawmakers want a healthier economy, they need to invest in higher education.
2) U-M is trying to control costs — but don't expect a tuition freeze anytime soon
Coleman remarked that the school has cut $235 million in recurring expenses during the past decade and is planning to cut another $120 million by 2017— the school's bicentennial. The cuts include $24 million in general fund savings derived from restructuring the school's healthcare offerings and shifting costs to employees.
Yet with other considerations, like rising fixed costs, a growing workforce and the pressures of competing with other top schools for faculty and students, U-M must continue to increase its revenue.
"We know we can't stop. We know we have to have tuition increases, particularly because the state has not been able to invest in us the way we would like," Coleman told lawmakers. "I am very cognizant of the burdens on families, but I am also cognizant of my responsibility to keep this place competitive."
3) Do expect financial aid to be the focus of U-M's capital campaign
"Our top priority will be financial aid," Coleman said of U-M's upcoming fundraising campaign, which is set to begin in the fall. "I know our donors won't let us down."
This year the school offered $135 million in financial aid and met the demonstrated financial need —which is based on a federal formula— though grants, work study and federal loans, for all resident students.
For resident students whose families make $80,000 or less, the cost of attending U-M, after factoring in aid, has either held constant or declined in recent years, although the sticker price increased.
The federal aid formula, however, doesn't take into account the financial burdens experienced by middle income families earning more than $80,000 annually but with multiple children in college.
Coleman said she would like to increase aid for families earning $100,000.
"I do not want to lose a single talented high school senior... because of perceived cost," Coleman said.
Kellie Woodhouse covers higher education for AnnArbor.com. Reach her at kelliewoodhouse@annarbor.com or 734-623-4602 and follow her on twitter.