Posted on
Wed, Oct 6, 2010 : 6:05 a.m.
Medical marijuana ordinance passes through Ann Arbor Planning Commission with some revisions
By Ryan J. Stanton
A new city ordinance regulating medical marijuana dispensaries is on its way to the Ann Arbor City Council for approval following the Planning Commission's blessing Tuesday night.
In an 8-0 vote, the Planning Commission agreed to a four-page set of zoning rules that city officials have spent the last two months meticulously crafting in response to a rise in medical marijuana dispensaries in Ann Arbor.
City Planner Jill Thacher took time at the start of Tuesday's meeting to give an overview of changes made to the ordinance since it was presented in draft form last month.
Thacher said city officials decided to eliminate the requirement that dispensaries and so-called "cultivation facilities" must be 500 feet apart and 200 feet from residential areas.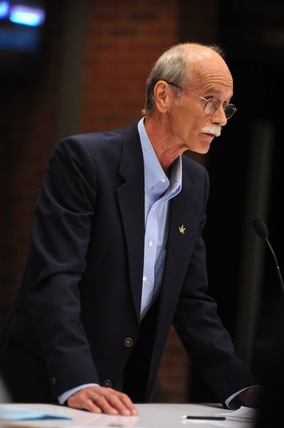 Ryan J. Stanton | AnnArbor.com
She said planning staff and some members of the Planning Commission and City Council visited four dispensaries in Ann Arbor and determined — after witnessing the simple, over-the-counter, retail nature of the operations — there is no rationale for those distance requirements.
Planning Commissioner Jean Carlberg echoed Thacher in that regard.
"I was impressed with how little impact it seems to have on the areas around it," she said of one of the dispensaries she visited. "As far as I could tell, there's no odor impact, there's no noise impact, the traffic seemed to be quite moderate in the area ... so I couldn't see, in any of the sites that we visited, any real impact on the neighborhood."
A requirement that dispensaries can't be located within 1,000 feet of schools stayed in the ordinance after some debate.
Thacher noted during her report that all uses of the phrase "drug paraphernalia," which was seen by some as pejorative, were removed from the ordinance.
Chuck Ream, a longtime medical marijuana advocate who recently opened a dispensary on Packard Road near Iroquois Place, thanked city officials Tuesday night for their work.
"I especially want to thank the Ann Arbor City Council and the Ann Arbor Planning Commission," he said. "They have shown extraordinary intelligence, common sense, hard work and willingness to listen to Ann Arbor citizens, patients and caregivers."
The definition of a "dispensary" in the proposed ordinance includes any facility where one or more caregivers are operating with the intent to transfer medicinal marijuana to a patient.
The definition of a "cultivation facility" has been reworked to mean a single facility where more than 72 marijuana plants are being grown.
The ordinance limits the location of dispensaries to downtown, commercial and manufacturing/industrial zoning districts, as well as Planned Unit Development districts where retail is permitted through supplemental regulations. Cultivation facilities would be allowed in commercial, manufacturing/industrial, research and light industrial zoning districts.
Other highlights of the ordinance:
Drive-in medical marijuana dispensaries shall be prohibited.
No one under the age of 18 shall be allowed to enter a medical marijuana dispensary or cultivation facility unless accompanied by a parent or guardian.
No smoking, inhalation, or consumption of medical marijuana shall take place on the premises.
All activities of a medical marijuana dispensary or cultivation facility shall be conducted indoors.
No equipment or process shall be used in any medical marijuana dispensary or cultivation facility which creates noise, dust, vibration, glare, fumes, odors or electrical interference detectable to the normal senses beyond the property boundary.
An annual zoning compliance permit signed by the owner shall be required, and must be renewed prior to the anniversary date of the issuance of the original permit.
City officials estimate about eight or nine medical marijuana dispensaries have sprouted up in Ann Arbor, some drawing complaints from neighbors. The Liberty Clinic in the 200 block of South Main Street was robbed at gunpoint last week.
Admittedly entering uncharted territory, the City Council approved a four-month moratorium on new dispensaries in August to give city staff time to come up with zoning regulations. The moratorium expires Dec. 3, and city officials are moving quickly to get an ordinance in place.
The City Council meets next on Oct. 18.
The proposed ordinance includes regulations for home-based operations known as "home occupations," where caregivers residing in a single-family dwelling unit can grow up to 72 plants at a time. The ordinance also allows patients living anywhere other than in a single-family dwelling unit to grow up to 12 plants at any time.
The ordinance had stated home occupations couldn't generate more than five business-related vehicle trips per day. That has been increased to 10, which means five roundtrips.
Commissioners amended the home occupation regulations Tuesday to state: "No transfer of medical marijuana to patients other than those residing on the parcel shall occur on the parcel."
About two dozen people attended Tuesday's meeting, and a handful voiced opinions on the proposed ordinance.
Ream said he still has concerns with parking requirements that are spelled out in the ordinance. He also said he doesn't think the city should have its own regulations for home occupations since that issue already is addressed under state law.
The fact that the city's ordinance requires home occupations to obtain an annual zoning compliance permit, Ream said, is "completely unacceptable and a violation of state law."
"This will be immediately litigated," he warned city officials.
In a separate 8-0 vote Tuesday night, the Planning Commission approved a resolution recommending the City Council develop a medical marijuana license to address issues that fall outside the scope of the zoning ordinance, such as building security and code compliance for electrical use, fire suppression, and ingress and egress issues.
Planning Commissioner Tony Derezinski, who also serves on the City Council, said the process of coming up with regulations for medical marijuana reminded him of his time in the state Legislature, back in the 1970s, when state lawmakers took steps to legalize bingo.
"It's a rough metaphor, I think, to what we're doing here," he said. "We sort of had to rely on the people who had been playing bingo for a long time ... in terms of how the dynamic of it worked. And that's kind of what we're doing here, I think, is we're trying to figure out the dynamic of this."
Derezinski said he thinks the city's ordinance reflects, for the most part, what the state law intended: that local communities would further define the ability to use medical marijuana.
"What sold it for me, too, is the idea that the second resolution we passed would provide for additional regulation with a licensing mechanism to further define how these places will be operated," he said. "Together, I think they form a good piece of ordinance work. We have more work to do on it obviously at City Council, but I think this is a good step and a thoughtful step."
Planning Commissioner Kirk Westphal fought unsuccessfully Tuesday night to require dispensaries to be at least 500 feet apart. He said he believes cities like Ann Arbor would be better off having a few larger dispensaries, rather than a multitude of smaller ones.
"I thought the spacing requirement would help accomplish that," he said.
After a majority of planning commissioners rejected his amendment, Westphal suggested perhaps the City Council could cap the number of dispensaries through licensing.
Planning Commissioner Erica Briggs convinced her peers on the commission to strike the requirement that property owners must provide express written permission before tenants could use a leased property as a dispensary or cultivation facility.
Commissioner Wendy Woods was absent from the meeting.
Ryan J. Stanton covers government and politics for AnnArbor.com. Reach him at ryanstanton@annarbor.com or 734-623-2529.