Posted on
Wed, Jun 8, 2011 : 5:24 p.m.
Michigan cities could offer local film credits under legislation introduced by Mark Ouimet
By Ryan J. Stanton
Michigan municipalities would be allowed to create local "film tax credit zones" to encourage film production within their borders under legislation unveiled today.
State Rep. Mark Ouimet, a Republican from Washtenaw County's Scio Township, said his bill would allow cities, townships, villages or counties to authorize creation of the zones with a vote of local residents. Governing boards could put forward ballot initiatives.
"Although some may argue that the sequel is never better than the original, this is the fairest, most democratic way to continue the film tax credits," Ouimet said in a statement. "The state can no longer afford these tax credits on such a massive scale, but if cities like Ann Arbor or Grand Rapids want to support film production, they should be empowered to do so."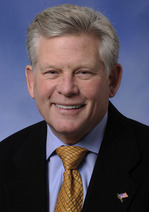 Michigan has lured many Hollywood film productions to the state since 2008 by offering some of the most generous incentives in the nation, and many have
landed in Ann Arbor
.
But the new Republican-backed state budget for the fiscal year starting Oct. 1 caps the pool of money for the state's film incentives at $25 million. That's about one-fifth the amount distributed in 2010, when the film tax credits were theoretically unlimited.
Currently, film companies are eligible for a film tax credit from the state if they spend at least $50,000 anywhere in Michigan. Companies can receive a 40 percent refundable tax credit on Michigan expenditures, or a 42 percent credit if they film in one of 135 state-designated Core Communities, which includes Ann Arbor.
Ouimet said his bill allows communities to set any percent credit they desire. Instead of a state tax credit, individual municipalities would pay a grant to production companies in the amount of the post-production certificate issued by the Michigan Film Office. It would be up to the local government to decide how to pay for the credit.
"Small communities that have unique downtowns or special landmarks, such as Dexter, Saline, Manchester or Chelsea, also could create a movie zone within their borders to take advantage of potential film production revenue," Ouimet said. "Any community could create an individual movie zone if there is public support for the idea."
Without a way of generating new revenue, Ann Arbor CFO Tom Crawford said, it'll be hard for cash-strapped communities to come up with the funding for local film programs.
Crawford, interim city administrator, said Ann Arbor currently reaps the benefits of the state's film tax incentives and likely will continue to do so even at the reduced funding levels. Still, any new proposal like the one offered by Ouimet that provides communities an opportunity to create jobs, he said, is something cities like Ann Arbor would want to look at closely.
"Obviously, we're like most communities and squeezing more dollars out is tough. If it's city dollars this is looking for, cities will need to evaluate whether they're getting returns," Crawford said, adding it might make more sense in cities where film companies are building studios.
A recent study by Ernst & Young showed that every $1 spent by the state on film incentives generates $6 in economic activity. But for purposes of the state's budget, Gov. Rick Snyder and other Republican lawmakers in Lansing decided the return in tax dollars isn't there.
Ryan J. Stanton covers government and politics for AnnArbor.com. Reach him at ryanstanton@annarbor.com or 734-623-2529. You also can follow him on Twitter or subscribe to AnnArbor.com's e-mail newsletters.