Posted on
Mon, Apr 8, 2013 : 2:59 p.m.
Fans make last-minute trek to Atlanta to watch Michigan vie for NCAA championship
By Kellie Woodhouse
Shari Burnstein and Jessica Randel landed in Atlanta minutes before the clock struck Midnight Monday, giving way to the day Michigan takes on Louisville for the NCAA basketball championship title.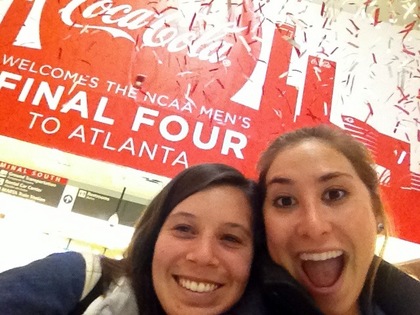 Courtesy photo
The two University of Michigan seniors traveled from Ann Arbor to Atlanta to watch the momentous game. It's the first time the Wolverines have played in the NCAA final in 20 years.
After the Wolverines bested Syracuse 61 to 56 on Saturday, the duo began searching flights, rearranging work schedules and scouring the Internet for affordable tickets in order to make it to the Monday night game.
They're not alone: Several Wolverines who weren't in Atlanta for the Final Four game Saturday made the last-minute trek just to watch the Wolverines play the Cardinals live.
Gearing up
Before and after coverage of the U-M vs. Louisville 2013 NCAA Championship
"I felt like I was missing out. The entire school relocated down here," Burnstein said from Atlanta. "There are definitely a few people who are on the same page as us: last-minute flights at an affordable price and something that's a once-in-a-lifetime experience that you can't miss out on."
Burnstein and Randel were able to find one-way flights for $244 apiece, share hotels with friends already down in Atlanta and secure return rides back to Michigan. They bought game tickets online for $60 apiece.
"There was a lot of scrambling. It was very high anxiety, with a lot of adrenaline," said Randel. "Will it be worth it? Absolutely. It already is."
Fellow senior Becca Noren snagged a ticket for $120, got in the car early Sunday morning and drove down to Atlanta with three friends. After driving for more than 10 hours and 700 miles, they arrived at 7:30 p.m. in Atlanta, a city brimming with energy and excited college basketball fans.
"It's my senior year. It's my last chance to do something like this. I wanted to be able to have the kind of experience where you just get in your car and drive and get to be a part of something big," she said.
U-M senior Lindsay Davis, who carpooled to Atlanta with Noren, said she would have regretted staying Ann Arbor Monday.
"It's our senior year and we're trying to do as many spontaneous things as we can. We wanted to be there and watch them when they win," said Davis, who added that she knows around 20 other students who made the last-minute decision to go to Atlanta for Monday's game
"We have the best of both worlds," she continued. "We got to be in Ann Arbor when we won the Final Four and be on the Diag and see everyone there. When we got to the championship, we thought it would be fun to go to Atlanta and experience that environment."
U-M sophomore Sarah Ventimiglia made a snap decision to drive to Atlanta at 8:30 p.m. Sunday night. Two hours later she was in the car with three friends, making her way to Georgia.
"We were trying to figure out where we were going to watch the game," she recalled, adding the a friend joked they should just buy tickets online and drive down. The idea caught fire.
"In about an our we had tickets and a car. We made it down to Atlanta (at 10:30 a.m.) and now we're poolside," Ventimiglia said from Atlanta Monday afternoon. Kellie Woodhouse covers higher education for AnnArbor.com. Reach her at kelliewoodhouse@annarbor.com or 734-623-4602 and follow her on twitter.