Posted on
Mon, Apr 8, 2013 : 1:15 p.m.
Ann Arbor bleeds maize and blue as fans prepare for University of Michigan basketball's big moment
By Amy Biolchini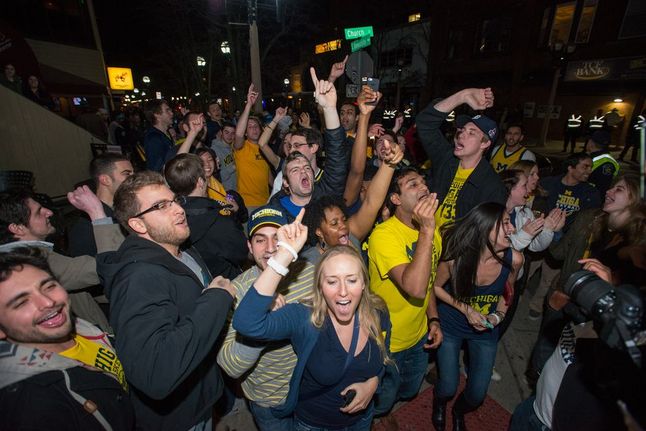 Courtney Sacco I AnnArbor.com
Editor's note: This story was edited at 4:25 p.m. to indicate Michael Gable was one year old in 1993.
Watch your language around University of Michigan basketball fans as they prepare Monday for the first national championship game in about 20 years.
It's not "if" they win.
It's "when."
Maize and blue and the block "M" were abundant on the streets of Ann Arbor Monday morning as Wolverine fans prepared for the national championship title game against Louisville.
For most 20-somethings, this is the first time they'll be able to fully experience the high energy and excitement of a national title game, as Michigan's last Final Four appearance was in 1993.
Melchior Gandham, 22, of Ann Arbor, described Monday night's game as "meant to be."
"If I had one word to describe it, it's 'fate,'" Gandham said.
An Ann Arbor native, Gandham drove 1,200 miles back to Tree Town to watch Saturday night's game against Syracuse with his hometown friends.
Gandham said he has been bleeding maize and blue his whole life—and so when the basketball team made the Final Four for the first time since he was 3 years old, he knew he had to be in Ann Arbor.
He told his professors at the University of Central Florida, where he attends graduate school, "sorry" and hit the road.
Still wearing the same maize-and-blue striped shirt that he had on Saturday, Monday Gandham was preparing to drive down to Atlanta for the 9:23 p.m. game, which will air on CBS.
"I have not changed my shirt," Gandham said. "Michigan fans are so in shock … No one has any idea what to do."
Though Gandham may not have changed his shirt, major apparel shops around Ann Arbor were bustling Monday as people sought out Final Four T-shirts and other Michigan garb.
Some U-M fans had already headed to Atlanta for the Final Four game Saturday and have remained there for Monday night's game—and a few of them have block "M's" shaved into the back of their heads, courtesy of Coach & Four Barber Shop at 806 South State Street in Ann Arbor.
James Price, 28, a barber at the shop, said the block "M's" he's shaved on to fans' heads were all for people heading to Atlanta.
About 20 years ago, when Michigan reached the championship game, Price said he was watching the game just down the street from the shop with some friends.
"This is probably one of the hardest things to do in basketball, and they did it," Price said.
Tonight, he'll be watching the game on a TV in the shop after-hours with a few beers and "40,000 of my closest friends," Price said.
"I hope it gets wild," Price said of celebrations in Ann Arbor should—er, when—U-M wins.
Saturday night, fans spilled out from bars, restaurants and watch parties into the streets to celebrate the victory over Syracuse.
About 1,500 of them congregated on the diag on U-M's campus after the game - breaking out in fight songs and cheers.
Daniel Brenner | AnnArbor.com
A number of trash cans on campus loaded with waste from the
Hash Bash
crowd that had frequented the are earlier in the day Saturday were toppled during the
celebrations that night
, their contents spilling across the sidewalks.
To prevent the activity from happening tonight, U-M's central campus grounds crews were busy Monday morning removing all trash cans that weren't bolted to the ground, and removing loose limbs from the trees that surrounded the diag.
Michael Gable, 21, of Ann Arbor, has worked on U-M's grounds crew for the past four years.
His excitement for tonight's big game wasn't tarnished by having to clean up trash rowdy fans left on campus Sunday morning.
Gable said the last time U-M was in the Final Four in 1993, he was one year old. He's more than ready to experience the big game as an adult.
"This is it," Gable said.
Follow coverage of tonight's game at on annarbor.com and on MLive.
Amy Biolchini covers Washtenaw County, health and environmental issues for AnnArbor.com. Reach her at (734) 623-2552, amybiolchini@annarbor.com or on Twitter.