Posted on
Fri, Dec 28, 2012 : 12:51 p.m.
Michigan fungal meningitis lawsuits on hold as New England pharmaceutical company files for Chapter 11
By Amy Biolchini
Editor's note: This story was updated at 1:35 p.m. with information from the University of Michigan Health System.
Nearly three dozen lawsuits filed in Michigan against a New England pharmaceutical company are on hold as it recently filed for bankruptcy protection after its injectable steroids were linked to a nationwide outbreak of fungal meningitis, MLive.com reported.
The New England Compounding Center in Framingham, Mass. filed for Chapter 11 Dec. 21 in U.S. Bankruptcy Court, which shields the company from the threat of lawsuits while it builds a fund to pay victims, according to the report.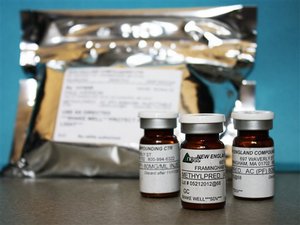 AP photo
Several batches of injectable steroids manufactured by the company were contaminated with fungus, and have been linked to 39 deaths and 620 cases of fungal meningitis across 19 states.
Inspectors found unsterile conditions at the company's Framingham facility, and the state of Massachusetts is working to revoke the company's pharmacy license on a number of violations. The Centers for Disease Control and Prevention is actively tracking the outbreak in conjunction with state health departments and hospitals.
Nationwide, 130 lawsuits have been filed against the company and 270 other people have claimed injury from the tainted steroids.
Michigan has the largest number of patients with fungal meningitis: As of this week, 223 cases have been reported, including 10 deaths, since the investigation into the steroids began in October. Two of those deaths were of Washtenaw County residents, a 78-year-old woman and a 62-year-old man, according to the Michigan Department of Community Health.
Many of the Michigan patients received treatment at St. Joseph Mercy Hospital in Ann Arbor, which has seen 173 total confirmed fungal meningitis patients as of Friday, according to hospital officials.
The University of Michigan Health System has been tracking 16 patients to see if they will be developing any symptoms in connection with the outbreak, according to hospital officials. UMHS has performed three operations since October on patients with epidural abscesses.
Batches of the contaminated steroids had been distributed to three Michigan facilities, the closest to Ann Arbor being Michigan Pain Specialists in Brighton. A number of physicians at St. Joseph Mercy Ann Arbor also practice at the Brighton facility, hospital officials have said.
Michigan Pain Specialists estimated that the steroids, which were used as injections to relieve joint and back pain, had been administered to more than 800 individuals.
Fungal meningitis, unlike the bacterial and viral forms of the illness, is extremely rare and not contagious. Meningitis is the inflammation of the lining of the brain and spinal cord. The drugs used to treat fungal meningitis are aggressive and have adverse side affects.
To manage an ever-fluctuating population of fungal meningitis cases, which have increasingly included cases of epidural abscesses at the injection site, St. Joseph Mercy Ann Arbor has brought in additional staff.
Amy Biolchini covers Washtenaw County, health and environmental issues for AnnArbor.com. Reach her at (734) 623-2552, amybiolchini@annarbor.com or on Twitter.