Posted on
Wed, Apr 10, 2013 : 12:48 p.m.
Higher ed budget that threatens to withhold $41M from University of Michigan headed to House floor
By Kellie Woodhouse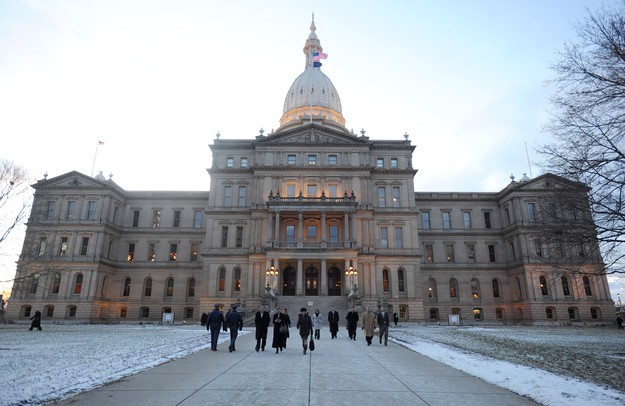 AnnArbor.com file photo
The state
House Committee on Appropriations
approved a proposal Tuesday that would add $31.4 million to Michigan's higher education budget, but possibly penalize the
University of Michigan
for its recent labor agreements.
The budget was passed Tuesday morning in a 19-10 vote in Lansing. It now awaits appraisal by the whole House when representatives vote on the state's fiscal 2014 budget later this spring.
The bill ties the 2.2 percent higher education funding increase to performance formulas. It threatens to withhold 15 percent of a school's base funding if it negotiated new union contracts prior to late-March enactment of right-to-work and did not achieve a 10-percent cost savings in those contracts.
During the Tuesday meeting Kyle Jen, deputy director of the House Fiscal Agency, told lawmakers that Wayne State University and U-M's three campuses —the schools with contracts that reportedly violate the stipulation— are at risk of losing a combined $74 million, $41 million of which would fall on the Ann Arbor campus.
U-M says the 5 contracts it settled prior to March 28 include a cost savings of $81 million, but it is unclear if the House Republicans consider such savings sufficient since overall costs —including salaries— will increase.
Highlights of the proposed budget:
The overall permanent funding increase is suggested at $31.4 million, bringing total higher education funding to $1.43 billion — a 2.2 percent increase from this year. In the absence of any penalties, U-M is set to receive $278.9 million in state appropriations, a 1.7 percent increase over this year.

The most devastating blow to U-M remained in the budget. Schools will lose 15 percent of base funding if it's found that they didn't achieve a 10 percent cost savings in agreements reached in advance of right-to-work legislation, which took effect in late March. Lost funding will be directed to the state's retirement fund and to universities that are compliant with performance metrics.

Joe Tobianski | AnnArbor.com

Tuition restraint is once again tied to funding, but instead of a 4 percent cap on increases, the committee has suggested a 3 percent cap. The restraint requirement is tied to all formula funding dollars, instead of to a separate allocation like last year.

A new performance funding metric is introduced. Universities will be evaluated based on the number of resident undergraduates they enroll. Other metrics remain, including metrics that reward schools for producing graduates with high-demand degrees, for the number of Pell Grant recipients per school and for improving graduation rates.

An amendment instructs universities not to provide benefits for domestic partners and to report the cost of providing such benefits. This amendment is not tied to funding.

Language remains in the bill that instructs universities to disclose information about research using embryonic stem cells. U-M is the only school that conducts such research.

Appropriated funds can't be used to purchase foreign-made vehicles. The bill also includes language encouraging universities to buy from American businesses and companies owned by veterans.
Kellie Woodhouse covers higher education for AnnArbor.com. Reach her at kelliewoodhouse@annarbor.com or 734-623-4602 and follow her on twitter.