Posted on
Sat, Aug 31, 2013 : 7:30 p.m.
Michigan students not thrilled, but show up for kickoff under new general admission policy
By Ben Freed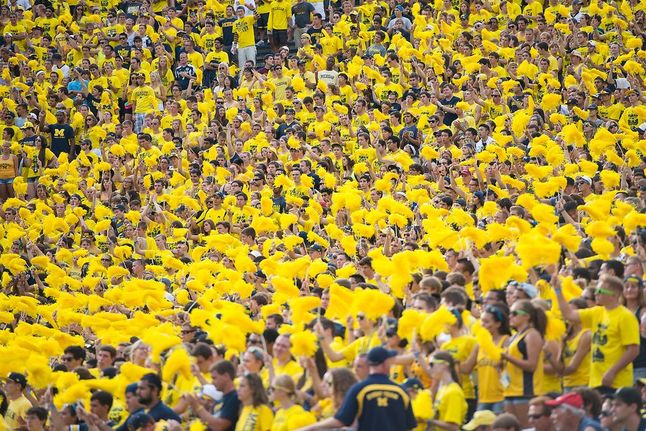 Courtney Sacco I AnnArbor.com
Related:
University of Michigan students held up their end of the bargain Saturday.
More than half an hour before kickoff of Michigan's first football game of the season, the student section was a solid mass of maize, pom-poms at the ready.
Thanks to the new general admission policy, some fans showed up as early as 7 a.m. to stake their claim to front-row seats.
The policy scrapped the previous reserved-seating policy for students in favor of a first come-first served system that allows students to begin queuing up at 7 a.m. for noon or 3:30 p.m. games. The line starts at 11 a.m. for any later games.
Once in the stadium, students' primary complaint about the new system Saturday was the difficulty for large groups of friends to sit together throughout the game.
"It can be really difficult to coordinate all getting into the stadium at exactly the same time, and if you don't it's nearly impossible to all sit together," senior Owen Brown said from row 71.
"I had to drag one of my friends by the jersey to make sure we were able to sit together. I can't even imagine what the Notre Dame game will be like, it's going to be even tougher."
Associate athletic director and chief marketing officer Hunter Lochman said the university is prepared to listen to student concerns and be flexible with the implementation of the new policies throughout the season.
"We're going to learn from every game," he said. "Every game is going to have its own unique set of circumstances and we're going to do our best to make this the best system for everyone."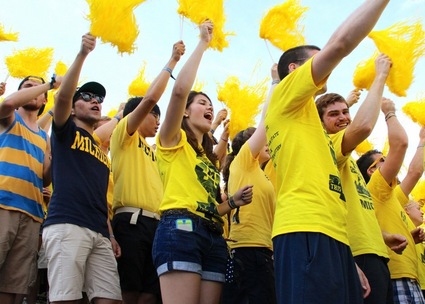 Ben Freed | AnnArbor.com
Despite their reservations about the system, most students grudgingly acknowledged that it accomplished its goal.
"It's unfortunate, but it works," senior Ryan Steinberg said.
"They had a plan, they wanted to make sure the student section was full at kickoff and it was. You have to give it to them on that one."
Natalie Delave acknowledged that she came to the stadium far earlier than she would have otherwise thanks to the new system.
"The pro is definitely that you get to be here earlier and see the team come onto the field and the band and everything before the game," she said.
"But I'm a junior and I'd really like to be closer and I would have been under the old system even though I came much earlier than I would have before."
Coming to the stadium earlier also means that there is less time for tailgating and partying before the game, something that some students take very seriously.
"It's just terrible. They're trying to kill one of the longest traditions we have here at Michigan," Mike Gersten said from a row in the mid-40s.
"Pregame parties are really a part of the bigger tradition of football here at Michigan. I'm going to be a senior and all of the credits I've been building up to getting great seats are now worthless. It's kind of a slap in the face to those of us who have been here and put in our time sitting in the back."
Many of the upper classmen who acknowledged that the program accomplished its goal agreed with Gersten that their seniority had been ignored.
"It's tough being a senior and being part of the new system," Brown said. "Even though these aren't bad seats, no seat here is really a bad seat, we feel like we were thrown under the bus a bit."
Juniors Maddie Chaness and Amanda Tenenzapf arrived at the stadium at 8:30 a.m. and had seats in the very front row next to the Michigan Marching Band. The pair agreed that being in the front row is a great experience, but were unsure if it was worth waking up "at the crack of dawn" to be there.
"The line really should have started later," Tenenzapf said. "We had to get up so early. But we do it for the team."
Next week's game against Notre Dame will likely draw stiffer competition for the best seats, and Tenenzapf said she's ready to take the next step.
"I would consider sleeping here to be in the front row for that game," she said. "Maybe get here at midnight and camp out. We'll have to see."
That could be difficult though. The "2013 Student Stadium Guide" clearly states, in capital letters, "Camping out overnight is not permitted."
Ben Freed covers business for AnnArbor.com. You can sign up here to receive Business Review updates every week. Get in touch with Ben at 734-623-2528 or email him at benfreed@annarbor.com. Follow him on twitter @BFreedinA2