Posted on
Wed, Mar 16, 2011 : 5:55 a.m.
Packard Square project criticized by Ann Arbor planning commissioners for 'lack of imagination'
By Ryan J. Stanton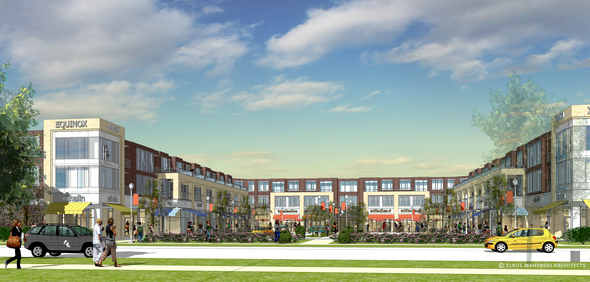 Ann Arbor planning commissioners voted unanimously Tuesday night in favor of a proposed redevelopment of the blighted Georgetown Mall property along Packard Road, but not without first offering several criticisms of the project dubbed "Packard Square."
Commissioners agreed the project site plan conforms with all applicable city ordinances, so it earned their recommendation to go on to City Council for approval. But they had concerns about aspects of the project that aren't under the commission's purview.
They voiced those concerns anyway to Bloomfield Hills-based developer Craig Schubiner of Harbor Georgetown LLC.
Schubiner proposes constructing a mixed-use building at 2502-2568 Packard Road containing 230 apartment units and 23,790 square feet of retail space.
Planning Commission Chairman Eric Mahler criticized the developer for a "lack of imagination with the design," which he said he "didn't find particularly striking at all."
Commissioner Bonnie Bona agreed, saying the fact that Packard Square conforms with the city's ordinances only confirms that the city has more work to do on crafting new ones.
"If we look at the massing of the building, it's basically a very simple box, which makes it very efficient to build, but in elevation it's all basically the same height," she said. "Because it's large, it would be nice if the retail had a character to it."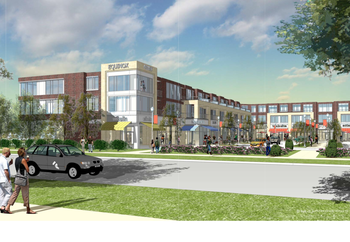 From The Harbor Companies LLC
Bona concluded that the design "could be a lot more interesting" and "a lot more architecturally supportive of the neighborhood."
"I'm disappointed in its appearance and its massing," she added, though she gave the developer some credit. "I will say it's a huge improvement over the old facility that's there now."
Commissioner Erica Briggs told Schubiner his attempts to create a public plaza on the 6.5-acre site fell short of anything that would be of interest to many people. Commissioner Kirk Westphal agreed the plaza could be improved.
"It would be useful to see a true pedestrian plaza there, one that is greater in size, offers greater benefit to the neighborhood, and would be a true draw," Briggs said. "Currently it's more of a suburban-style Starbucks plaza that has parking surrounding it."
Schubiner acknowledged the size of the plaza was a compromise based on the need to include adequate parking spaces for the retail aspects of the project.
The project includes a 144-space parking garage underneath the apartment building, as well as 310 surface parking spaces. Schubiner characterized the layout as welcoming and pedestrian-oriented, with wide sidewalks, benches and landscaping.
"This is, I think, going to be a pretty good space," he said. "What we did in the design of this site was try to create what we're talking about: a public square. That's why we called it Packard Square. We wanted to create a place for people to come and have a community gathering place. But we also needed to balance the needs of the retailers."
Briggs said she had a lot of other concerns with the project, but not any that the Planning Commission has any ability to influence.
Mahler accused the developer of underselling the scope of the project. He referenced a report showing that the developer told residents who live next to the site — and who have concerns about being in the shadow of a four-story building — that the new apartment complex "will not be very noticeable" due to a row of buffer trees being planted.
"I mean, let's not kid ourselves here," Mahler said, pointing out it's a 230-unit apartment complex. "That's a lot of apartments. That's going to be a massive project, especially in the scope of that area. So let's not undersell what this is."
Mahler warned Schubiner not to try to undersell the scope to the City Council, either.
"That's not going to work at all," he said.
Bona asked Schubiner why he didn't take full advantage of the fact that the zoning allows more density than he's proposing. Schubiner said it came down to feasibility.
He said a market study showed demand for 230 apartments and retail somewhere in the range of 20,000 to 25,000 square feet. He said the U.S. Department of Housing and Urban Development reviewed the study and issued an invitation to apply for financing based on the project falling within those parameters.
"From our standpoint, we're spending a fortune going through this process and we want it financed and we want to build it," Schubiner said.
Schubiner gave an update on the financing for the project. Despite potentially losing out on state brownfield credits, he said there's other money he's going after.
"We're working on tax-increment financing, which is critical, and also a grant and a credit from the DEQ, which looks promising," he said. "So we're hoping that a combination of tax-increment financing and that grant and credit will get the numbers to be adequate to finance this project."
The Packard Square project was designed by Elkus Manfredi Architects of Boston and Built Form Architecture of Chicago.
Proposed retail uses primarily consist of smaller stores visible from Packard Road. The developer also anticipates a small neighborhood grocery with prepared foods, fruits and vegetables, and other common items, but it won't have a very large footprint.
Schubiner told commissioners Tuesday night he's going to try to achieve LEED Silver certification for green building design. That's not promised, though.
The apartment portion of the project would include 5,766 square feet of indoor recreational amenities and services, as well as an outdoor pool and courtyard.
The apartments are not necessarily targeted to students, but the developer has said he expects a mix of young professionals and empty-nesters. No low-income housing is anticipated.
A total of 54 bicycle parking spaces would be provided, including 46 spaces for residents and eight spaces for retail uses.
A traffic analysis provided by Metro Transportation Group Inc. determined the project is likely to generate 175 trips (60 inbound; 115 outbound) during the weekday morning peak hour and 294 trips (168 inbound; 126 outbound) during the weekday evening peak hour. The intersections at Packard and King George Boulevard and Packard and Pine Valley Boulevard are anticipated to experience slight increases in delay, but no mitigation efforts are proposed.
Since the site is on a slope, building height varies depending on the location, ranging from a low of 48 feet at the northwest corner to a high of 60 feet or five stories at the southwest corner.
The site currently is a vacant retail center that was constructed in the 1960s. In 2007, the City Council approved a site plan for a 103,200-square-foot retail center, but it was never built. The mall, formerly anchored by Kroger, has been vacant for nearly two years now.
Schubiner said Tuesday night he hopes to break ground on the project in August and have it completed by the end of 2012 or early 2013.
Ryan J. Stanton covers government and politics for AnnArbor.com. Reach him at ryanstanton@annarbor.com or 734-623-2529. You also can follow him on Twitter or subscribe to AnnArbor.com's e-mail newsletters.