Posted on
Sat, May 4, 2013 : 5:59 a.m.
University of Michigan commencement speeches through the years
By Kellie Woodhouse
Whether they've touched on politics or dreams, urged students toward kindness or laid out critical U.S. domestic policy, University of Michigan commencement speeches throughout history — like most graduation orations — have had at least one common thread: speakers have urged graduates to make an impact, big or small, on the world around them.
Some 5,900 undergraduates and 4,400 graduates are graduating from U-M this month, and many will be participating in this weekend's commencement ceremonies and hearing a version of the message some 525,000 living alumni have already heard.
But with every orator, there's a new twist, whether it's Sanjay Gupta sharing how his parents met in Ann Arbor or Gov. Rick Snyder pressing on in his speech despite protests in 2011.
U-M has hosted a wide range of people as commencement speakers, including jurists Thurgood Marshall and Sandra Day O'Connor and political figures such as Hilary Clinton and George H. W. Bush. Even the president of Michigan State University, Clifton R. Wharton, has given the U-M commencement address, in 1970. This year, Twitter CEO Dick Costolo will give the address.
We've highlighted four past commencement speeches —from 1949 to 2010— to offer a taste of the range, and simultaneous similarity, of U-M graduations.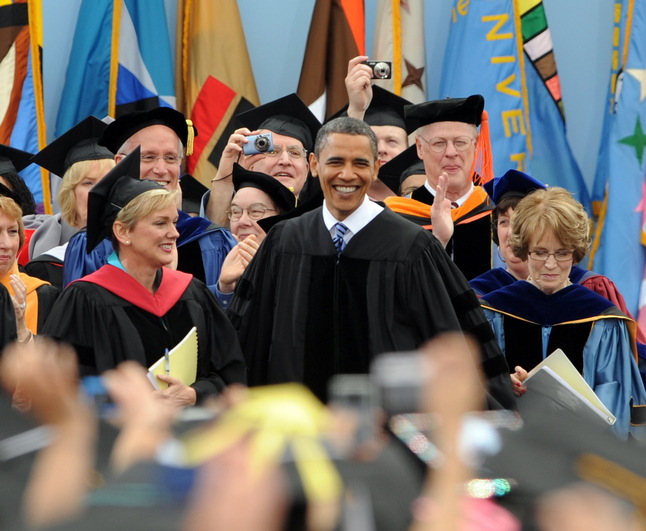 Lon Horwedel | AnnArbor.com
In 2010 President Barack Obama, before a crowd of 8,500 graduates and more than 80,000 total in the Big House, urged students to be open minded as they enter the workforce during a 30-minute speech that touched on politics.
It was the first time a sitting president had given U-M's commencement since George H.W. Bush spoke in 1991.
Here's an excerpt:
"The men and women who sat in your chairs 10 years ago and 50 years ago and 100 years ago -- they made America possible through their toil and their endurance and their imagination and their faith. Their success, and America's success, was never a given. And there is no guarantee that the graduates who will sit in these same seats 10 years from now, or 50 years from now, or 100 years from now, will enjoy the same freedoms and opportunities that you do. You, too, will have to strive. You, too, will have to push the boundaries of what seems possible. For the truth is, our nation's destiny has never been certain.

What is certain -- what has always been certain -- is the ability to shape that destiny. That is what makes us different. That is what sets us apart. That is what makes us Americans -- our ability at the end of the day to look past all of our differences and all of our disagreements and still forge a common future. That task is now in your hands, as is the answer to the question posed at this university half a century ago about whether a free society can still compete."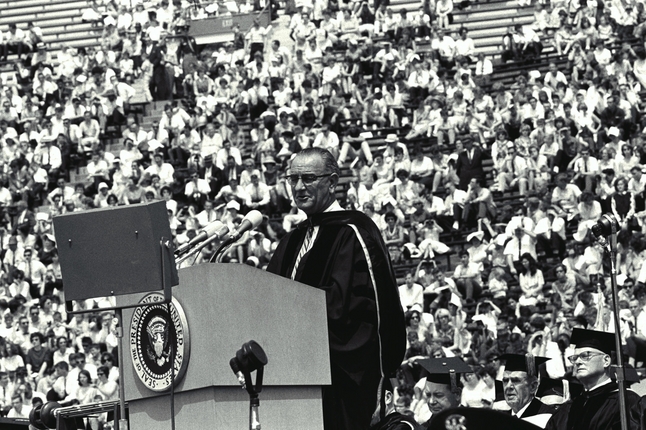 Image courtesy of the University of Michigan Bentley Historical Library.
On May 22, 1964, U-M's commencement speaker Democratic President Lyndon B. Johnson used the venue not only as a chance to congratulate graduates and offer them life advice, but also as a platform to unveil the details of a set of domestic programs referred to as the Great Society.
Here's an excerpt:
"I have come today from the turmoil of your capital to the tranquility of your campus to speak about the future of your country. The purpose of protecting the life of our nation and preserving the liberty of our citizens is to pursue the happiness of our people. Our success in that pursuit is the test of our success as a nation. The challenge of the next half century is whether we have the wisdom to use that wealth to enrich and elevate our national life— and to advance the quality of American civilization. Your imagination, your initiative, your indignation will determine whether we build a society where progress is the servant of our needs, or a society where old values and new visions are buried under unbridled growth."
During the speech Johnson told graduates that most of them would live to see population levels in America grow to 400 million and predicted that four-fifths of the population would live in urban areas.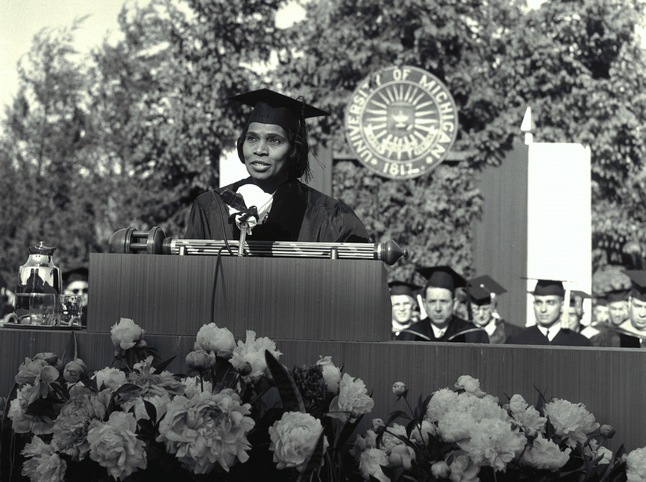 Image courtesy of the University of Michigan Bentley Historical Library.
Marian Anderson, a celebrated singer and a member of the United States Delegation to the United Nations, gave U-M's commencement in 1959. A black contralto, Anderson chipped away at the race barriers in her profession.
An excerpt from her speech:
"Watching this procession, one could not help but think of the hours of planning, of sacrifice, on the part of those who made this day for you possible. Mothers and fathers and relatives who may have contributed in one way or another may not ask more of you than you make the best of what you have been able to learn here. You have before you your whole life and it will bring you in the end what you put in it from now on. If it has not been sincere, you cannot expect sincerity in return."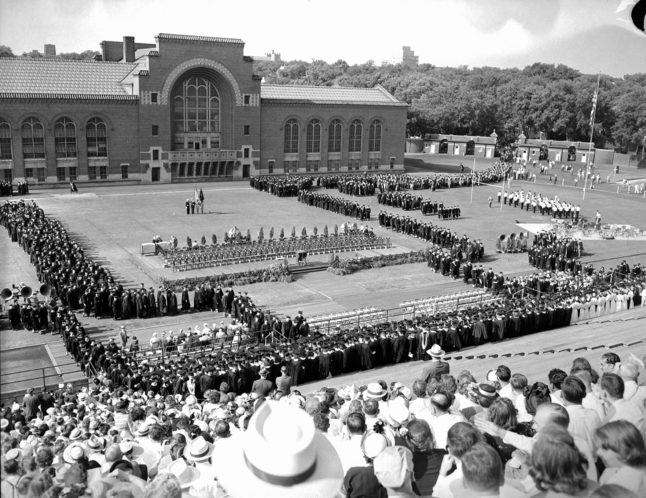 Image courtesy of the University of Michigan Bentley Historical Library
Sometimes things get a little political during commencement. In 1949 —that year's ceremony is pictured above— New York Court of Appeals Justice Bruce D. Bromley titled his talk "the conservative's role in America."
The commencement ceremony that year was held at Ferry Field, home to U-M football games prior to the opening of Michigan Stadium. The venue could hold 13,600 people.
An excerpt from Bromley's speech:
"You leave the university at a time when the citizens of this and every nation are confronted with grave problems. But their scope and complexity are probably no greater than those with which our predecessors have wrestled in the great crises of this and other civilizations. True, it may be that they seem greater, actually they are not....

Those of you who rendered the greatest of all services to the nation in the last war realize, I am sure, that the interests of liberal and conservative are no more irreconcilable in time of peace then in times of war. Together they can work out the delicate, and at times almost indefinable, lines of agreement which ultimately will spell lasting peace and prosperity for our great nation. Success in their efforts.... depends in part upon the assistance which they receive from those who are now graduated from colleges and universities. For this, we call upon you, the graduates of 1949."
Kellie Woodhouse covers higher education for AnnArbor.com. Reach her at kelliewoodhouse@annarbor.com or 734-623-4602 and follow her on twitter.