Posted on
Thu, Apr 21, 2011 : 1:33 p.m.
Class sizes in Ann Arbor schools will average 30 students in upper grades if 70 teaching positions cut
By Kyle Feldscher
More than half of the staff positions that could be eliminated in the proposed Ann Arbor schools budget would come through retirements and resignations, according to district officials.
Interim Superintendent Robert Allen said Wednesday he hopes to eliminate the majority of positions through attrition. Allen has proposed 79 staff reductions, 70 of which would come from the teaching ranks, and at least 45 of those will come through retirements and resignations, district spokesperson Liz Margolis said Thursday.
"That's about average," Margolis said. "We always get more throughout the year and the summer."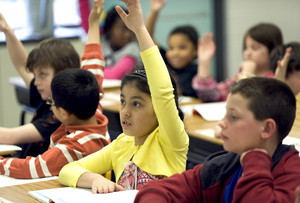 Mark Bialek | For AnnArbor.com
The district is attempting to fill a $15.6 million deficit
for the coming fiscal year. Allen presented the
Ann Arbor school board
with proposed reductions at Wednesday's meeting. The school board has until June 30 to adopt a budget.
School districts around Michigan are facing cuts as the debate over public education swirls in Lansing. Gov. Rick Snyder proposed in February a new $300 per pupil cut to K-12 education, on top of a $170 per pupil cut from the current fiscal year that would not be restored. However, indications are beginning to come from Lansing that the new per pupil cut may be reduced.
School districts are also facing a $230 per pupil increase in retirement costs for the coming fiscal year.
District officials will present the proposed budget reductions to the public in forums next week. The forums are scheduled for 6:30 p.m. Monday at the Pioneer High School Cafeteria Annex and 6:30 p.m. Thursday at the Skyline High School Commons area.
Even though most of the positions set to be eliminated will be vacant, about 34 staff members face losing their jobs.
Brit Satchwell, president of the Ann Arbor Education Association, said he was concerned the number of teaching positions eliminated in the proposal is too high and some of those positions may need to be filled by the beginning of the 2011-12 school year.
He said the teachers union is still working with the district to see why administrators chose 70 positions and said he hoped the number would be smaller in the final budget.
"They've been very cooperative with sharing numbers, but we just haven't had time to dig into the numbers," Satchwell said. "According to our calculations, 70 is too high."
The total staff reductions will save the district about $7.1 million, with $6.3 million of that coming from the 70 full-time teaching positions eliminated.
Allen told the school board that the elimination of 70 full-time teaching positions would inevitably increase class sizes. Average class sizes would become:
Kindergarten through second grade — 23-25 students per class, up from 19-21.
Third grade through fifth grade — 26-30 students per class, up from 23-27.
Sixth through twelfth grade — Average of 30 students per class.
Allen said classes with low enrollment at the secondary level, generally 18 students and below, could be eliminated or combined.
"What that will do in essence is limit the choices students may have; it would impact elective classes," he said, adding that more split-grade classes may have to be added at the elementary level.
Satchwell said he understood why the cuts have to be made, calling the reductions "the latest chapter in the continuing saga of underfunding from the state."
He said the reason budget cuts have been kept away from the classroom is due to the good relationship between the teachers union and administrators, but there aren't enough other places left to cut.
"I've said repeatedly I think our ability to cope year after year can be attributed to two reasons: Good administrative decisions and good thinking in emergency situations with cuts kept away from the classroom and teachers taking on increased burden and concessions," Satchwell said.
"We don't have any place to keep it away from, but we're still trying to keep it away from students and classroom instruction. Our district is running out of options."
Kyle Feldscher covers K-12 education for AnnArbor.com. He can be reached at kylefeldscher@annarbor.com or you can follow him on Twitter.