Posted on
Wed, Dec 5, 2012 : 5:58 a.m.
Neighbors concerned 515 N. Fifth Ave. condo project in Ann Arbor doesn't fit neighborhood
By Ryan J. Stanton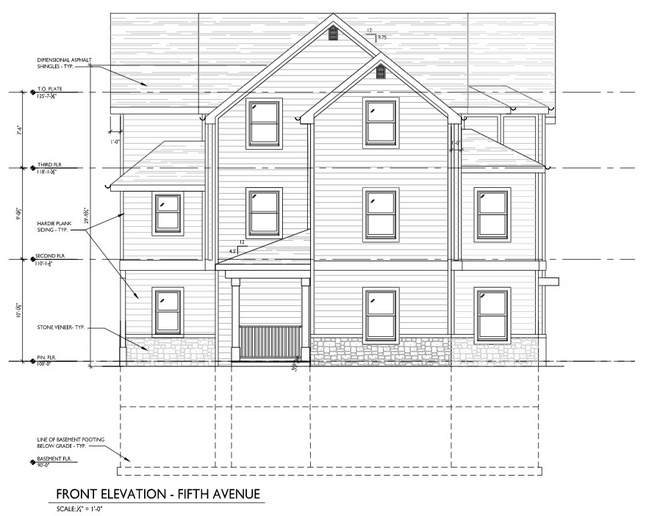 Bowers + Associates
A proposal to demolish a two-story house on North Fifth Avenue near
Kerrytown
and
build a three-story condo and apartment building
is being met with opposition.
Among its critics are Chris Crockett, president of the Old Fourth Ward Association, and Ray Detter, chairman of the Downtown Area Citizens Advisory Council. They and others have indicated they dislike the proposal, which they don't think fits the scale and character of the neighborhood.
Crockett voiced her concerns Tuesday night as the Ann Arbor Planning Commission postponed voting on the project until other issues can be addressed.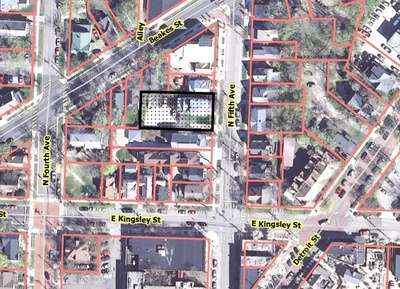 City of Ann Arbor
"First of all, there is no respect for the architecture of this neighborhood," she said. "There is a garage in the front with a ridiculous little appendage that somebody had the temerity to call a porch."
Crockett said the project offends the sensibilities of people looking to preserve the near-downtown neighborhoods that are zoned R4C, a multiple-family residential designation the city has been studying for the last few years.
The impetus for the R4C study was the controversial City Place project, which knocked down a row of century-old houses on South Fifth Avenue to make way for two student apartment buildings filled with six-bedroom units. Crockett drew comparisons between City Place and the proposed project at 515 N. Fifth Ave.
"It is simply a big, hulking house with four units that can easily be converted into kind of a mini-City Place," she said, "the kind of thing that already Ann Arbor and especially the committee working on the R4C has said they don't want to happen in the traditional neighborhoods of Ann Arbor."
A three-unit rental house is currently situated on the site at 515 N. Fifth Ave., just north of East Kingsley Street. The property has a large and underutilized parking lot adjacent to the house.
To maximize the potential of the site, property owner Robert Burskey is proposing to demolish the existing two-story house and build a three-story, 8,400-square-foot multi-family building with two condos and two apartments. Each unit would include two bedrooms.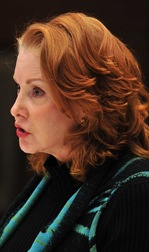 The project is estimated to cost $925,500.
The proposed building height is 29 feet, which is one foot shorter than the maximum permitted and four feet taller than what's there now.
The majority of the building mass is located to the rear of the site, which allows for more open space in and near the front, according to a city planning staff report.
Scott Bowers, the architect for the project, appeared Tuesday night on behalf of his clients, whom he described as a couple looking to build their retirement nest.
"This couple that is doing this plans to retire here and each one of them is going to live in the back portion — in the townhouse portion," he said, adding the couple plans to rent out the apartments in the front of the building as income to subsidize the cost of their new home.
After some input from neighbors and city staff, Bowers said the building was redesigned in keeping with the fabric of the neighborhood. He brought new color renderings to Tuesday's meeting to show the front end was narrowed to a more appropriate scale.
Elevation drawings show a stone base wrapping around the bottom two and a half feet of the building with HardiePlank siding and a dimensional asphalt shingle roof. Balconies emerge from the third floor in the rear of the building, while the first floor steps out to two rear patios.
The rear yard would contain two brick patios, one for each condo unit. Also included in the plans is a basement with two window wells.
"We really like this design," Bowers said. "It came out very nice."
He added, "It does have a front porch."
Crockett said she doesn't know what it is, but it's not a porch.
"It's a little postage-stamp sort of thing that is just stuck on there with the hope of convincing those of us who would be foolish enough to fall for it that somehow it's a porch," she said. "If anyone looks in the R4C neighborhoods, you can see that porches do not look like this in Ann Arbor's R4C neighborhoods. They are entrances to the front of the house."
Crockett recommended a smaller-scale project.
"When we met with the architect, we suggested that this be a duplex project — that there was adequate land there to do a duplex," she said. "But a four-unit condominium such as this just is too big and too intrusive and too out of character for this neighborhood."
Bowers indicated at Tuesday's meeting he's hoping for construction to start in April. The city's planning staff is expecting revised plans to be submitted soon.
"It sounds like petitioner has revised plans, but they have not been submitted," said City Planner Alexis DiLeo. "But it sounds like things are on the road to progress quickly."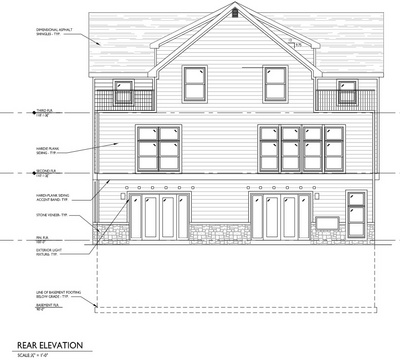 Bowers + Associates
The city's planning staff recommended postponement of the project's approval Tuesday night to give the petitioner an opportunity to address staff comments.
DiLeo said additional grading plan information has been requested to address concerns regarding potential off-site drainage. There currently is no stormwater system on the site. The petitioner has proposed a grass swale system to capture stormwater.
The planning staff's report notes a 20-inch landmark tree on the site is proposed to be removed, and mitigation would be required for that.
Six parking spaces are required under city code. The plans include an attached four-car garage, but where two more exterior parking spaces would go, the petitioner has asked to plant grass and construct a brick patio. The city's planning staff supports the deferral of the two exterior spaces.
Four bicycle parking spaces are proposed.
The existing house was constructed in 1901. A detached garage that was located in the rear yard was demolished in May 2009.
Commissioner Bonnie Bona asked the architect Tuesday night if he considered putting the proposed garage as an accessory building in the back with a driveway to access it. Bowers said that was looked into, but it didn't work with the planned outdoor area behind the condos.
"It's just that it seems to work in the old homes in the neighborhood to do that," Bona responded, encouraging the owner to take one more look at that. "This is a neighborhood they're interested in. They might want a home that's of a similar character."
Ryan J. Stanton covers government and politics for AnnArbor.com. Reach him at ryanstanton@annarbor.com or 734-623-2529. You also can follow him on Twitter or subscribe to AnnArbor.com's email newsletters.