Posted on
Thu, Nov 8, 2012 : 5:07 p.m.
New name approved for Pioneer High School planetarium as district accepts $100,000 donation
By Danielle Arndt
The Pioneer High School planetarium will soon get a new name — and also will be able to keep its bragging rights as the oldest continually operating planetarium at any school or college in the western hemisphere.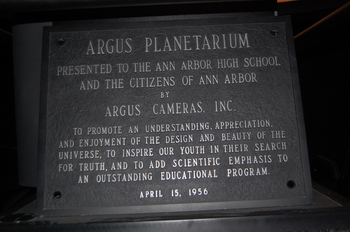 Janet Miller | AnnArbor.com file photo
The district was on the
brink of closing
the planetarium due to a failing operating system and a large price tag on the necessary equipment improvements.
Then IMRA, a global company specializing in ultrafast fiber laser technology, stepped in to donate $100,000 to the district. The money will fund critical upgrades to both the computer system that operates the planetarium programs as well as the cove lighting that surrounds the planetarium dome.
Because of the donation, the planetarium now will be called the "Argus IMRA Planetarium."
The Ann Arbor Board of Education unanimously approved co-naming the facility Wednesday night. Spokeswoman Liz Margolis said the district intends to purchase the new operating system as soon as possible.
The district will replace its current Digistar 3 operating system with the new Digistar 5, which has the ability to be run from an iPad.
The IMRA funds will be divided into two installments of $50,000 this year and next year. Because the Digistar 5 system costs $65,000 and is needed immediately to keep the planetarium operational, the Ann Arbor Public Schools Educational Foundation will supplement IMRA's donation by awarding AAPS the additional $15,000 to cover the cost of the system.
Danielle Arndt covers K-12 education for AnnArbor.com. Follow her on Twitter @DanielleArndt or email her at daniellearndt@annarbor.com.