Posted on
Thu, Apr 28, 2011 : 5:46 a.m.
New protocols have Ann Arbor firefighters responding to fewer emergency medical calls, and union isn't happy
By Ryan J. Stanton
Ann Arbor firefighters play a crucial role in responding to not only fires, but also to emergency situations ranging from heart attacks to car accidents.
As trained emergency medical technicians, they often work alongside paramedics from Huron Valley Ambulance. And many times, though not always, they're the first on the scene.
But under new protocols put in place this month, Ann Arbor firefighters now respond only to the most serious emergency medical calls — those classified as "Category 3."
The reduced workload comes as city officials consider a plan to trim 12 firefighter positions from the budget over the next two years, and the firefighters union isn't happy about it.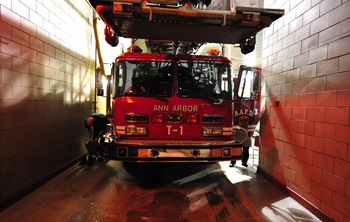 Ryan J. Stanton | AnnArbor.com
Mayor
John Hieftje
expects the changes to result in a 20 percent reduction in the number of emergency medical calls firefighters are dispatched on. If that holds true, that amounts to several dozen calls every month where city fire trucks no longer will leave the station.
"We do have a pretty sophisticated dispatch system that can tell very quickly what the severity of the injury is and whether or not you need the fire department in addition to HVA," Hieftje said.
The fire department responded to 3,290 emergency medical calls in 2009, the last year for which complete data is available. The department also handled 280 fires, 224 auto accidents, 695 false alarms, and 1,191 other incidents varying in nature that year.
"Category 3 is for major medical emergencies only," said Assistant Fire Chief Chuck Hubbard, explaining that can include respiratory arrest, unconsciousness, chest and neck injuries, serious accidents or suffocation.
Ann Arbor firefighters are continuing to respond to those types of calls, Hubbard said. But they no longer are leaving the station for a wide range of other incidents of lesser seriousness that are classified as either Category 1 or Category 2, he said.
Previously, fire trucks responded no matter what the call was, Hubbard said, even if it was a cut finger, a bloody nose, or a trip-and-fall accident.
"So we've gotten away from all those calls and gotten back to just the real serious calls," he said. "In other words, we don't go on unknown calls anymore. If the call comes in as an unknown-type medical — possible intoxication, or possible this or possible that — we don't go."
Hubbard said the changes are being driven by a desire to reduce wear and tear on city fire trucks and make sure they're more readily available to fight fires.
Hieftje acknowledged he was incorrect when he stated earlier this week that union contracts had prevented the city from implementing the new protocols.
But the firefighters union has opposed the idea.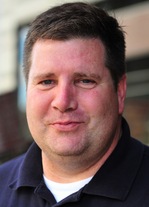 "Obviously, we think we provide a good service all the way around," said
Matt Schroeder
, president of the firefighters union.
Schroeder pointed to a situation earlier this week where Ann Arbor firefighters were first on the scene to assist a person who suffered from an apparent heart attack. He said the fire department's first responders arrived several minutes before HVA and were able to make a significant difference in the patient's outcome as a result.
"It happens a significant amount of times," he said of the frequency of similar situations occurring. "We have an ability to make an impact on people's potentially life-altering medical circumstances. That's why we first-respond on those calls."
Hubbard, who has been with the fire department for 25 years, said he couldn't say for sure what the full impact of the new protocols will be. He acknowledged the city will be relying on HVA to determine whether a call is serious enough for the fire department to be dispatched.
"We just started this so it would be unfair for me to say I'm uncomfortable or comfortable with it because I don't know," he said. "We need some time to see just exactly how this is all going to play out. The data is going to speak for itself. We just started April 1, so we don't know what the savings will be, what the effects will be."
Ryan J. Stanton covers government and politics for AnnArbor.com. Reach him at ryanstanton@annarbor.com or 734-623-2529. You also can follow him on Twitter or subscribe to AnnArbor.com's e-mail newsletters.