Posted on
Tue, Apr 26, 2011 : 5:59 a.m.
Ann Arbor Mayor John Hieftje says he's 'pretty comfortable' with cuts made to police and fire
By Ryan J. Stanton
(A factually incorrect statement made by the mayor has been removed from this story.)
Mayor John Hieftje says he's feeling OK about the job cuts Ann Arbor has made in its police and fire departments while he's been in office the last decade.
"We've been pretty comfortable in reducing police numbers," he said, pointing out crime is going down and the University of Michigan now has 54 of its own officers.
"And we're studying the fire side, looking very intently at it," he said. "So we're pretty comfortable with what we're doing."
After several years of making cuts, Ann Arbor officials are considering eliminating 37 more positions in public safety over the next two years — 25 in police and 12 in fire.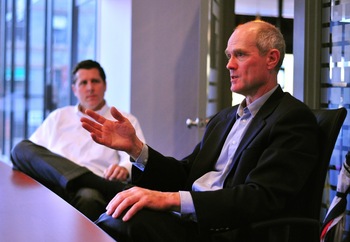 Ryan J. Stanton | AnnArbor.com
That's out of a total of 48 positions City Administrator
Roger Fraser
has slated for elimination in his
two-year budget proposal
. The City Council is expected to vote on the budget May 16.
Hieftje sat down with AnnArbor.com's editorial board on Monday to discuss the latest talks surrounding the budget. He was joined by Council Member Christopher Taylor, D-3rd Ward, and CFO Tom Crawford, incoming interim city administrator.
"We're getting some pretty good opinions that our initial response times probably won't be affected on the fire side," Hieftje said. "And it shouldn't be affected on the police side. The chief is confident he can maintain patrol numbers."
The city of Ann Arbor has 124 sworn police officers and 89 firefighters. On the police side particularly, those numbers are down considerably from a decade ago.
Fraser last year proposed eliminating 40 positions in police and fire, but the City Council used some last-minute budget balancing measures to stave off most of the cuts.
Hieftje said his hope is to lessen the blow again this year, but he acknowledged the City Council has much less wiggle room this time around.
"We're certainly going to attempt to do everything we can," he said. "It's harder this year than it was last year. It's harder every year. All the water has been wrung out of the towels. There just aren't any more rabbits to pull out of the hat."
Hieftje said he might reconsider some of the cuts to police if crime goes up two years in a row. Crime in Ann Arbor went up 2.6 percent last year, but the overall trend over the last decade is down, according to figures from the Ann Arbor Police Department.
AnnArbor.com is awaiting the city's response to a Freedom of Information Act request seeking records related to the fire department, including data on response times and the most recent reports on calls handled this year compared to last year.
Asked what data the city has looked at to determine it can safely cut 12 more positions in the fire department, Hieftje said the city is awaiting the results of a consultant's study. But he pointed to what city officials learned when they evaluated the city's fire services in 2003.
At that time, Hieftje said, there were about 70 percent fewer fires than there were in the 1970s, and the vast majority of runs were emergency medical responses.
The fire department responded to 280 fires in 2009, the last year for which complete data is available on the city's website. The department also handled 3,290 emergency medical calls, 224 auto accidents, 695 false alarms, and 1,191 other incidents varying in nature that year.
Crawford said the reality is that every part of the city's budget has been reduced over the last few years, and public safety — the largest part of the general fund — isn't off the table.
"You can't go on and not have the police and fire entities challenged with finding a way to do their job with less resources," he said. "That is what this is about."
The city is paying $54,000 to have the International City/County Management Association conduct a study of staffing levels in the fire department. ICMA is expected to issue a report by mid-summer, and Hieftje said the city will give serious consideration to its recommendations for how to more efficiently provide fire services in the years to come.
"Our firefighters are very well trained and we try to keep them well equipped," Hieftje said. "But we're really working on a 100-year-old model of people going to a station, sleeping there overnight, working 24-hour shifts. A firefighter works nine days a month. So we are thinking about different models, the way it's done in some other cities. Maybe it's a 12-hour shift."
Hieftje pointed out the city of Troy's fire department is composed primarily of volunteers — about 180 of them — who are on call to assist the city's 10 career firefighters. Ann Arbor officials kicked around the idea of switching to an on-call system of some kind at a city budget retreat in December, but there has been little discussion of that idea recently.
Asked if the city has looked at the potential impact on insurance rates for residents and businesses if continued cuts to fire services are made, Hieftje and Crawford both said they don't believe that would be affected. They said the ICMA study will look more closely at that.
Before he resigned last month, Fire Chief Dominick Lanza raised concerns the city already had cut too deeply and said the fire department no longer can handle two major fires at once. Hieftje argues Ann Arbor now has enhanced relationships with surrounding fire departments and can count on their firefighters to assist if there are two fires at once.
"There's about 12 or 13 times a year, as I understand it, where they even hook up to a fire hydrant, so that possibility is fairly remote," he said. "It's kind of like the United States used to talk about having to fight a major war in Europe and Korea at the same time."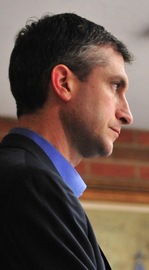 One piece of the city budget yet to be resolved after nearly a year of negotiations is a
new parking agreement
between the city and the
Downtown Development Authority
, including what percentage of downtown parking revenues the DDA will transfer to the city each of the next 10 years. The city is asking for 18 percent, while the DDA has offered 16 percent.
Starting next year, the difference between 16 and 18 percent is $2.52 million versus $2.83 million — or about $157,262 for every percent. The city has been getting about $3 million a year from the DDA, and city officials say more cuts to police and fire are needed to offset any large decrease in that amount.
Taylor said the two parties met again on Monday morning. The city's latest request is expected to be discussed by DDA officials in committee on Wednesday, and potentially voted on by the full board next Monday. An agreement could come to the City Council for approval later that night.
Aside from monetary terms, the proposed agreement calls for a transfer of powers, giving the DDA sole authority to raise downtown parking rates and extend meter enforcement hours.
"The goal here is to enable them to deploy their expertise with respect to parking demand management in order to optimize parking for the users of downtown," Taylor said.
"We know that evening enforcement is something they think would be of value to the downtown to help activate the downtown," he said, acknowledging the DDA also plans to raise parking rates by about 3 or 4 percent every year over the next decade.
Hieftje agreed those decisions are best left to the DDA. He said the goal in setting parking rates is to "find that sweet spot where it hurts just a little."
The DDA's concern in giving the city 18 percent of parking revenues is that its cash reserves could sink too low. The DDA already has been running deficit budgets to pay for the new $50 million underground parking structure on South Fifth Avenue between Liberty and William.
Taylor and Hieftje, however, think the DDA's financial projections are too conservative and do not include about $435,000 in annual tax revenues the DDA soon will be getting from two new developments — 601 South Forest and Zaragon Place 2.
Taylor also said the DDA's funding assumptions do not include the extension of nighttime parking meter enforcement hours, which could bring in $600,000 to $800,000 a year in extra revenue if two more hours of enforcement are added.
"We don't feel that even at that 18 percent number that we would be in any way endangering their ability to make bond payments or anything," Hieftje said.
"Those are ultimately our bonds," he said. "The DDA doesn't take on any debt of its own. Everything they do is backstopped by the city. So we would have a great deal of concern if the DDA couldn't pay its bills because we would be paying them."
Ryan J. Stanton covers government and politics for AnnArbor.com. Reach him at ryanstanton@annarbor.com or 734-623-2529. You also can follow him on Twitter or subscribe to AnnArbor.com's e-mail newsletters.