Posted on
Thu, Sep 20, 2012 : 5:58 a.m.
New University of Michigan course lets students peek behind the scenes of the college budget
By Kellie Woodhouse
Daniel Brenner | AnnArbor.com
University of Michigan
junior
Dominique Harvey
likes to track money. She's interested in where it comes from, where it goes and why.
And when it's her money — in the form of tuition dollars — she's especially interested.
"I am a business major, so I'm always interested people use their resources. ... I am interested in how they operate behind the scenes," Harvey says.
Harvey is one of roughly 50 students taking a one-credit mini-course examining university finances. The Tuesday-evening course is the first of its kind offered at U-M.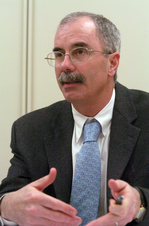 The class, taught by top U-M budget officials Provost
Phil Hanlon
and Vice Provost
Martha Pollack
, is especially relevant in an era when the ever-increasing cost of higher education, coupled with an overall decrease in state appropriations to public colleges, are of mounting concern to the college-bound.
Resident tuition at U-M is nearly $13,000 a year —a 63 percent increase from rates a decade ago,— while out-of-state tuition tops $39,000 a year, one of the highest non-resident rates of any public university in the country.
According to the Project on Student Debt, the average graduate of a Michigan college left with more than $25,600 in loans in 2010, the 11th highest student debt load in all 50 states.
Meanwhile, the school's general fund budget has grown by $300 million since fiscal 2008, despite cost containment measures by the university.
Hanlon says the class is a way for students to wrap their heads around the changes.
"The cost of higher education is a really important national issue. ... We know it's of great interest to our students. We're very concerned about it. It's very complex," said Hanlon. "We never want to tell our students how they should think, but as Michigan students we expect that before they make up their mind about a complex topic, they're going to learn about it.
"We hope that before they make up their mind ... about whether a tuition increase is a good idea or is a bad idea, we'd hope they understand what are the implications," Hanlon said.
The class outlines the university budget and lifts the veil on some of the particulars of the business of higher education, explaining in detail things like faculty compensation and retention, the impact of college rankings, measures U-M takes to condense operations and save money, and the mix of funds that keep the school running day-to-day.
Since Harvey first came to U-M, she's seen her tuition increase. Upper-level business majors experienced a 6.2 percent tuition increase this year, more than double the 2.8 percent hike most undergraduates experienced. During that same time, she's also seen her scholarships increase.
Three years ago, when Harvey was a freshman, centrally-awarded financial aid levels were at $126 million. Now, they're nearly at $145 million.
"[The class] makes [university finances] more transparent," said Harvey. "A lot of students have no idea what's going on behind the scenes. ... This makes me feel a little more comfortable about where my money is going or at least with what they're trying to do with my money."
Added political science major Rebecca Charen:
"It's a great opportunity to let us look at exactly what's happening at the university we're going to, especially when there's so much talk of financing and all the stuff going on with tution increases."
Kellie Woodhouse covers higher education for AnnArbor.com. Reach her at kelliewoodhouse@annarbor.com or 734-623-4602 and follow her on twitter.