Posted on
Sat, Aug 25, 2012 : 5:58 a.m.
New treatment court to keep veterans from falling through cracks of the system
By Amy Biolchini
After serving his country for nine months in Iraq in 2005, it took U.S. Marine Corps veteran Eric Brown nearly seven years to break a pattern of addiction and law breaking.
Brown, 30, of Blissfield, was self-medicating with depression prescription pills to deal with the memories.
For two years, Brown, a former Ann Arbor resident, flat-out denied that he had post-traumatic stress disorder.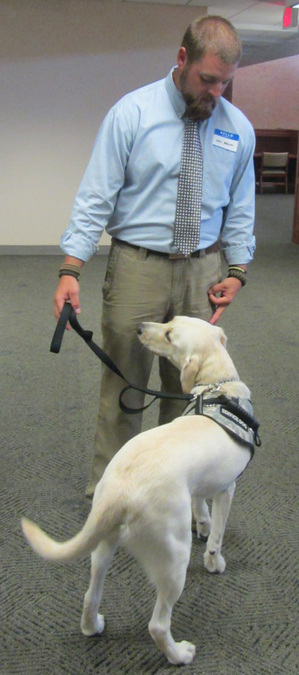 Amy Biolchini | AnnArbor.com
Brown said he broke nearly every misdemeanor crime in the book.
Meltdowns landed Brown in the psychiatric ward in both the Veterans Affairs Ann Arbor Hospital and St. Joseph Mercy Ann Arbor before he got help.
"If someone didn't force treatment on me and help me get to where I'm at, I wouldn't be here," Brown said.
Brown is not alone. Many veterans cycle through the same struggle without an intervention.
Organizations in Washtenaw County are now partnering to be that safety mechanism.
The 15th District Court in Ann Arbor will soon host a new Veterans Treatment Court, over which Judge Chris Easthope will preside.
Representatives from the court, the Veterans Affairs Ann Arbor Healthcare System, the Thomas M. Cooley Law School, and the Michigan Association of Drug Court Professionals announced the formation of the new court Thursday at a summit at the Thomas M. Cooley Law School in Ann Arbor.
There are five veterans courts in Michigan, including Novi, Detroit and East Lansing.
"The purpose of veterans courts is to take people who have addiction and mental health problems, to get them in a position through a combination of treatment and intense supervision — to take them out of the criminal justice system before they commit new crimes or become incarcerated for a long period of time," said Judge Brian MacKenzie, president of MADCP. "Drug courts work up to 19 times more effective than any other sentence a judge gives."
MacKenzie said because veterans are used to a highly structured environment in the military, the probation system in a veterans treatment court must be highly structured.
"They need constant monitoring, because (the veteran will) figure out where the weaknesses are," MacKenzie said.
Veterans treatment courts are relatively new to the treatment court arena, as the first was started in 2008 in Buffalo, New York.
About 40 percent of the cases at Judge MacKenzie's veterans court in the 52-1 District Court in Novi served in Vietnam, a population MacKenzie said has not been well-served by the justice system. Forty percent of his cases are veterans from Iraq and Afghanistan.
"This is a critical time, because if we don't treat the returning veterans in a different way than the way we've treated Vietnam veterans … we're going to have the same thing happen," Judge David Jordon of the East Lansing 54-B District Court.
Courts have the opportunity now to treat veterans returning from foreign arenas in a way that can circumvent problems early on, Jordon said.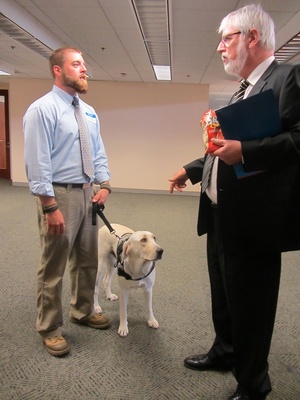 Amy Biolchini | AnnArbor.com
Sgt. Major
David Dunckel
is a mentor in Judge Jordon's veterans treatment court in East Lansing.
Dunckel said he could easily have been one of Judge Jordon's cases instead of a mentor.
"I went from ground combat in Iraq to 32 hours later being in my living room," Dunckel said. "I found myself driving as fast as I could in the middle of the night with a bottle of whiskey hoping I'd hit a tree. … I didn't know how to live without associated risk in my life."
His wife realized there was something different with his behavior and made him see a therapist. For veterans without a safety net in their personal lives, the legal system often is the next place they fall.
At the state level, the need has not gone unnoticed. Two House bills — 5159 and 5162 — moving through the state legislature would set up a definitive framework for the creation of veterans treatment courts in Michigan.
Currently, each court system that takes the initiative to allocate time for a special veterans court has to come with its own system and structure, as the 15th District is doing in Washtenaw County. The 15th District Court already handles the sobriety, domestic violence and street outreach court dockets.
Veterans with active cases will be handled through the new veterans treatment court on a referral basis from community members, police or the jail. The veterans treatment court will not take the cases of violent offenders, Easthope said.
In district court, probation can be up to two years, Easthope said.
To be in the court, veterans will have to plead guilty to a crime. The veteran will be placed on probation while they are connected with treatment services for drug addiction, alcoholism or mental illness in a partnership with the VA Ann Arbor Healthcare System.
Each veteran in the treatment court also will be paired with a mentor, who is a veteran who has volunteered to be a part of the recovery process. Based on experiences in other veterans treatment courts shared at the summit Thursday, the mentors are a vital part of the process to keep the vets on track.
Drugs and alcohol are common ways many people with PTSD avoid the emotional triggers that bring back painful memories, said Dr. Sheila Rauch, who's the head of the returning veteran mental health program at the Veterans Affairs Ann Arbor.
"PTSD is a disorder of avoidance," Rauch said.
Treating individuals with PTSD makes use of both therapy and medications, Rauch said. Psychotherapy helps veterans confront memories, reminders and triggers so emotional reactions don't take over, Rauch said.
"With PTSD it's all connected. It feels like it's out of the blue and all out of control," Rauch said, explaining there are underlying patterns to emotional reactions.
Crowd situations often are difficult for people with PTSD, as well as shopping trips.
Brown's been paired with a psychiatric service dog — Patton — from Stiggy's Dogs. Patton is a rescue dog the organization has trained to perform certain tasks that put Brown's mind more at ease.
Patton gives Brown a spatial barrier from other people and objects, and can walk a perimeter in rooms to make sure it's safe. Brown gives the dog a special signal if he's feeling uncomfortable in a crowded situation, and the dog knows to make a fuss so Brown has an excuse to leave.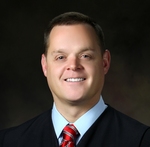 Easthope will be dedicating two dockets a month in the 15th District Court in downtown Ann Arbor for the Veterans Treatment Court cases, beginning Oct. 10.
Four or five veterans have already been referred to the system, Easthope said, and he's already got his eye on one for his first case.
A Vietnam veteran first came into the system on a drunken driving charge and then on a series of three retail fraud charges.
"The day he returned from Vietnam he began committing petty crimes," Easthope said. "He steals something every time he feels he's wronged. … This guy has so much rage."
Easthope said he can't imagine what the man experienced after being a gunner on a helicopter in Vietnam for three years.
"Our challenge is to really dig deep and find out what's going on," Easthope said.
Amy Biolchini covers Washtenaw County, health and environmental issues for AnnArbor.com. Reach her at (734) 623-2552, amybiolchini@annarbor.com or on Twitter.