Posted on
Thu, Dec 10, 2009 : 6:08 a.m.
No word yet from unions on Ann Arbor mayor's call for pay cut
By Ryan J. Stanton
Ann Arbor officials are in the middle of labor negotiations with a majority of the city's eight bargaining units and a new tone has been set for those discussions.
Under a directive handed down by Mayor John Hieftje, every employee group in the city - union and non-union alike - will be asked to take a 3 percent pay cut next year to help lessen the blow on cuts to services.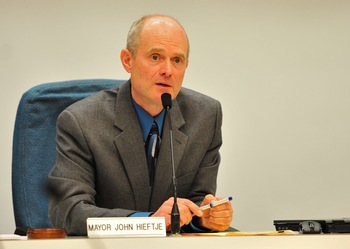 Ryan J. Stanton | AnnArbor.com
That's a deal the unions will have to decide to go along with, and so far bargaining unit representatives aren't giving any indication whether they'll be willing.
"We really don't have anything to say until we've had an opportunity to discuss it amongst ourselves," said Pat Hughes, head of the 22-member police command officers union. "We're in contract negotiations now and I'm sure whatever the city is considering, it may be brought up."
Hieftje said he doesn't think a 3 percent pay cut is too much to ask for considering the tough times facing Ann Arbor, whose budget situation is similar to many other cities in Michigan right now.
"This is something I thought might be palatable and certainly in this economy I think everybody can understand it," Hieftje said. "I'm very hopeful that people will recognize the need here. Everybody is being quite sincere."
Hiefjte, who makes about $45,852 a year as mayor, is proposing an across-the-board cut for all city employees - mayor and council members included. That would save about $875,000 in the city's general fund next year and $1.5 million total in all city funds.
According to city records, Ann Arbor city government has 755 active employees, 186 of which are non-union. Most of the unionized work force is organized under AFSCME, which has 278 members, and the AAPOA police officers union, which has 121 members. Another 90 are in the firefighters union and 43 are in the Teamsters.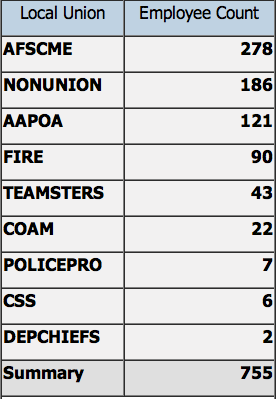 The city has been focusing on renegotiating a handful of contracts that expired in June. What has not been discussed is reopening contracts with AFSCME, whose members are under contract through June 2011 and scheduled to receive 3 percent raises in July.
Nicholas Nightwine, president of AFSCME, said he's waiting to see what happens with the other bargaining units before his union even discusses giving up a promised raise. AFSCME has a reputation for being cooperative with the city when it comes to collective bargaining.
"They have not asked us to come to the table and open up that contract yet and I'd like to see them finish working with the other bargaining units before they asked us," he said. "I can understand where (the mayor) is coming from, but we are already locked in for a 3 percent pay increase in July. The city by law cannot take that away from us."
Hieftje said a modest pay cut would be a good first step as the city looks to trim 30 percent of its budget over three years based on a new financial forecast. That includes an additional $3.3 million in cuts this year and $5.4 million next year over and above what was previously planned.
The city is looking to follow the lead of Washtenaw County, whose labor unions recently agreed to reopen contracts and give up promised 3 percent raises next year to help close a $30 million gap in the county's two-year budget. The county's ability to wrest concessions from its labor groups helped avoid mass layoffs and balanced the budget without draconian cuts to services.
"The county was successful with some of their bargaining units in making this work, but it was easier I think for them because they had a 3 percent raise built into those contracts," Hieftje said. "Because we don't have that increase built into our contracts, for the most part, this would be a decrease. But I think the idea is certainly well worth exploring, and this would help us a great deal."
City officials said they've had better luck dealing with some labor unions than others. Specifically, they said, it's been a challenge dealing with police and firefighter unions because of Michigan Public Act 312, a 1969 law that provides for compulsory arbitration of labor disputes in municipal police and fire departments.
Hieftje said the law unfairly favors the unions and has led to situations where - when there's an impasse in negotiations - a third-party arbitrator gets to decide whether to give the union a raise without accounting for the municipality's ability to pay. Hieftje said he's hopeful new legislation being introduced in Lansing will eliminate that kind of binding arbitration.
Bill Stanford, president of the police officers union, declined to comment on the mayor's call for a pay cut, saying his union is in the middle of contract negotiations and he hasn't talked with his board yet. Hughes, of the command officers union, noted the police department already has made many sacrifices in recent years.
Tom Crawford, the city's chief financial officer, said a 3 percent cut needs to be fully explored as the city looks to confront a complex budget problem that is mostly the result of a bad economy, which has led to decreases in state revenue sharing and property tax revenues.
"As we look at this problem that we have, I suspect the resolution is going to involve a bit of everything and this is certainly one item that needs to be on the table for discussion," he said.
Hieftje agreed his proposal is only one piece of the puzzle and, even with pay cuts, some layoffs and service reductions probably can't be avoided.
"There obviously will be a lot more things that we're going to have to do," he said. "Our hole is too deep. If people wanted to talk about deeper pay cuts, we'd be happy to talk about that, too."
Ryan J. Stanton covers government for AnnArbor.com. Reach him at ryanstanton@annarbor.com or 734-623-2529.