Posted on
Thu, Feb 21, 2013 : 12:35 p.m.
Officials to lift University of Michigan fraternity's suspension after determining 'educational plan'
By Kellie Woodhouse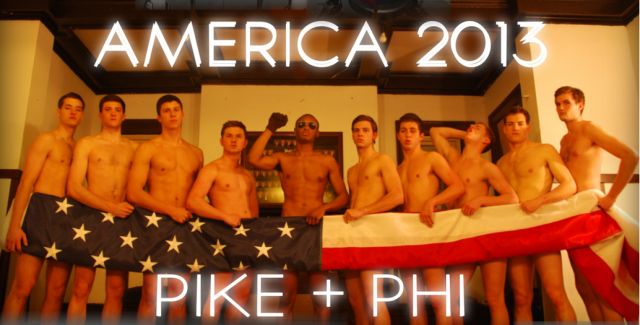 The national
Pi Kappa Alpha
office says it will lift
the suspension
of its
University of Michigan
chapter once officials determine an educational plan of action for the fraternity.
The Ann Arbor-based Beta Tau chapter was suspended after photos of members, who were pictured mostly naked with American flags covering their genitals, and an accompanying email referencing excessive drinking and hazing were leaked online, gaining national attention.
The photos and email were originally sent to U-M sorority Alpha Phi prior to a joint party.
"The Office of Greek life is working with the national fraternity on this matter," U-M spokesperson Rick Fitzgerald said Thursday. "Those involved tell me they do not expect this matter to be resolved today."
During the suspension, the group has to stop operations and can't hold social events.
In a statement released Wednesday, the fraternity's national office said it respects freedom of expression, including satire and jest.
"While the photos have garnered significant attention and may be offensive to some, the fraternity's primary concern lies in the reference to hazing and alcohol abuse — both of which are issues that have negatively affected Pi Kappa Alpha along with many other student organizations," the fraternity's national office stated. "The chapter has already issued an apology and once an educational plan of action is proposed, the suspension will be lifted."
The fraternity could be on edge after the November death of a 19-year-old Illinois pledge who died following a night of heavy drinking. In December members of the Pi Kappa Alpha chapter at Northern Illinois University were charged with hazing and the pledge's family have since sued the fraternity.
The U-M chapter email made statements like "America is a place where drinking until you puke means drinking until you win," and "we paddle pledges because it's a comprehensive upper body workout."
The new statement from the national fraternity reflects a softened approach from an earlier statement by Justin A. Buck, the executive vice president of the fraternity. On Tuesday he called the photos "inappropriate and offensive" and said he was "thoroughly disappointed" by the fraternity's choices.
"Countless undergraduate and alumni members throughout our organization have contacted the office voicing their displeasure and the fraternity is taking this situation very seriously," he said Tuesday.
Former U-M chapter President Tim Drancik, who graduated from the university in December and served as the fraternity's leader from 2010-11, called the fallout since the photos and email surfaced "overblown."
"I can understand where the controversy comes in. They've already released an apology for a lapse of judgement in this situation, but overall I really don't think they should be punished," he said, explaining that the recent party invite was the first one he's seen accompanied by photos.
"Despite a lapse of judgement in this instance, overall I think they're very intelligent, smart kids who are motivated," he said, adding that the chapter raised $75,000 for charity in 2011-12. "At the end of the day, they have a work-hard, play-hard mentality."
Ryan Lee, current president of the fraternity's U-M chapter, shared the fraternity's written apology with AnnArbor.com:
"The Beta Tau Chapter of Pi Kappa Alpha accepts full responsibility for the material that has surfaced and sincerely apologizes to all those who were disrespected and offended. The chapter fully recognizes that its oversight has led to many unintended consequences that have left its original intentions misconstrued. Granted with the primary duty of upholding the fraternity's immense level of respect and appreciation for our nation's symbols and protectors, we acknowledge the negative impact on the outside community our actions have afflicted.

The primary goal of the chapter is to mold college students into scholars, leaders, athletes, and gentlemen. Our chapter's recent actions fail to promote these ideals. In response to the incident, those involved are being handled administratively to set the precedent that members acting in a manner unbecoming of Pi Kappa Alpha and the University of Michigan must and will be held accountable for their actions.

Beta Tau is currently doing everything in its power to eradicate its wrongdoings and to repair the damage that has been caused to the various groups within our community."
A representative of Pi Kappa Alpha's national office has not responded to requests for comment.
In the statement released Wednesday, the national fraternity said it wanted to "turn this incident into a teaching moment."
Kellie Woodhouse covers higher education for AnnArbor.com. Reach her at kelliewoodhouse@annarbor.com or 734-623-4602 and follow her on twitter.