Posted on
Thu, Apr 4, 2013 : 5:58 a.m.
Washtenaw County's oil production ramps up for the first time in decades
By Amy Biolchini
Editor's note: This story was updated at noon with links to previous coverage.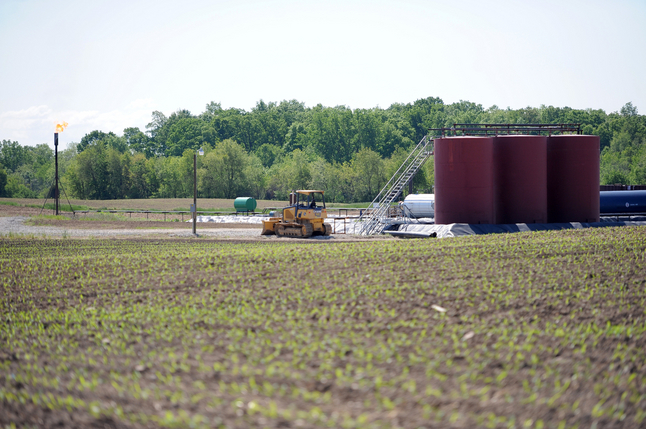 Angela J. Cesere | AnnArbor.com file photo
The amount of
crude oil
flowing out of
Washtenaw County
wells in 2012 was seven times higher than the year before in the biggest jump in oil production the area has seen in decades, according to
state records.
About 109,919 barrels of crude oil — the equivalent of 4.6 million gallons — came from six oil wells in Saline Township in 2012. All of them belong to Paxton Resources LLC of Gaylord — and the company has applied for permits to drill eight new oil wells in the township within the past four months.
Paxton says it has nine wells producing oil in Saline Township now.
The oil wells have propelled Paxton Resources into the top 10 oil producers in the state, according to the industry publication Michigan Oil and Gas News. The company has not previously held such a ranking, said Greg Vadnais Jr., a land leasing agent for Paxton.
Angela J. Cesere | AnnArbor.com file photo
Scott Bellinger,
managing editor for Michigan Oil and Gas News, said Michigan's crude oil industry saw its peak in the mid-1970s when about 35 million barrels of oil flowed from wells in the state per year.
During the 2000s, the average annual oil production for the state was between five and seven million barrels. In 2012, about 6.3 million barrels of oil were produced in the state, according to the most recent data available, Bellinger said.
"There have been some encouraging developments that have seen an enhancement of ability to produce (oil) from horizons in the southern part of the state," Bellinger said.
Oil wells in Washtenaw County drilled by Paxton are about 3,000 feet down into the Trenton-Black River formation.
"Technological with seismic and drilling technologies have made it possible for companies to find new reserves of oil in that same formation," Bellinger said.
Paxton's oil wells in Saline Township accounted for about 80 percent of the company's total oil production from all of its holdings in 2012 — up from about 36 percent in 2011 and 11 percent in 2010.
"It's an exceptional project," Vadnais said. "It's exceptional in that it's been drilled and that it's made oil… We've done this in other areas where it's not shot out seismically."
Paxton is an eight-person company that operates out of Gaylord, Vadnais said. He and another Paxton representative manage Washtenaw County operations locally out of a house they rent in Saline Township.
"I think we're moving at the pace we expected," Vadnais said of Paxton.
During the drilling of a new oil well, Paxton uses 20 to 30 companies of varying specialties and employs 40 to 50 people directly, Vadnais said.
In the four years that Paxton has been working in Saline Township, Vadnais said community relations have improved.
"We've made a lot more friends," Vadnais said. "Every time we drill a well, there's an impact on a family. That's been very positive for us… There will always be people who have opinions on the development."
Crude oil is selling for about $100 per barrel. The price varies depending on the type of oil.
Residents with land lease agreements for mineral rights typically get about one-eighth of the sale of crude oil from a well on their property.
Paxton conducts breakfast meetings with its landowners every several months to give them updates and keep them informed on the company's activities.
Paxton sells its oil to GulfMark Energy, a crude oil marketing and transportation company that operates in the Gulf Coast of Texas and Louisiana as well as in West Texas and Michigan.
GulfMark sells the oil to a refinery in Romulus, Vadnais said.
Paxton has been the only company actively pursuing land leases and acquiring permits for new oil wells in Washtenaw County during the past three years up until this spring.
Bishop Land Service Inc. of Mesick — a small town in northern Michigan — is pursuing land lease agreements for oil wells in the southeastern corner of Northfield Township.
There are two plugged oil wells there that last saw activity about 20 years ago, according to state permit records.
Bishop Land Services pursues land leases for mineral rights with residents and conducts seismic assessments of the area for their client. Clients typically are oil companies.
Bishop Land Service would not disclose their client, citing contractual obligations. Vadnais said Paxton has not hired Bishop Land Service, but has previously used the company for land lease agreements.
The recent increase in the pursuit of land leases in Washtenaw County for mineral rights raised concerns of residents last year who questioned whether Paxton would be using the environmentally controversial method of hydraulic fracturing to procure more oil from its wells.
Paxton publicly responded to those questions in a public meeting last year by explaining that they were not fracking their wells in Saline Township.
Paxton was drawn to Saline Township because of the availability of 24,000 acres of leased land that Phillips Resources of Pittsburgh put up for sale when it left the area in 2009, as well as seismic data about geologic structures in the township, Vadnais said.
"The science is really what brought us here," Vadnais said. "We don't know how long these wells are going to produce."
Since then, Paxton's land lease holdings have grown to about 28,000 acres.
Compared with neighboring areas, oil production out of Saline Township is small in scale.
Immediately to the west of Washtenaw County, Jackson County had the highest oil production in Michigan in 2012, Bellinger said, with about 1.2 million barrels produced during the nine-month period between January and September in 2012.
In Lenawee County to the southwest of Washtenaw County, 370,000 barrels of oil were produced between January and September of 2012.
Beyond southern Michigan, there has not been a significant increase in new permits for oil wells in the state, Bellinger said.
"In the other parts of the state, oil production has declined over time mainly because there hasn't been a significant new discovery made," Bellinger said. "If there's a new field discovered somewhere, that's typically going to result in new activity and an increase in production."
Bellinger said there very likely would be continued oil exploration in Washtenaw County throughout the next several years.
Amy Biolchini covers Washtenaw County, health and environmental issues for AnnArbor.com. Reach her at (734) 623-2552, amybiolchini@annarbor.com or on Twitter.