Posted on
Fri, Nov 23, 2012 : 5:57 a.m.
On the minds of Ann Arbor's new council members: City budget and communicating with residents
By Ryan J. Stanton
Ryan J. Stanton | AnnArbor.com
Three new faces
joined the Ann Arbor City Council this week
and all three say they're eager to get started delivering on promises they made during their campaigns.
Sumi Kailasapathy, Sally Hart Petersen and Chuck Warpehoski were sworn into office during their first council meeting Monday night.
Kailasapathy, D-1st Ward, said foremost on her mind is the city's upcoming budget process, which kicks off Dec. 10 with a council budget retreat.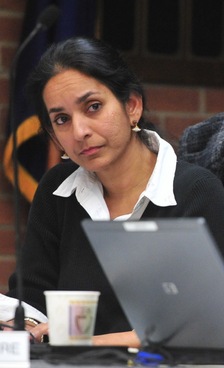 Ryan J. Stanton | AnnArbor.com
The certified public accountant said she'll be fighting to increase staffing levels in the police and fire departments and she hopes to halt Fire Chief
Chuck Hubbard's
proposal to
close and consolidate fire stations
. She's optimistic there'll be enough votes on council on her side.
"The council has to set the direction," she said. "We don't micromanage, but we need to set the priorities. And yes, fully funding fire and police will be, of course, my dead absolute priority."
Petersen, D-2nd Ward, brings a marketing background to council. She said she already has started working with Ann Arbor-based ForeSee Results Inc. to develop a customer satisfaction survey to gauge how 2nd Ward residents feel about city services.
"I do see the residents of Ann Arbor and residents of Ward 2 as customers of the city and we need to keep a pulse on their attitudes," she said.
Petersen said she also has talked with fellow 2nd Ward Council Member Jane Lumm, who was elected last year, about having a common platform or website — a 2nd Ward website — where they can communicate their views publicly, even if they are in disagreement on issues sometimes.
Those are just a couple of initiatives Petersen said residents in her ward can expect from her in the early days and weeks of her two-year term.
"It starts with going back to the Ward 2 constituents and understanding how I can best represent that voice," she said. "I campaigned on a commitment to be the voice of Ward 2 residents and what you can see in the coming months is a very deliberate attempt to provide a forum for communication."
The city's budget process will start soon and last into the spring, with adoption of the 2013-14 fiscal year budget in May, along with a tentative plan for fiscal year 2014-15.
Kailasapathy said she'll be pressing for "fiscal responsibility all around," and that includes addressing the city's unfunded liabilities for retiree benefits.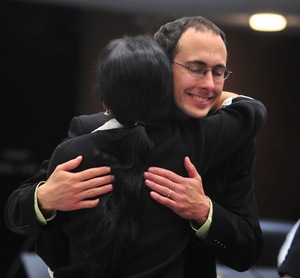 Ryan J. Stanton | AnnArbor.com
She said she's heard from lots of constituents — not just from her ward, but people all over the city — that they don't want to see fire stations close.
Warpehoski, D-5th Ward, said he's still learning the ropes, but he's looking forward to the budget process and setting priorities for the city.
"One of the things I think I bring to council is a commitment to good process and to try to go for public involvement," said Warpehoski, director of the Interfaith Council for Peace and Justice.
None of the new council members indicated they had any specific legislation in the works that they'll be bringing forward.
"I don't have anything drafted and ready to go, and partly that's also the same commitment to process," Warpehoski said. "There are things I want to look at in terms of constituent service."
Mayor John Hieftje and his allies lost their majority on council this week with Petersen and Kailasapathy replacing Tony Derezinski and Sandi Smith, respectively. Derezinski will continue serving on the city's Planning Commission and Smith will continue serving on the Downtown Development Authority board and a city task force studying the North Main Street corridor.
Warpehoski is a somewhat different story from the other incoming members since Hieftje actually supported his bid to fill the 5th Ward seat voluntarily vacated by Carsten Hohnke, another of the mayor's allies. Warpehoski has pledged to be an independent thinker on council, though.
"It's nice to see the new members here and I look forward to working together with them," Hieftje said this week. "We seem to be off to a good start. I think they've done their homework. We had some training going on with staff members, learning about the budget, learning about procedures, learning about procedures through the clerk's office, so hopefully they got to the table well prepared."
Hieftje said he thinks there are several issues where returning and incoming council members will be able to work together for the good of the city.
"Anybody who follows council will see all of us are concerned about doing what's best for the city and we very often come up with better solutions after we've had a chance to discuss things," he said.
Ryan J. Stanton covers government and politics for AnnArbor.com. Reach him at ryanstanton@annarbor.com or 734-623-2529. You also can follow him on Twitter or subscribe to AnnArbor.com's email newsletters.