Posted on
Wed, May 30, 2012 : 5:59 a.m.
Ann Arbor lacks adequate policing levels to keep the city safe
By Stephen Lange Ranzini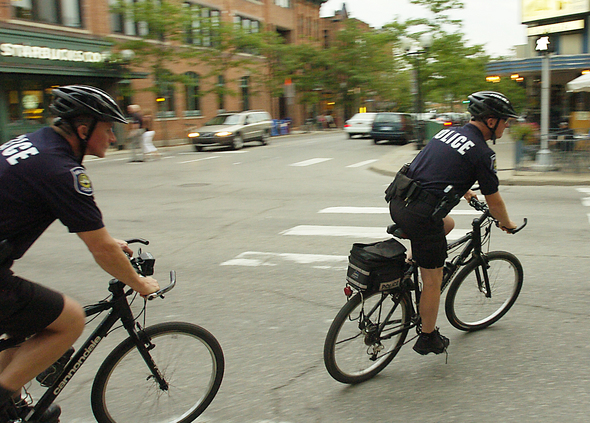 File photo | AnnArbor.com
The spread of graffiti downtown and then throughout the city has increased significantly over time. It is an example of a larger problem of encroaching crime that, if not addressed, will undermine the quality of life in Ann Arbor.
Most people outside of the law enforcement community do not realize that Washtenaw County and parts of Southeast Michigan are designated by the Federal Government as "High Intensity Drug Trafficking Areas" and that organized crime is present.
Solving this problem requires additional dedicated law enforcement resources. I believe that having just five officers on patrol each shift in a city of 114,000 across 27 square miles is insufficient.
The police are saying they don't have enough officers to catch the bad guys and investigate the crimes. We should listen.
We need more police. The former head of the patrol officers' union, Aimee Metzer,
said in July 2011
: "Ten years ago, we used to catch people. Now we just don't even have the staffing to set up a perimeter or bring in a K-9 unit -- we're so reactive now."
Washtenaw County Sheriff Jerry Clayton has stated, "We need more proactive policing and you need more local police officers to do things to prevent crimes from happening."
The police are saying they don't have enough officers to catch the bad guys and investigate the crimes. We should listen.
I've talked at length to a number of police officers and they all share the point of view that current staffing levels leave them spread way too thin covering way too large a geographic area of the city during their shifts.
My own observation as a downtown resident is that the perception of safety downtown has declined and we need foot patrols and bicycle beat cops downtown again daily, as well as more than five patrol cars per shift to serve the rest of the city and be able to respond to calls timely.
Drug trafficking
Washtenaw County is designated a High Intensity Drug Trafficking Area (HIDTA) by the Office of National Drug Control Policy. The Office of National Drug Control Reauthorization Act of 2006 (P.L. 109-469) established the following for determination of designation as a HIDTA:
• The area is a significant center of illegal drug production, manufacturing, importation, or distribution;
• State, local, and tribal law enforcement agencies have committed resources to respond to the drug trafficking problem in the area, thereby indicating a determination to respond aggressively to the problem;
• Drug-related activities in the area are having a significant harmful impact in the area and in other areas of the country; and
• A significant increase in allocation of federal resources is necessary to respond adequately to drug related activities in the area.
Having inadequate police available can also cause raucous public celebrations to escalate out of control such as a near riot on
South University Avenue
on St. Patrick's Day when it took police 20 minutes to respond.
I went to City Council just before last year's cutbacks when they fired more police (and eliminated more firefighters) and pleaded for them not to do it, noting my concerns. I am safe because I am a 6-foot tall man capable of taking care of myself, although the thought is always in the back of my mind about the safety of my wife and young children because there are 10 level-4 sex offenders registered as living at the homeless shelter downtown, across from the YMCA.
Since 2002, part 1 crimes have gone down from 3,770 to 2,758. That is 73 percent of the 2002 level. While local officials proudly note that crime has been trending down, this is part of a well known movement nationwide and the size of the drop locally has lagged behind drops in crime in the rest of Michigan.
Also of note, the decrease in crimes in our county was solely due to a decrease in vehicle thefts (part of a nationwide trend due to improved car anti-theft technology. Rapes had a significant increase (160 vs. 128) and most other categories except burglaries (2,446 vs. 2,005) had a small decrease.
More recent reports indicate a reversal of the trend toward lower rates of crime, confirmed to me by interim Police Chief John Seto. I believe that this is based on a wave of increased illegal drug usage, including increased heroin usage driven by inexpensive exports flooding in from Afghanistan, which supplies most of the world's heroin. Most crime is driven by an urgent desire for money to buy illegal hard drugs. The wave of heroin usage locally is severe.
Check out some of the comments on this article about local use of heroin:
• "I've heard anecdotally that many young people in this area are using/abusing heroin and addiction is a growing problem. I would like AnnArbor.com to report on that because Ann Arbor doesn't seem like the kind of place where young heroin addicts live."
• "Livingston County has also seen an extremely dramatic increase in heroin use and deaths. It has gotten to the point now that if someone in Pinckney under the age of 40 dies, it is almost assumed to be a heroin overdose."
• "Many towns in the area have a problem with heroin but keep it quiet. Parents don't know because the deaths are not reported as news and obits don't say Heroin OD. [I saw a] heartbreaking poem online in memory of a dead Saline girl (OD), possession arrests in our local paper and two young locals dead from Heroin OD in recent months… the kids drove to Detroit to get the drugs."
Heroin use jumps
Heroin usage has jumped locally due to several factors. Speaking to the mom of a local student who died recently of heroin overdose, I learned the following:
1. The influx of cheap heroin from Afghanistan has made it incredibly cheap. Heroin can be purchased for about the price of a pack of cigarettes. Its popularity has risen as its cost has dropped.
2. Heroin is becoming the drug of choice for those seeking to avoid drug testing programs because it is undetectable 24 hours after being taken. Drug offenders sentenced to drug monitoring can use heroin to avoid detection.
3. Once you take heroin once, you are addicted for life. Heroin addicts act irrationally, their mental processes are clouded.
There is also evidence that the distribution of heroin is driven by organized crime. Heroin addicts are
stealing iPhones and get paid $100 each
. Yet, "despite the recent incidents," Washtenaw County Sheriff's Office spokesman
Derrick Jackson
said, "…
only one stolen cell phone
that is currently in a pawn shop has come from Washtenaw County and a shared inventory database means police are alerted when a stolen cell phone comes in to a store." This is an indication of organized crime since the stolen phones are being sold out of the area.
With serious crimes at 73 percent of the 2002 level, if we had 73 percent of the police officers we had in the early 2000s before the cutting started, taking into account the 19 employees outsourced in the merger of the 911 call center with the county, we'd have 139 police officers. The new 2013 budget pays for 7 more than that. Of course with the crime spree at the start of 2012, the 2011 level of crime may be a low that we may not see in 2012 and more staff may be required.
Is it enough? The key to making the correct decision is to know if police are responding timely, which is no, and if the department is solving an average level of serious crimes compared to similar cities, but Interim Chief Seto told me that he is still assembling that data.
Ann Arbor needs more than 5 cars on patrol at any one time, and we need to reinstate daily downtown foot patrol beat cops. The city's new budget for 2013 leaves us with 146 police employees, below what appears to be required.
Before he quit, former Police Chief Barnett Jones was pressured in recent city budget cycles to make deep cuts to the police department, cuts he didn't want to have to make.
"We can't afford to lose a police officer," he told council members in February 2010. "Since 2000, we've gone [down] from 216-plus police officers… As a police chief, I cannot stand here and say I can afford to lose any more police officers."
Both the police department and the fire department, which Jones oversaw as public safety administrator, have gone through two rounds of cuts since he made that comment.
Stephen Ranzini is a resident of downtown Ann Arbor and president of Ann Arbor-based University Bank. He is a former community member of the AnnArbor.com editorial board. You may contact him at ranzini@university-bank.com.