Posted on
Sun, Jul 31, 2011 : 5:58 a.m.
Ann Arbor officials defend police staffing levels at time when crime is down but concern is high
By Ryan J. Stanton
Related story: Ann Arbor residents raise questions about safety as investigation of assaults continues
Recent reports of rapes, assaults, shootings and stabbings in Ann Arbor have raised serious questions in the minds of some city residents: Is the city becoming less safe? Is there a connection between recent crimes and continued cuts to police staffing levels?
Some think so.
"The elements that we don't want to have to deal with are coming out of the woodwork like crazy," said Bob Dascola, a barber who has worked downtown for 42 years and serves on the board of the State Street Area Association.
"We need to have police staffing on the streets because it helps to keep those things in check," he said. "Without them around, these guys are just going to keep doing whatever they want."
But Ann Arbor officials argue perception, in this case, isn't reality. They say the recent crimes that have hit Ann Arbor are unfortunate, but they're confident the city remains safe.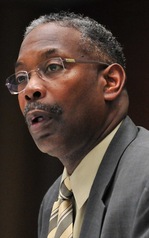 Despite the attention given to recent crimes — including a series of attacks on women — city leaders say all reports indicate
crime is going down in Ann Arbor
. They say that's true even within the downtown, where a number of the crimes have been reported.
"Crossing my desk currently, I don't see crime being up in the downtown area," said Police Chief Barnett Jones, adding the same is true throughout the city.
Jones said year-to-date figures show crime is down in every major category, including rape, robbery, larceny, vehicle theft, breaking and entering, aggravated assault and arson.
The following figures were provided by Jones showing the total number of each type of crime reported so far this year, and how many were reported at this same time last year.
Rapes: down from 30 to 23
Robberies: down from 39 to 31
Larcenies: down from 1,248 to 949
Vehicle thefts: down from 71 to 42
Breaking and entering: down from 287 to 255
Aggravated assaults: down from 65 to 59
Arsons: down from 18 to 3
Added up, that's a nearly 23 percent decrease in those types of crimes.
"Our crime is down in every category that we report to the FBI," Jones said. "Would I love for all of these categories to be zeros? Absolutely. But I know that's never going to happen."
Ann Arbor had 191 sworn officers less than a decade ago, and now that's down to 118 after the most recent round of budget cuts. At this point, the city would need to more than double staffing levels in the police department to meet national standards.
That's become a topic of debate in City Council races that will be decided in Tuesday's primary election. Candidates challenging incumbent council members say the city has cut too deep into police staffing levels and they're concerned about the consequences. Meanwhile, another 12 positions in the police department are slated for elimination next year.
The Ann Arbor Police Officers Association warned before the most recent cuts that further reductions in department staffing levels would result in longer response times and reduced police enforcement efforts. Over the past decade, the union claims, the department has been forced to move from proactive policing to reactive policing.
Mayor John Hieftje said on Friday he doesn't think the city has cut too far, but he also doesn't want to see police staffing levels go any lower.
"Council's challenge is to avoid having to make any further cuts to public safety," he said. "That's my goal and council members that I've talked to are totally in agreement with that."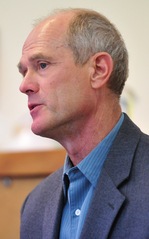 Ryan J. Stanton | AnnArbor.com
Hieftje continues to stress that crime has been on a downward trend. A total of 7,911 crimes were reported in Ann Arbor last year, a figure that's down 19 percent from 2002 levels.
FBI Uniform Crime Reports from last year showed Ann Arbor was the second safest of Michigan's six largest cities, trailing only Sterling Heights.
"I think one crime is too many, but as we look at all of the statistical evidence, crime continues to go down in the city," Hieftje said. "Of course, there's going to be peaks and valleys, and periods where things seem to be picking up a little bit. But when you sit down at year's end, I think we're going to arrive at another year where we see crime down in the city."
Downtown Development Authority board member Joan Lowenstein agreed with the mayor. A former member of the City Council, Lowenstein said she doesn't believe there is a correlation between police staffing levels and crime numbers.
"The whole time I was on City Council, that could never be shown, that if you did have an increase, that increasing police patrols would decrease it," she said. "So I don't think that cause and effect has ever been shown."
Until two summers ago, a handful of police officers known as "beat cops" were assigned to patrol the downtown on bicycle and by foot. As part of a restructuring of the police department, those patrols were eliminated, much to the dismay of many downtown business owners.
Jones said he's been struggling for the past two years to get a beat officer back in the downtown area and he's happy to say, as of a few months ago, that has happened.
One of the department's senior officers is now assigned to regularly patrol the downtown, Jones said, and another assists on occasion when resources are available.
"I told the business community, as soon as I can figure out a way to do it, I'd put beat officers back in the downtown area, and we were able to work it out," Jones said.
Jones said additional police presence won't necessarily prevent some of the more serious crimes, like two recent shootings in the downtown.
"You can put as many cops as you want to put in the downtown area, but are you going to be able to stop a person with ill intent who brings a gun to a local bar? No," Jones said. "You're going to respond to that type of situation after the fact."
Commenting on the recent string of rapes in Ann Arbor, Jones recalled a serial rapist named Ervin Mitchell who struck Ann Arbor in the early 1990s and terrorized the city for two years before he was caught — even while the city had dozens more officers than it has today.
"I'd love to have however many officers I could have, but even with all of those officers, I can not guarantee we would not have crimes occurring," he said.
Hieftje also said he hasn't seen any data that shows a relationship between the number of police officers and the amount of crime in a city.
"If you wanted to say that there may be spikes within a month or two of something in an area, that happens all the time," Hieftje said. "It's been happening throughout history in the city of Ann Arbor. That's how the statistics are made up. You go through these periods that are kind of a lull and then you get a spike and things go down."
Hieftje recalled a series of bank robberies from last year.
"Well, that turns out we didn't have any more bank robberies than we normally have — they just happened within a six-week or eight-week period," he said.
Jones said he can emphatically say that Ann Arbor remains a safe community, and he's confident the department will catch whoever is responsible for the recent rapes.
"We have a situation that is ongoing and we're dealing with it," he said. "We have a person with ill intent and we're doing everything we can to catch him. We're going to catch this guy and then we're going to go back to being a nice, relatively safe community."
Aimee Metzer, acting president of the police officers union, said she can't say crime numbers are directly linked to the number or police on the streets. But she said there's no doubt the department's ability to catch bad guys has been hindered by cuts to staffing levels.
"I was working the night of that first major rape that we had," she said. "We had such a small amount of units on the road that I passed the same patrol car looking for the suspect three times. Ten years ago, we used to catch people. Now we just don't even have the staffing to set up a perimeter or bring in a K-9 unit — we're so reactive now."
Added Metzer: "If I lived in Ann Arbor, I would be petrified."
Ryan J. Stanton covers government and politics for AnnArbor.com. Reach him at ryanstanton@annarbor.com or 734-623-2529. You also can follow him on Twitter or subscribe to AnnArbor.com's e-mail newsletters.