Posted on
Sun, Mar 3, 2013 : 5:58 a.m.
Ann Arbor's East Washington Street should stand as a lesson in transformation
By Paula Gardner
In a town where change can take enormous amounts of time, energy and community debate, one downtown Ann Arbor street continues its metamorphosis into something meaningful.
East Washington Street was a "dead zone" a decade ago when I started business reporting in this community.
It was just a few blocks that connected the incredibly vibrant downtown Ann Arbor to the vitality-laden University of Michigan.
Melanie Maxwell | AnnArbor.com
Yet even amid some business successes - like Arbor Brewing Co. on its western end - the buildings along the street combined to create pockets of inactivity that seemed beyond fixing.
Single-tenant office buildings that closed at 5 p.m. A former Laura Ashley store next to a parking deck. Rental housing. Surface parking. No windows. No reason for anyone to stop. No area to create a sense of place.
Enter a wave of individual private investments during those years, and the blocks are transformed.
Today, there's an energy on the street that's fueling the drive of local investors. They're seeing opportunity. They're also creating it, by staking a claim to underutilized spaces. And by doing that, they're effectively expanding the downtown market area.
The most recent example is Sava Lelcaj, who took a risk by opening babo market at the corner of South Division - and now stands ready to start her third downtown business further west in the 200 block of the street.
"I love Washington Street," Lelcaj told AnnArbor.com reporter Lizzy Alfs.
The owners of Blue Tractor might say the same thing, after buying a building a few years ago, expanding their scope and eventually buying another building downtown so they could move Cafe Habana and further expand.
That's organic business growth at its best.
East Washington, while building vibrancy, doesn't fulfill everyone's vision for the city. Among the changes are two student high-rises, including the one above babo.
Yet the investors who turned the buildings into a collection of destinations have made a difference to this city. Consider McKinley Towne Centre, which extended storefronts along South Division - and generated the foundation of foot traffic that made the retail spaces, like Mani and its sister restaurant, Isalita, possible on East Liberty.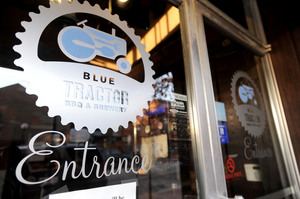 Angela Cesere | AnnArbor.com
Or
Jon Carlson
and
Greg Lobdell,
who activated their block with Blue Tractor and the offices above it.
And next comes Lelcaj, adding to the block with her new restaurant.
Beyond that, there are changes on West Washington - Mark's Carts, the Village Green apartments - that provide a deeper connection for the city, and a still-more vital commercial corridor.
Yet compare that to East William Street: Another underutilized connector street between downtown and the University of Michigan campus.
The mix is different, since there is some public land involved, including the Ann Arbor District Library.
But I can't help but think: We shouldn't just celebrate the transformation of East Washington Street. We need to learn from it, too.
Paula Gardner is Community News Director of AnnArbor.com. Reach her by email or follow her on Twitter.