Posted on
Sun, May 27, 2012 : 5:59 a.m.
Neighborhood security cameras prove their worth in West Willow
By Tony Dearing
It's been nearly a year now since security cameras were installed in Ypsilanti Township's West Willow neighborhood as a pilot program, and based on the role they just played in the arrest of a man suspected in a series of sexual assaults, we wouldn't expect to see the plug pulled on them anytime soon.
We have said before - and we continue to believe - that security cameras are no panacea when it comes to fighting crime. But neither the Washtenaw County Sheriff's Office nor Ypsilanti Township officials suggested otherwise when they entered into an agreement last spring to give the cameras a try.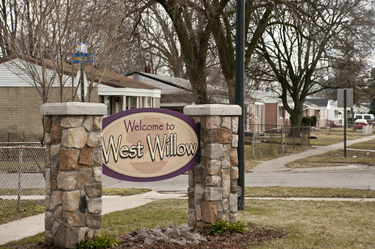 Tom Perkins | For AnnArbor.com
Any time you mount security cameras on utility poles in public places, and particularly in a neighborhood, it inevitably raises the specter of Big Brother. And privacy rights are indeed paramount. But in this case, the West Willow neighborhood was willing to be involved in this pilot program, and while the experience so far
has not raised any new privacy concerns
, it has underscored the ability of video surveillance to help police
make an arrest
in a high-profile crime case.
Earlier this month, the neighborhood and the Willow Run School District rightfully reacted with alarm after reports that a man had attempted to grope two girls as they were on the way to school in the morning, and attempted to abduct a third girl.
Sheriff's deputies, the schools and residents all quickly mobilized to get the word out, and the school district posted staff members in the neighborhood along walking routes to help keep students safe as they went to and from school. As the criminal investigation intensified, deputies released an image of a suspect, riding a bicycle.
The image was captured by one of the security cameras mounted on DTE Energy-owned utility poles in the neighborhood, and authorities say it led to direct information that helped them identify and arrest a suspect - a 26-year-old man who lived in the neighborhood and has a history of sexual offenses. He faces 13 criminal charges.
A year ago, when the security cameras first were being proposed, we editorialized in support of them, as an experiment worth trying in a neighborhood that was already working with sheriff's deputies to take a comprehensive, proactive approach to addressing a recent spike in violent crime.
We acknowledged at the time that security cameras had a mixed record, at best, in deterring crime. But we also added this observation: "They can be a tool to help officers solve crimes in cases where they capture a clear image of a suspect or vehicle, leading to an arrest that police might not have otherwise made. For that reason, we think they're worth trying in West Willow . . .''
Security cameras are no substitute for adequate police patrols or citizen involvement in keeping neighborhoods safe, but as part of a broader strategy, there is a role they can play in helping solve crimes.
It's hard to imagine a more dramatic example of exactly that.
Mike Radzik
, director of the Ypsilanti Township office of community standards, told AnnArbor.com that the ability to quickly distribute a high-quality image of the suspect taken in close proximity to the assaults turned out to be a "
powerful and effective tool
'' for making an arrest. "This is exactly what the township board envisioned when the pilot program was initiated," he said.
Radzik has emphasized that the security cameras only view public spaces, and are not pointed toward private residences.
Angela Barbash, who is involved with the New West Willow Neighborhood Association, says she's heard from residents who were impressed by the role that the cameras played in helping identify the suspect. However, she adds that the neighborhood group requested written policies that spell out how privacy will be protected during the pilot program, and is still waiting for that. While there have not been abuses of privacy rights that we're aware of, written policies are a good safeguard and the township and sheriff's office should make good on that request.
Overall, the pilot program has proven its worth. Security cameras are no substitute for adequate police patrols or citizen involvement in keeping neighborhoods safe, but as part of a broader strategy, there is a role they can play in helping solve crimes. It's important to balance privacy concerns against neighborhood safety, but there are appropriate ways to do that. The best endorsement of this program may be that other neighborhoods now are interested in having security cameras installed. If law-abiding citizens are worried about crime, perhaps it's time to give the criminals something more to worry about, too.
(This editorial was published in today's newspaper and reflects the opinion of the Editorial Board at AnnArbor.com.)