Posted on
Sun, Dec 13, 2009 : 5:40 a.m.
Race to the Top school reforms look more like frantic scramble for funds
By Tony Dearing
Is the Race to the Top really that, or just a race for dollars? We'll find out as Michigan lawmakers rush their way through a package of school reforms aimed at making Michigan eligible for some of $400 million in federal education funds.
Local school officials must find it richly ironic that the Michigan Legislature - which has been abysmal in its unwillingness to deal with the education-funding crisis - is suddenly a hotbed of reform now that a big chunk of federal money is up for grabs.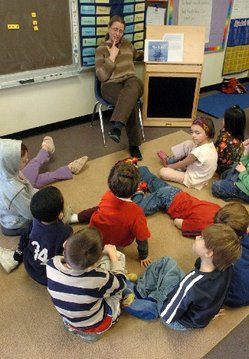 The funds will be available next year under President Obama's new education initiative called Race to the Top. States have to apply for the money, and it will go to those that can show they've adopted education reforms that really work.
Suddenly, a Legislature that has dithered for years when it comes to any meaningful action on reforming public education or how it's funded is moving at warp speed. It intends to enact, by January, a package of bills that expand charter schools, create new paths to teacher certification, make it easier to fire teachers for poor performance and give the state more power to take over failing schools.
Particularly controversial has been a proposal in the state House to rescind a 2005 law that benefited the state's tourism industry by preventing schools from opening before Labor Day.
Far be it for us to fault lawmakers for their newfound willingness to take on serious education reform - if that is what's actually happening here. But this feels more like a legislative scramble to secure federal funds.
The debate over whether to let schools start before Labor Day strikes us as an example of that. We are strongly in favor of shortening the traditional summer vacation; in fact, we'd favor far more radical changes to the school year. Research shows that a long summer break is a particular detriment to low- and moderate-income students, who regress educationally during summer vacation and come back to school further behind.
But it's unfortunate that the state House is focusing on a piece of legislation that pits the interests of education reform against those of tourism-oriented businesses, which are struggling mightily in this economy. Will the problems created by a long summer break really be fixed by having school start a week earlier? Or will we continue to get the same results, while harming an important part of the state economy that's already suffering?
There are other, more creative ways to reform the school calendar, such as going to a quarterly system, or extending the academic year further into June, or offering more flexible summer school options that could keep students engaged in learning, but allow families to still vacation.
Too often, at both the state and local level, we see officials looking for quick fixes to what ails education, rather than addressing the kinds of structural changes that are needed to bring our schools into the 21st century.
The system for funding education in Michigan is broken. At a time when education is vital to our future, the state has shockingly high illiteracy and dropout rates, and students who stay in school too often lag in achievement. Even in our area, where student achievement is generally much higher, our schools have saddled themselves with a cost structure that can no longer be sustained.
That's our definition of a crisis, and this one isn't going to be solved by simply feeding more money into the system. Ultimately, we believe that's the message that Washtenaw County voters delivered when they turned down the proposed school enhancement millage last month.
It's a message that superintendents and school boards would do well to keep in mind as they begin to deal with their budget shortfalls, and it's one that state lawmakers must heed as they put together an education reform package in their quest to cash in on Race to the Top dollars. We need deep, structural change that will create better results, not another squabble over whether we should start school a few days before Labor Day or a few days after.
(This editorial was published in today's newspaper and reflects the opinion of the Editorial Board of AnnArbor.com)